"Dave, remember how you sent me to scout Lake Bastrop for carp? Well…" There was a brief moment of an awkward pause as I tried to form the words to describe what was unfolding before of me. "I think they're spawning. I mean they are just thrashing the top water everywhere. I don't know what to throw at them."
If you don't know already, carp are not my chosen quarry. Despite my feelings on these ugly fish however, Dave had me on a mission. (Apologies to all my carp loving anglers out there. I concede on all points to why they are great on a fly. It's just not my thing. Sorry, but not sorry?) I was responsible to track and announce the carp spawn on Lake Bastrop for Dave.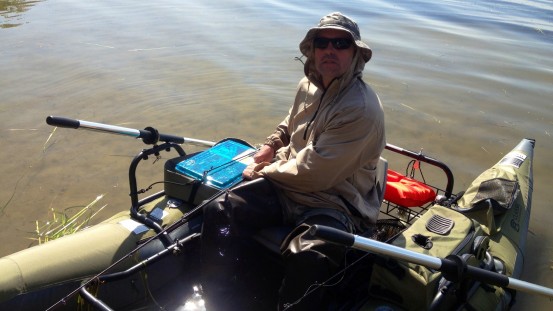 In this endeavor I made plans on a day off to meet with a coworker for some time on the water. Mike had already beat me out to the water in his new pontoon boat, so I started playing catchup as quick as I could. And even though I was supposed to be looking for carp, Mike and I were both fishing for bass. Lake Bastrop is pretty well know for their Florida strain Large Mouth Bass and tournaments are held there from time to time. We, on the other hand, were not having any luck.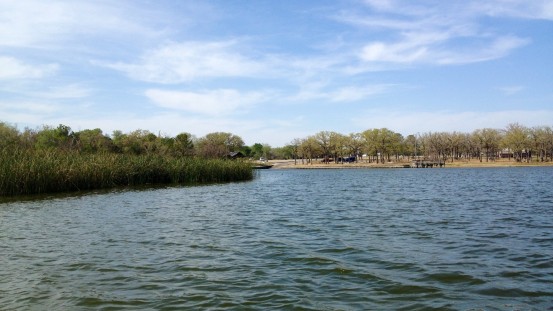 Getting later into the afternoon fish-less we paddled over to scout a particular spot Dave made special mention of. Mike fished the bank in trail as I bounced ahead weed bed to weed bed. Fishing steamers can be a pain on Lake Bastrop because of all the grass. But I finally learned how to use it to my advantage. Thick areas of grass were able to not only hold my position on the water and/or slow my drift, but they also made standing more stable. That and I switched to a popper.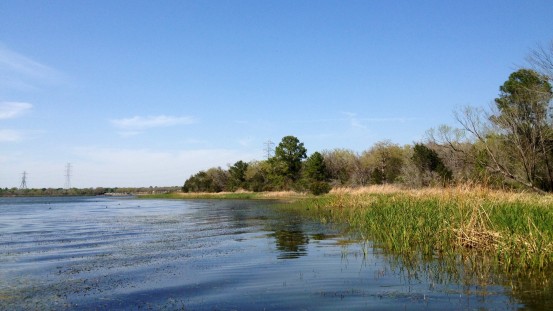 It was then standing in my yak that I watched it all happen. I saw a single fin at first, slowly break the surface and pass by the yak… all alone and un-afraid. The carp passed by me as it tailed its way by in search of food. Then there was a splash, something further away. Then again. Suddenly all along the grass line where the water dropped deeper fins appeared everywhere. Some in pairs mimicking each other's movement completely in sync. Water began to thrash everywhere. When a pair bumped the boat, that's when I sat and called Dave.
"Announce it to the world, there's enough there for everyone," Dave said. Then he also told me to try a nymph and go big. Knowing the hook would get tied up in the grass I set a strike indicator 10 inches above a size 14 black stonefly nymph. I didn't know what I was doing but I wasn't about to miss out on this madness- not even a carp.
As it turns out, it wasn't even a carp. The pair of fins I saw 30′ away were Smallmouth Buffalo. Apparently, the Smallmouth Buffalo spawn occurs just before the carp spawn of which I was witnessing. When I made my cast just 2′ ahead of the pair, I stood disbelieving as the indicator dropped below the surface as they passed.
I was not prepared for the half hour(+) long fight that would ensue. Right off the bat I saw I tail hooked the fish. I thought for sure I would lose it. That became much more of a possibility after yard upon yard of line was stripped from reel. When I got into my backing and the fly line disappeared I began to yell for Mike.
"Mike! Mike! Yeah, fish! Help!!!" I cried at the top of my lungs.
Mike paddled over and tried to help net him. He had to paddle to keep up with the Smallmouth Buffalo dragging me across Lake Bastrop. Finally I asked him to help me keep the kayak straight into the wind. I didnt want the excess line tension from the wind to break me off and send me into tears. With a stroke of genius Mike started to push paddle me toward the fish where I could reel in line vs lose it.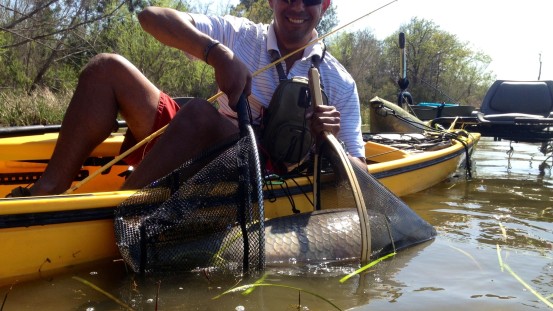 Eventually, I got this fish where I could net him. But I was too tired and he too heavy to lift him in the boat for a photo op. My forearms were smoking. Mike continued to push us to shore as I held him in the water between not one- but two nets. There we got a few good pics to celebrate the win. It took a few minutes to ensure the equally fatigued buff was resuscitated and strong enough to swim off well and unharmed. When he did I was the win became complete.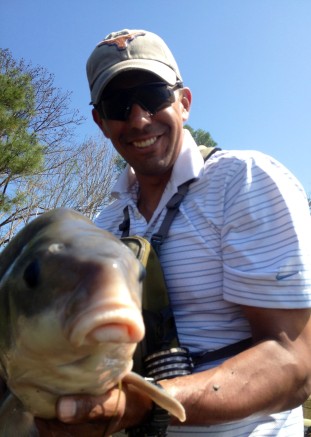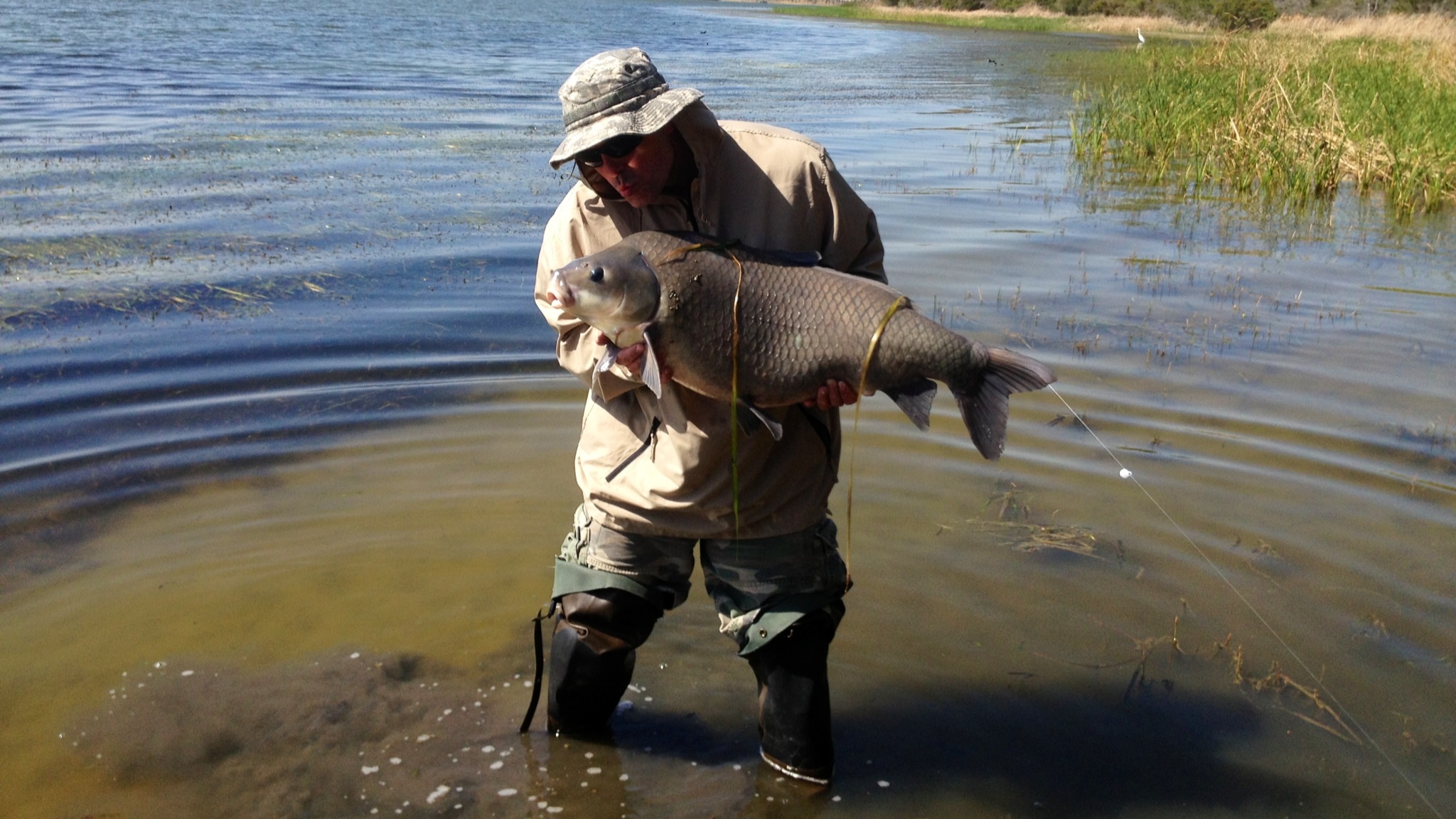 If you can make your way out to Lake Bastrop and want some intel on the lake, comment below and we'll spill the beans.
Lastly, to Mike, I cannot thank you enough for helping me (as you always do) when I am in so much need to accomplish and win the fight at hand. There is no one else I would want to be in a 50 meter knife fight with. Dave, you're always the man with the plan and all the answers (some are even right)! It was a great day, thank you for the memory.
Fish On!
Anthony
P.S.
To whom it may concern, I was fly fishing a 7′ 5wt fiberglass Eagleclaw Featherlite with a 3x leader. What a fight!