I have long admired the design philosophy behind the Diablo Paddlesports fishing kayaks. They have created a set of boats that are ideal for the kayak fisherman in that they are most stable platforms afloat. This basic feature allows for the ability to stack gear high, sit up high to paddle and most importantly to EASILY stand up and fish, paddle or pole. The design also excels in a few other ways that I will talk about later but the stability of the boats cannot be overstated.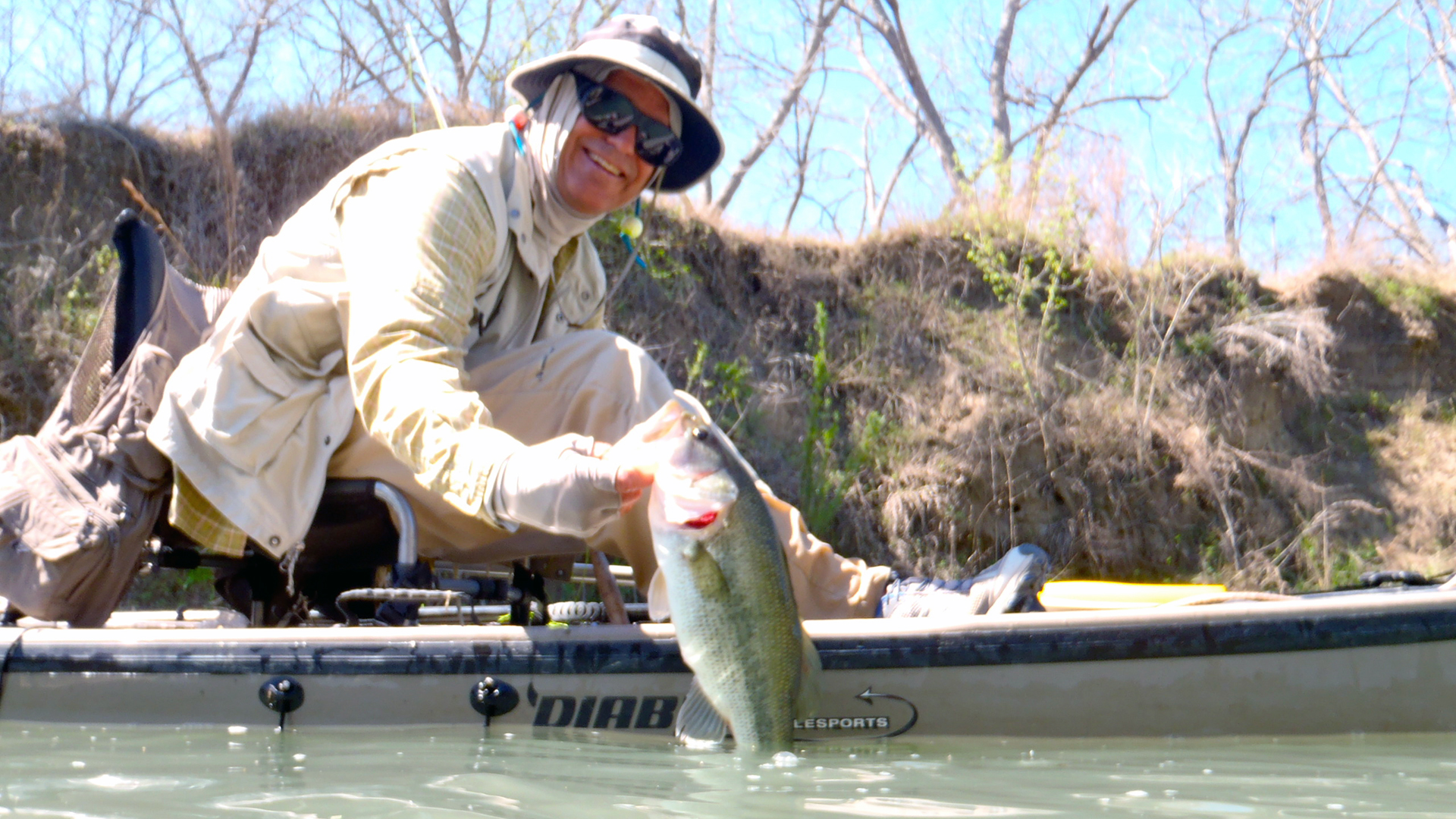 For us Texans, we can take pride that this great company is based locally here in Austin. The owner's, Thomas and Megan Flemons are avid paddlers and outdoor enthusiasts. If you follow them on Facebook or Twitter you know of their passion for being out on the water. They probably have as much if not more hands-on testing of any kayak builder out there, the amount of time they spend tweaking their boats and accessories is extraordinary.
Now I have to admit that I have yet to buy my very own Diablo kayak, a boat dedicated to fishing won't be in my budget for the near future since most of my "'river budget" goes toward equipment to make more Pocket Guides. Never-the-less, I still wanted one.
So when Mike Schlimgen invited Jazmin, Anthony and I down to the San Marcos river for a fly fishing trip, I was elated that Thomas offered up a couple of Diablo loaners for us to try out! With our fully outfitted boats riding up on the racks, we met up with Anthony and followed Mike to a private put-in that he had arranged. Anthony was in a Native Ultimate 14.5 but Mike had a Diablo Chupacabra that he had won in last year's fly fishing tournament. There would be 3 Diablos on the water today.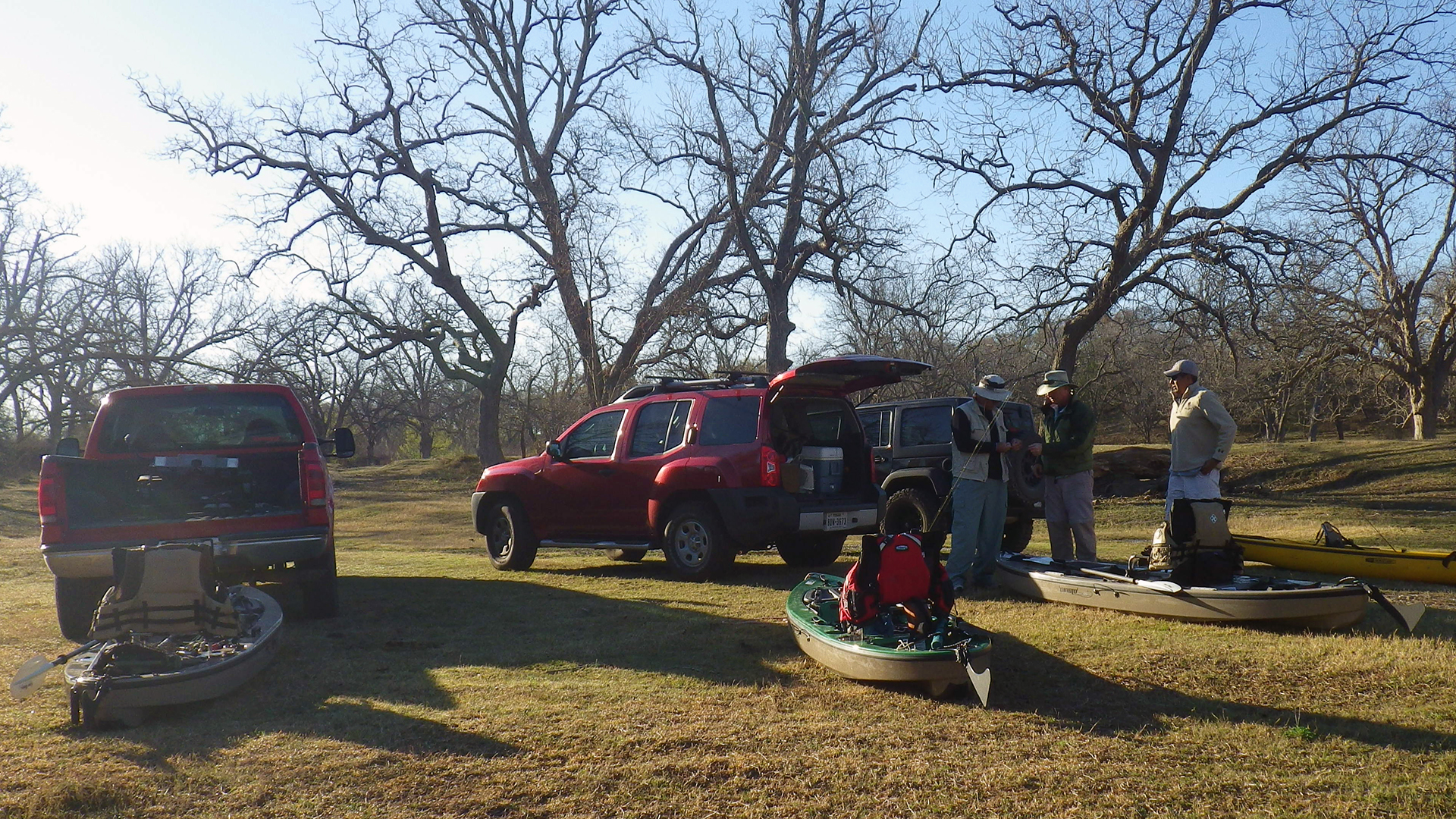 I was in the 12.5' Adios model while Mike and Jaz were in the 10.5' Chupacabra. All the Diablos had Larry Chairs installed that allowed the paddlers to sit high and in a more comfortable fishing position. Normally I prefer a minimalist approach to my boats but Thomas had insisted that I would appreciate this particular option. So we unloaded the boats and rigged them up as fast as we could, we were all anxious to get on the water.
Jaz had expressed some doubt about getting on a relatively swift river in an unfamiliar boat. She has considerable experience in tandem kayaks but it had been a while since she had paddled solo. I also think she was pretty dubious of the boat's stability while standing up, having been burned by other kayaks who have made the same claim.
Mike, Anthony and I put in first with Jaz sliding in a few minutes later. She pretty much put the boat in the water when she stood up and made her first cast of the day. She looked completely comfortable standing there with the same ease she would have standing on the bank making casts.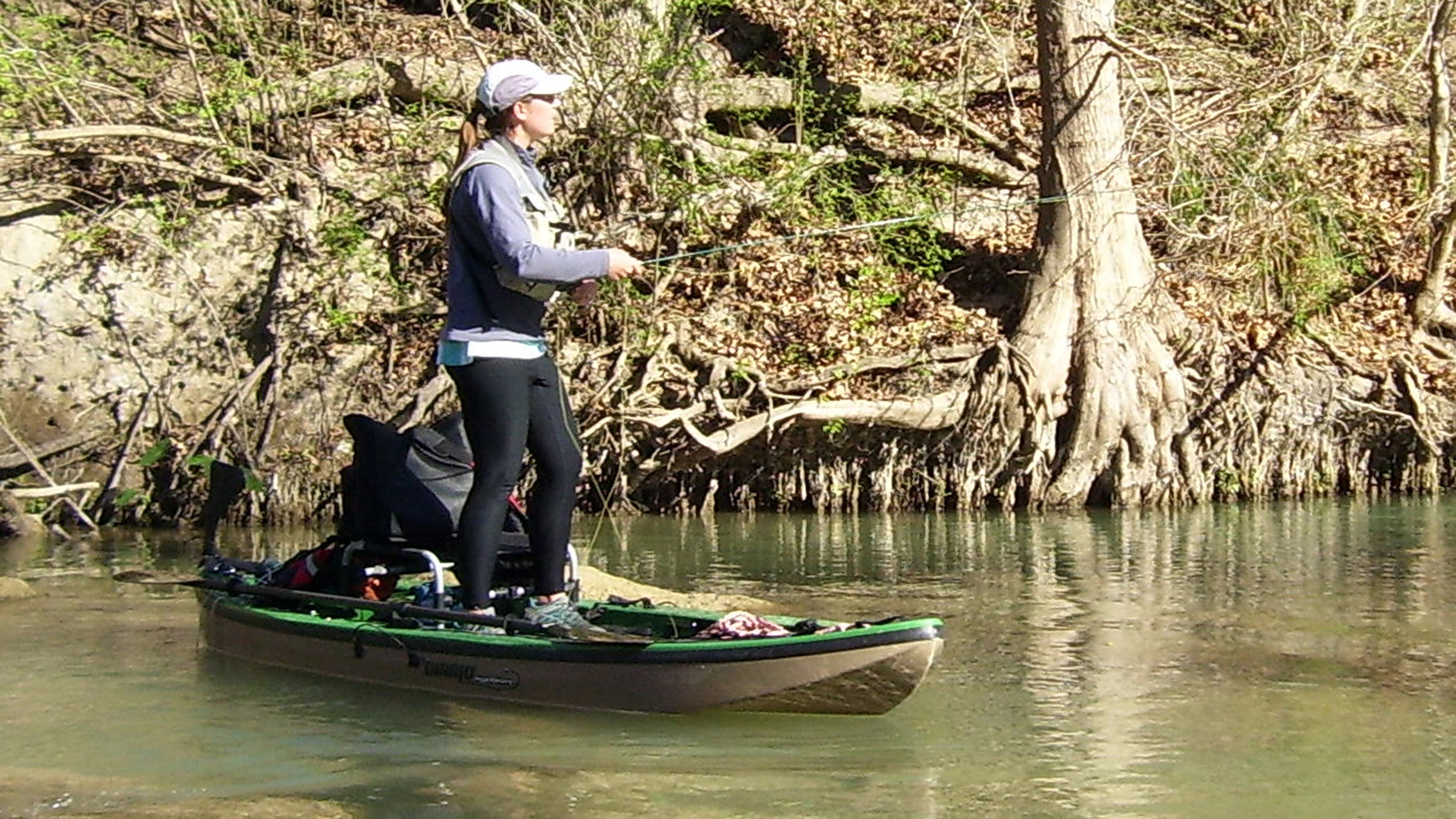 It wasn't too long before I needed to get more distance out of my cast and stood up myself. I cannot overstate just how easy it is to stand in these boats. I'm not sure what you would have to do to flip this kayak but I have a feeling you are far more likely to just fall off trying.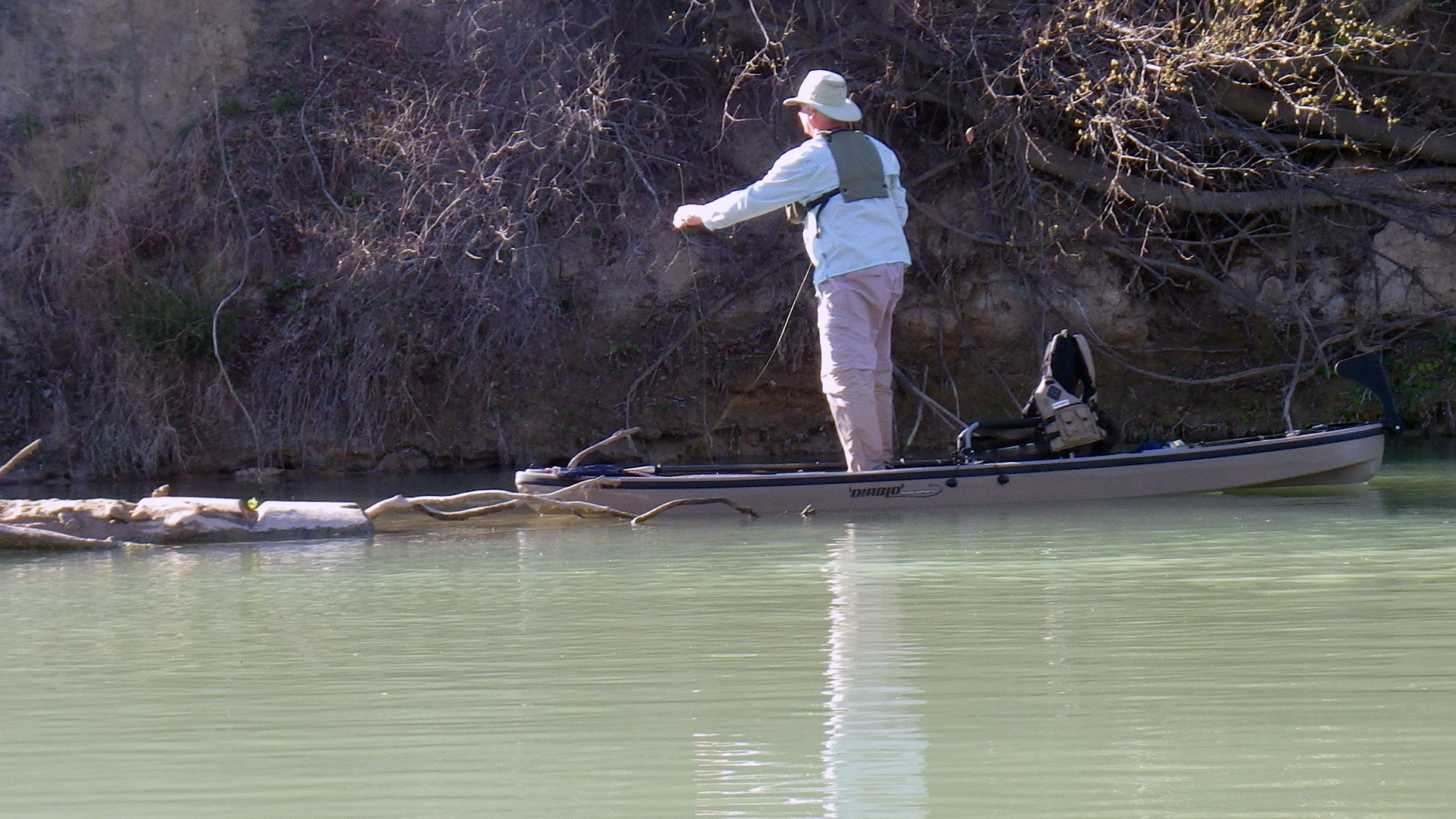 Anyway, the day was pretty windy and every time the wind would gust we would all sit down to avoid becoming human sails. I think if the day was relatively calm, I would stand the entire time and sitting down only when I needed to paddle some distance.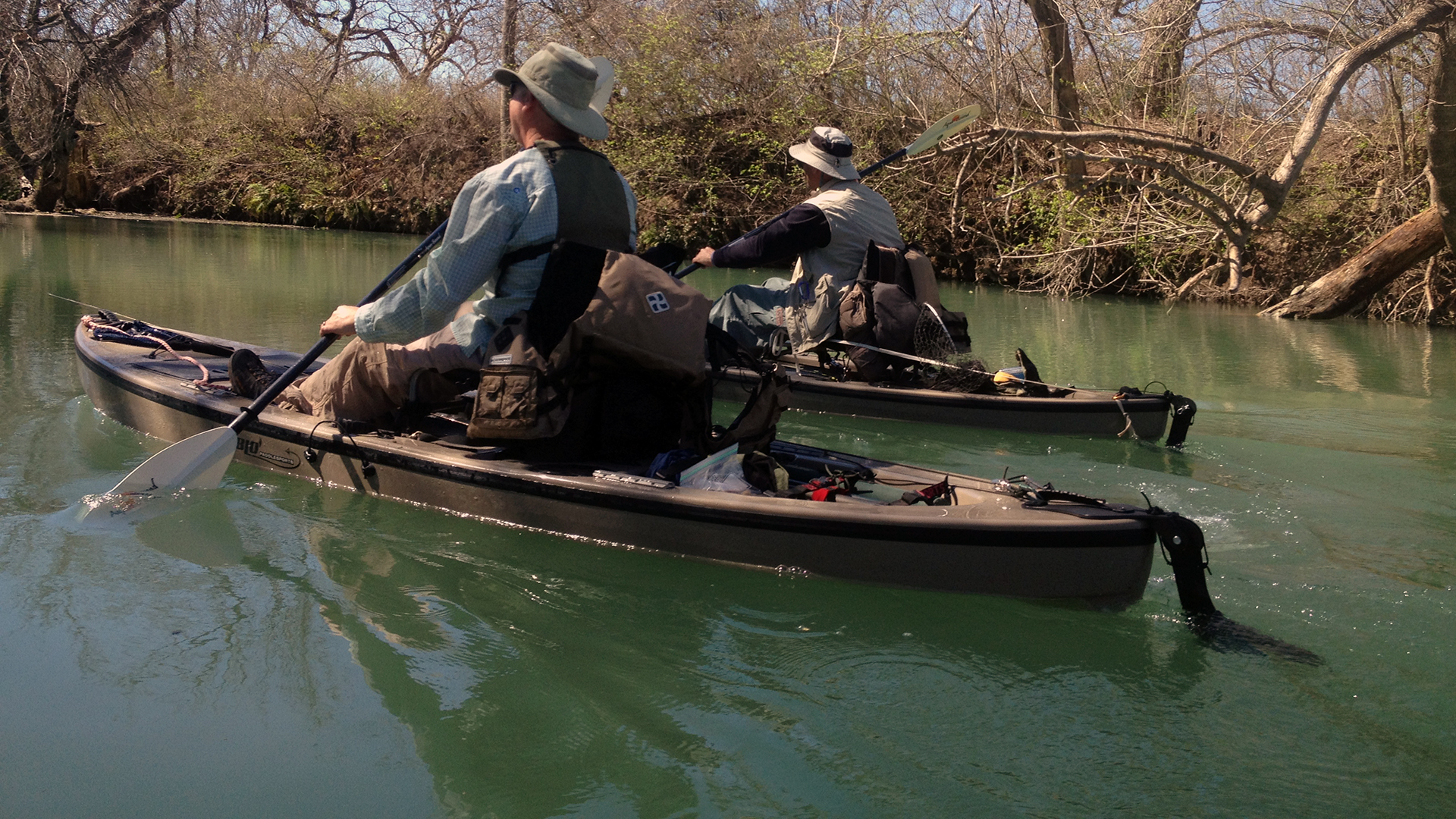 The large flat decks were perfect for fishing since you could lay out your gear all within easy reach. The storage possibilities are pretty significant considering the short length of these boats. Since you can stack equipment pretty high on them, there is even an optional kit to fit a large Yeti cooler in place of the Larry Chair. You sit even higher and can keep your tasty cold beverages within handy reach. Speaking of the Larry Chair, I consider myself a convert. It was an extremely comfortable chair that provided a great position to fish and paddle from. The storage in the chair's sides and back carried all the day's essentials and any concerns about sitting that high while paddling through swift water were quickly abated in the first set of class I rapids. The boat was complete stable despite the high center of gravity.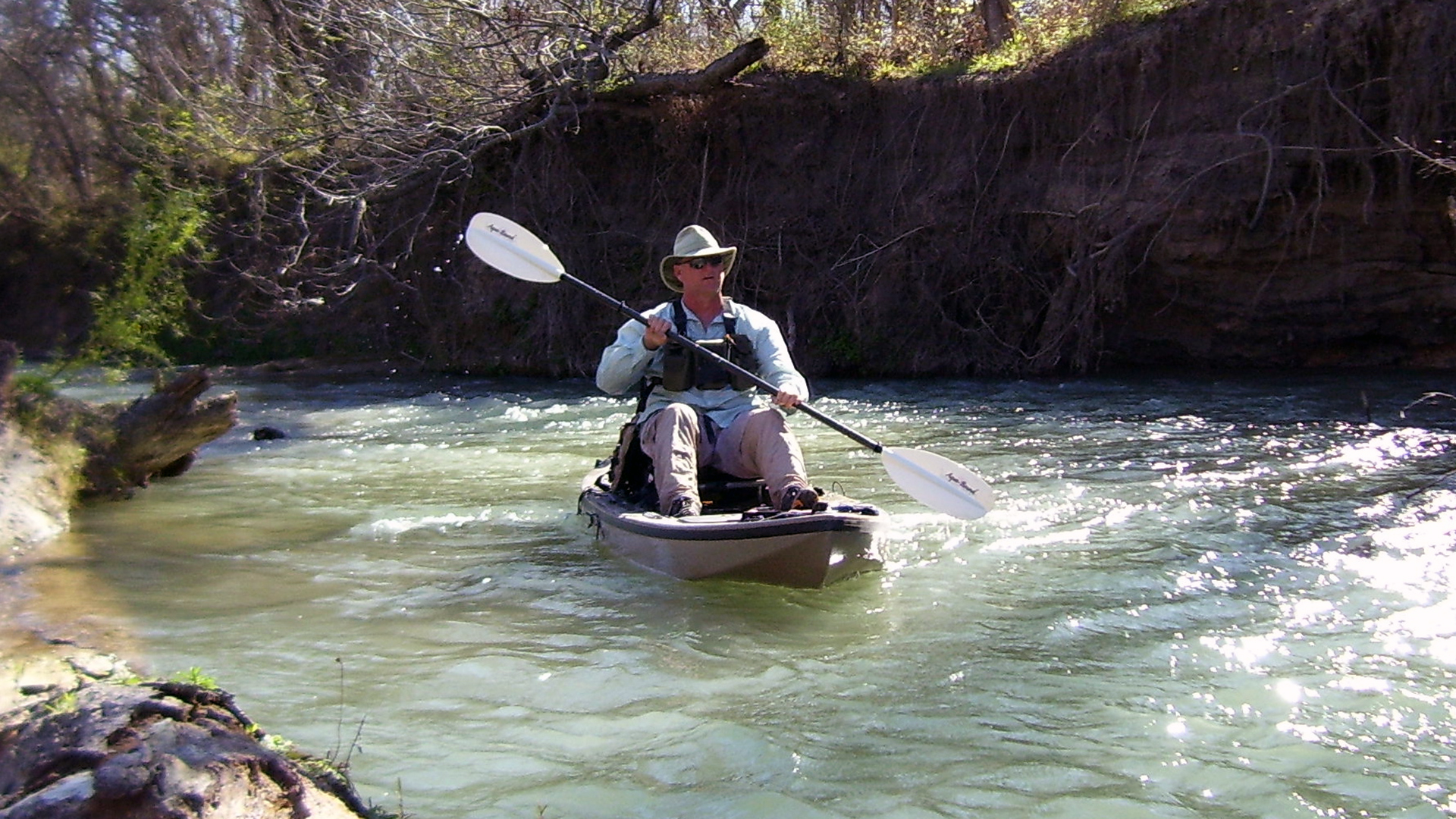 As could be expected with boats that are so short and wide, they turned out to be fairly slow but very maneuverable. Our boats were rigged with retractable skegs and they definitely help the boats track straighter. Like many kayaks, the stern catches a lot of flow while turning through swift water. If you aren't paying attention it would be easy to get spun around in the current especially if you forget to retract the skeg. I'm not sure why this trait is so persuasive on kayaks and not canoes but the short, wide Diablos can spin pretty quickly. Fortunately they can also be spun back on course just as quickly if you are expecting it.
Predictably, the Diablo kayaks are relatively heavy for their length – especially once you add up all the optional equipment. The Adios weighs 69lbs in its basic configuration and I would bet that you are looking at 85lbs once you outfit the boat with options. That's fairly heavy for a 12.5' ABS plastic boat but considering its 36" wide it's also understandable. The 10.5' Chupacabra fairs a little better at 56lbs before options but I still wouldn't want to lower it down a steep incline by myself.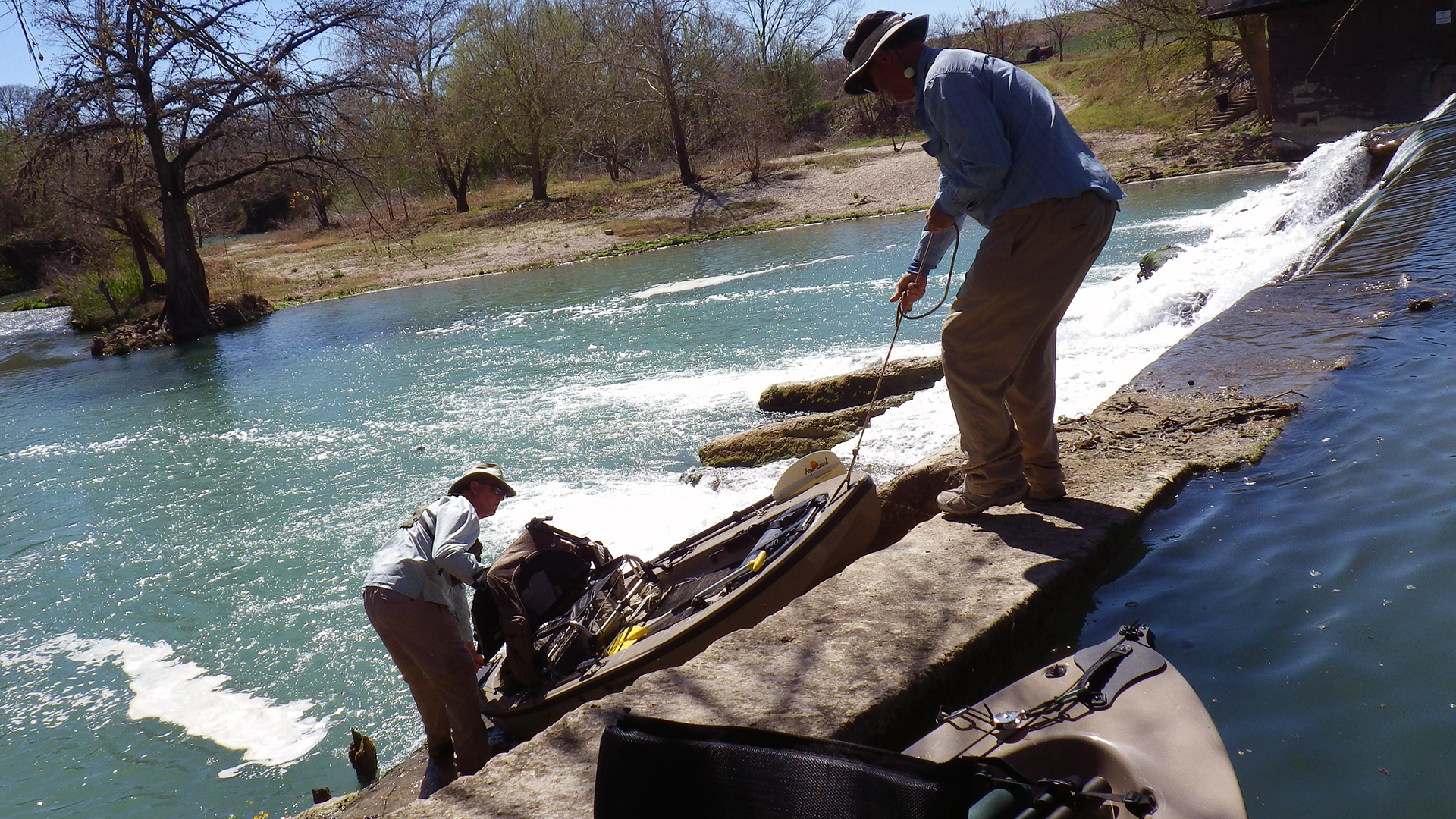 I know that Thomas is considering offering a Carbon/Kevlar version of their boats in the future that would drop their weights to less than half of what they are now. I'm hoping that there is enough of a demand for such expensive and light boats because I personally salivate at the thought of a 28lb Chupacabra!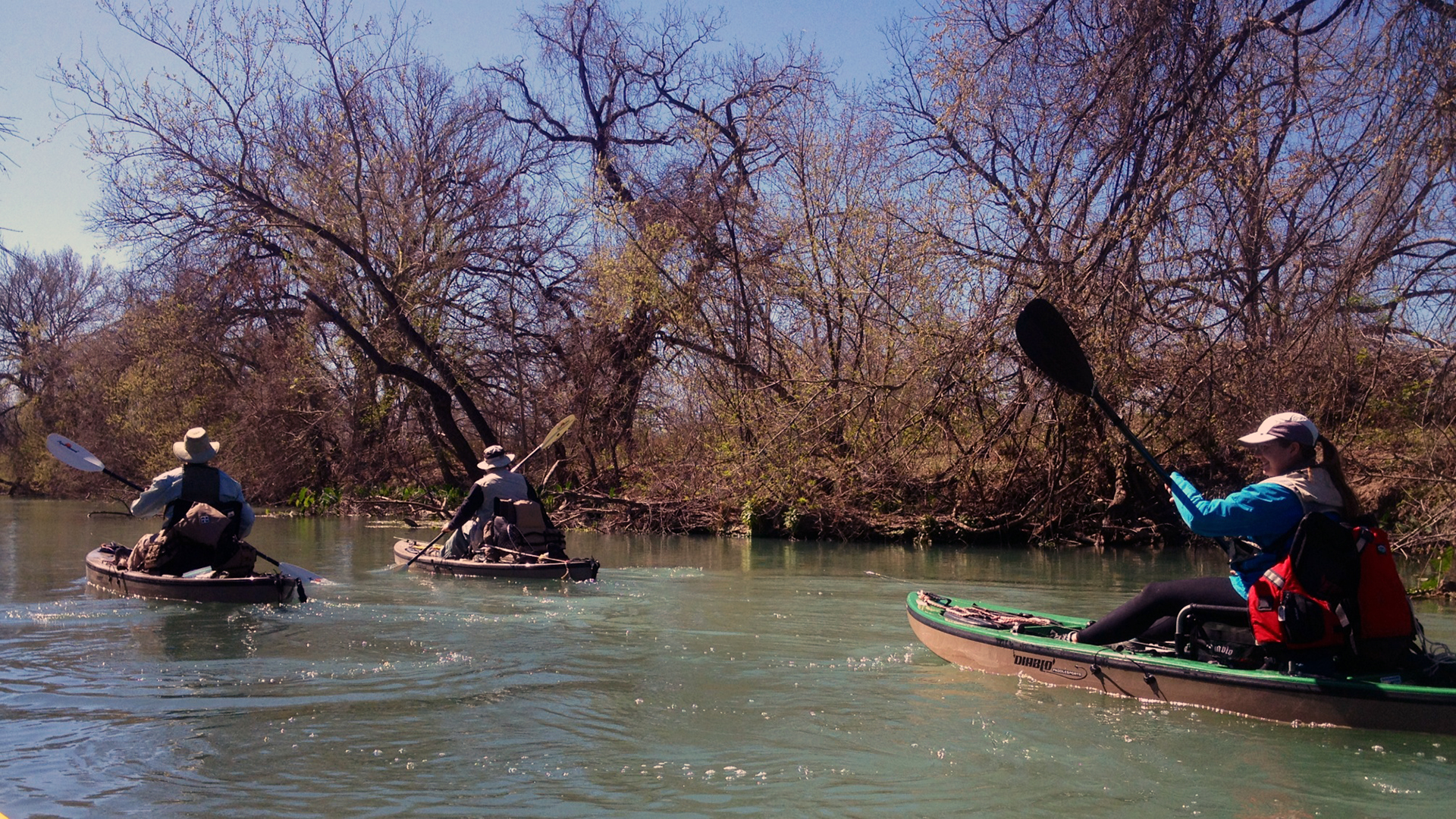 I mentioned earlier that Thomas and Megan have tweaked their boats significantly, mostly through the trim and options. It was all those little things that really impressed me all throughout the day, well after I had my initial impression. There was the Larry Chair seat cover that provided extra padding for my back and a huge storage pouch behind the seat back. The front storage on the Chupacabra had fitted storage pouches that you could cinch close and easily pull out. A short strap mounted forward that you could use to assist in standing up. I never actually used that strap since standing up out of the Larry Chair was just so easy. There was also the shock cord paddle storage that I discovered halfway through the morning that allowed you to easily stow your paddle on either side with one hand. I am sure there were things I am forgetting or didn't notice as well. The boats are just that well thought out.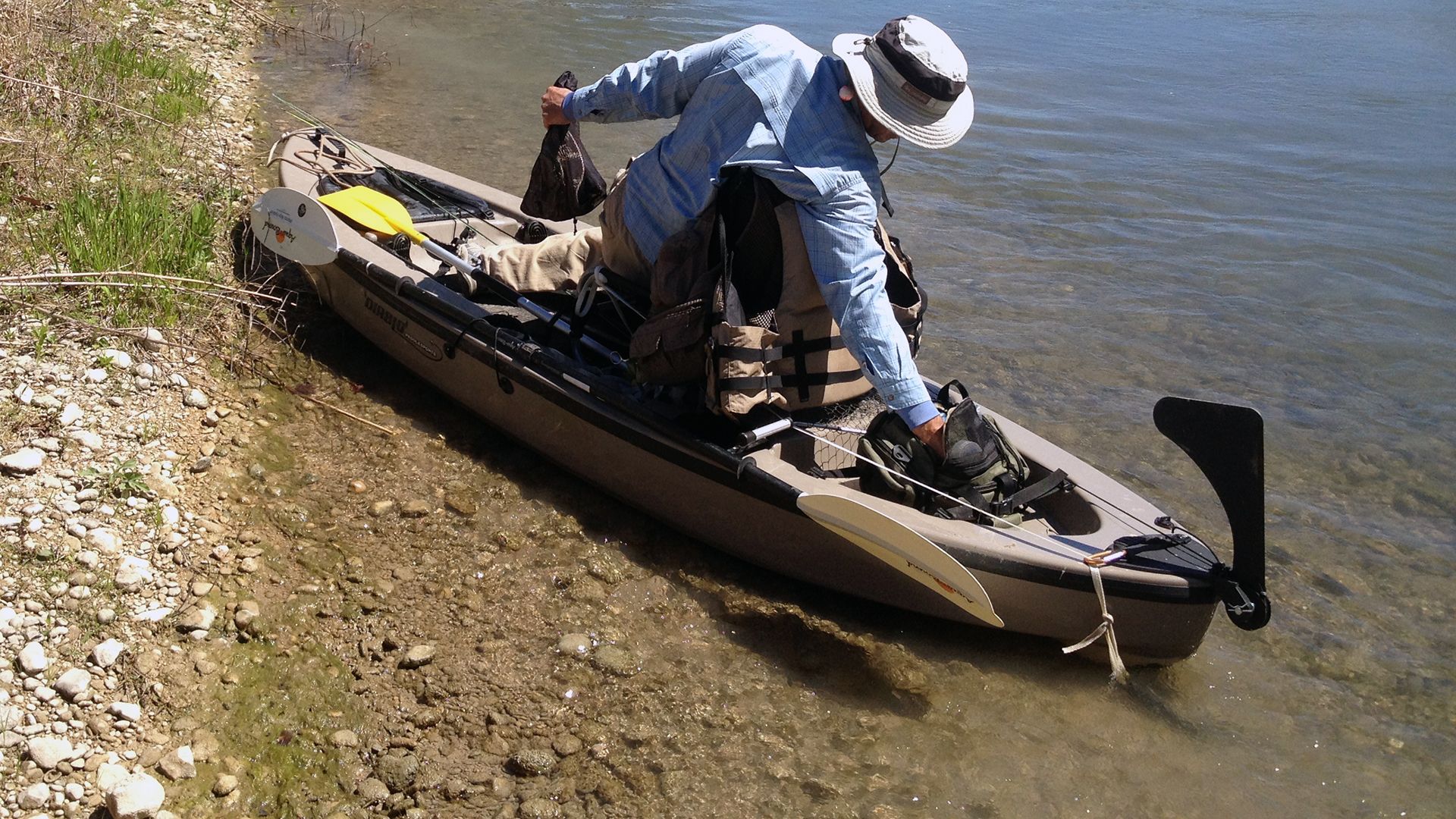 So if you are serious about kayak fishing I recommend you at least take a look at the Diablo Paddlesports kayaks. You may find yourself just as enamored with their design philosophy as I am.