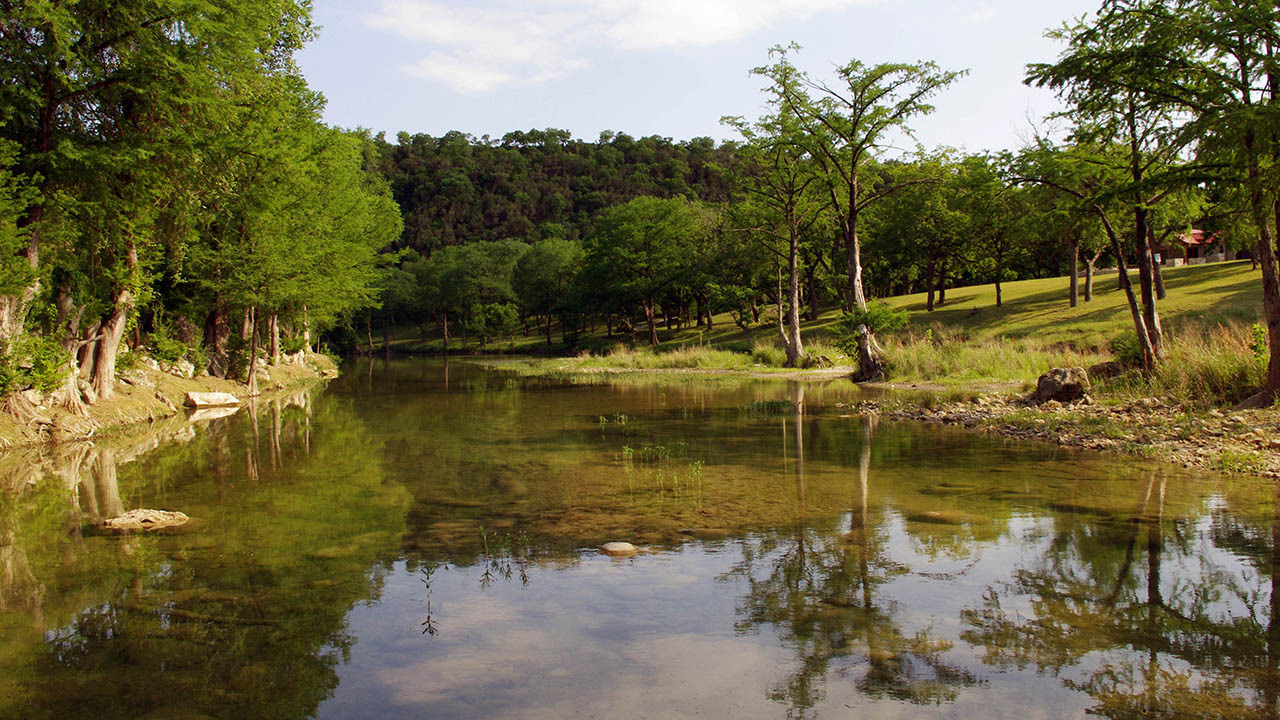 It had been a long while since I've had a chance to get a fly fish float trip down the Blanco River between Wimberley and Kyle. Part of the reason is that it is at least a 2 day commitment. Its 20 miles from Little Arkansas Road to 5 Mile Dam or 15.6 miles if you are willing to leave a shuttle vehicle at Lime Kiln Road. Either way it's more than a 1 day trip. The other, more significant reason is that the Blanco River hasn't been flowing well for a long, long time. It is a fairly shallow river in normal flows but with the persistent drought it means that there is a lot of dragging or worse, and the river may not even make it to Lime Kiln Road before going completely underground.
For this trip we had arranged our pull-out to be at private property, making our trip a mere 12 miles. Most sane people would load up their kayaks and happily fish this over a couple of days but I decided to try something different. My daughter Jaz and I decided that we would prefer to fish from float tubes and it seemed possible to pack enough overnight gear into the floats if we were smart about it. We knew it wouldn't be an easy trip but then again, I think we have a tendency to do things the hard way.
The night before our trip a summer cold front rolled through, illuminating the night with a tremendous show of lightning. It also dropped about ½ inch of rain. I'm not going to complain about the rain, we need it too much, but I did figure a cold front would make the fishing slow the first day.
After dropping off the Jeep at our pull-out spot, we got our gear unloaded at Little Arkansas crossing in Wimberley where my wife dropped us off. While preparing the floats, I was especially careful not to over-inflate the tubes.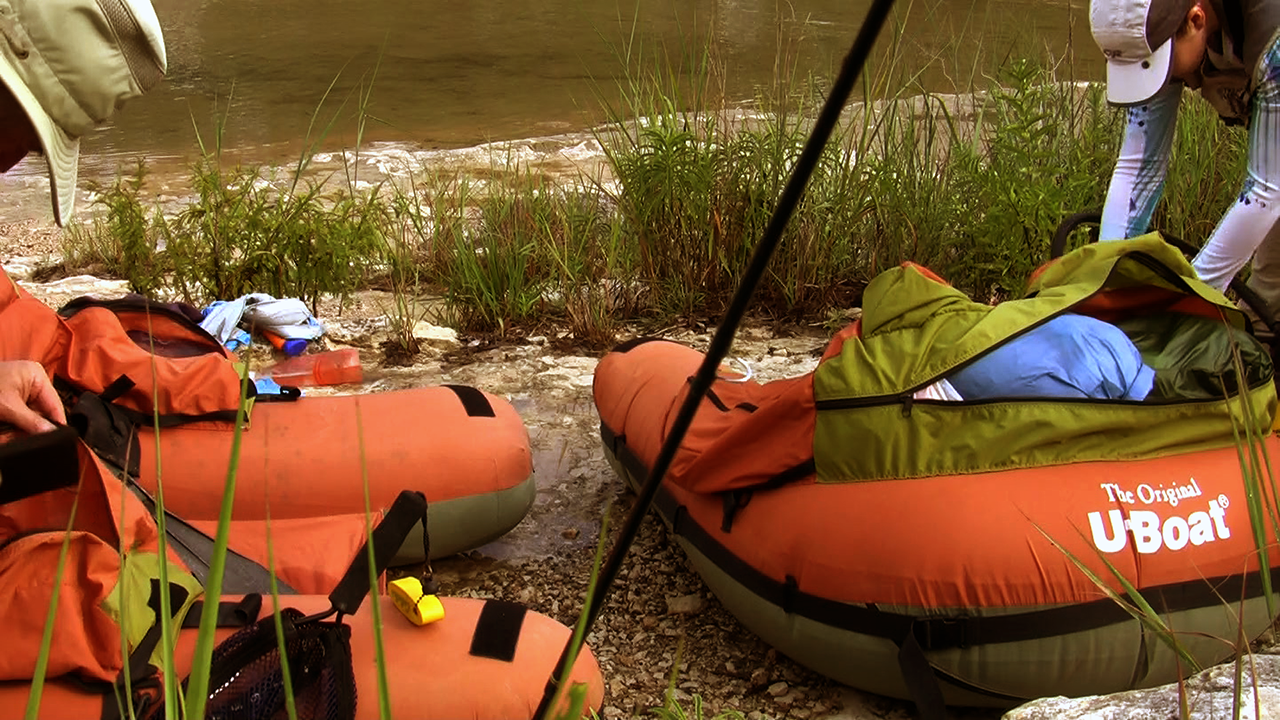 Loading out the floats with lots of gear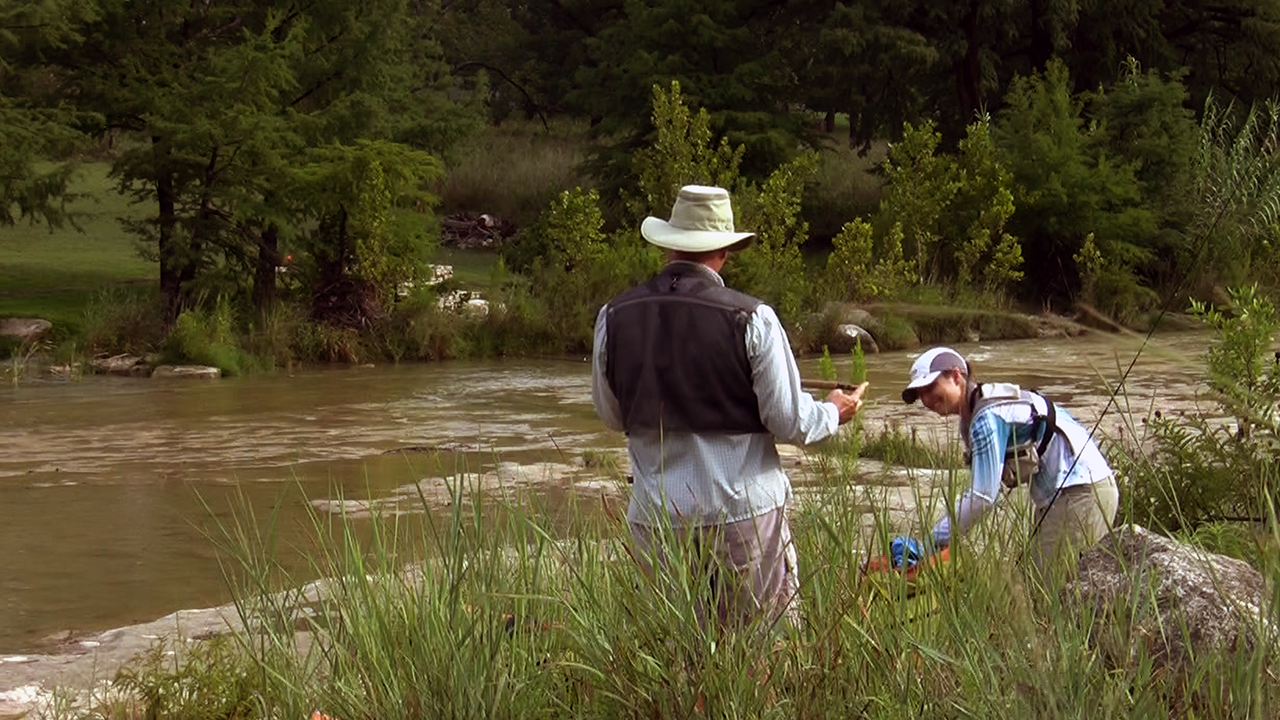 The river is very shallow at the beginning of the trip
Unlike Anthony's recent trip, we had brought enough patch material to repair the bladders but if a bladder gets over-inflated it rips the float cover, hemorrhaging horribly.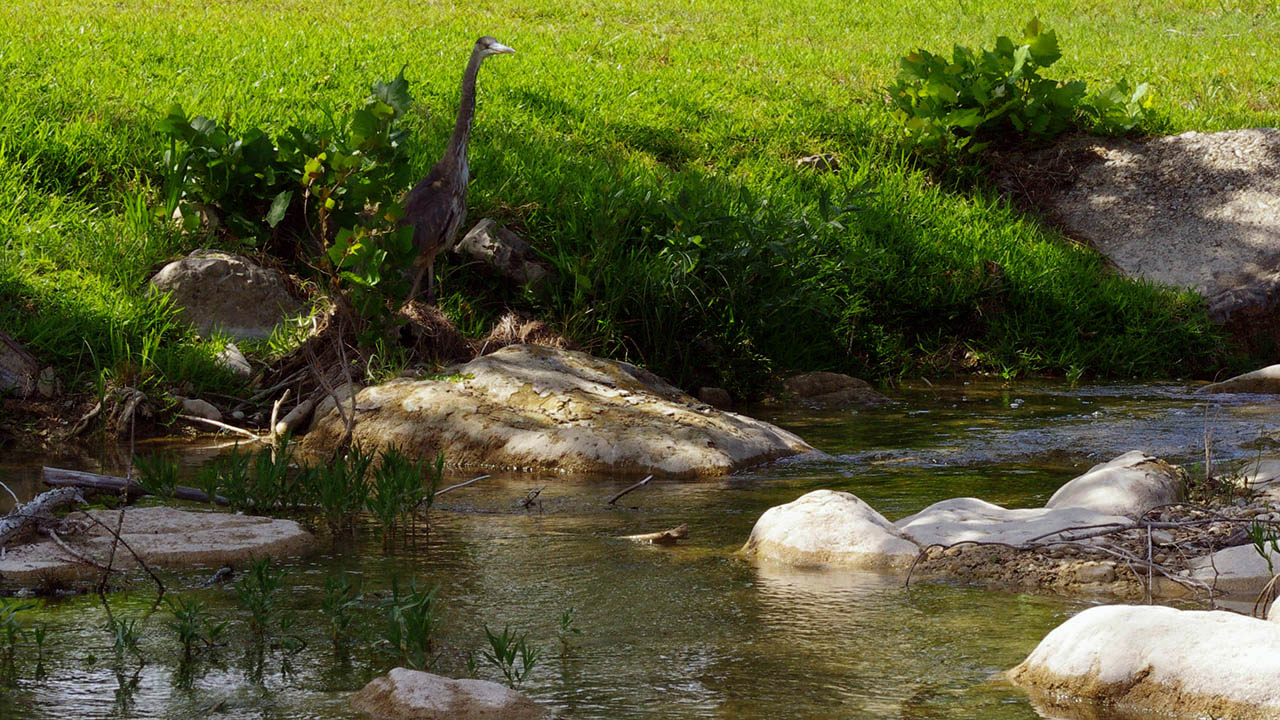 Great Blue Heron watches us closely
A Great Blue Heron watched us with great interest as we tested out our rigs in the shallow water to see if they were too top heavy. The floats were a bit hefty but they handled it well, it was time to go fishing!
Any concern about a slow fishing day quickly disappeared as I pulled out a nice little bass on my 3rd cast. Over the course of the trip, we caught dozens of bass and hundreds of panfish but I didn't want to just fill this write up full of what fly fishers affectionately call "fish porn", instead what follows are mostly photos that give some sense of how the experience felt to us with brief descriptions where needed.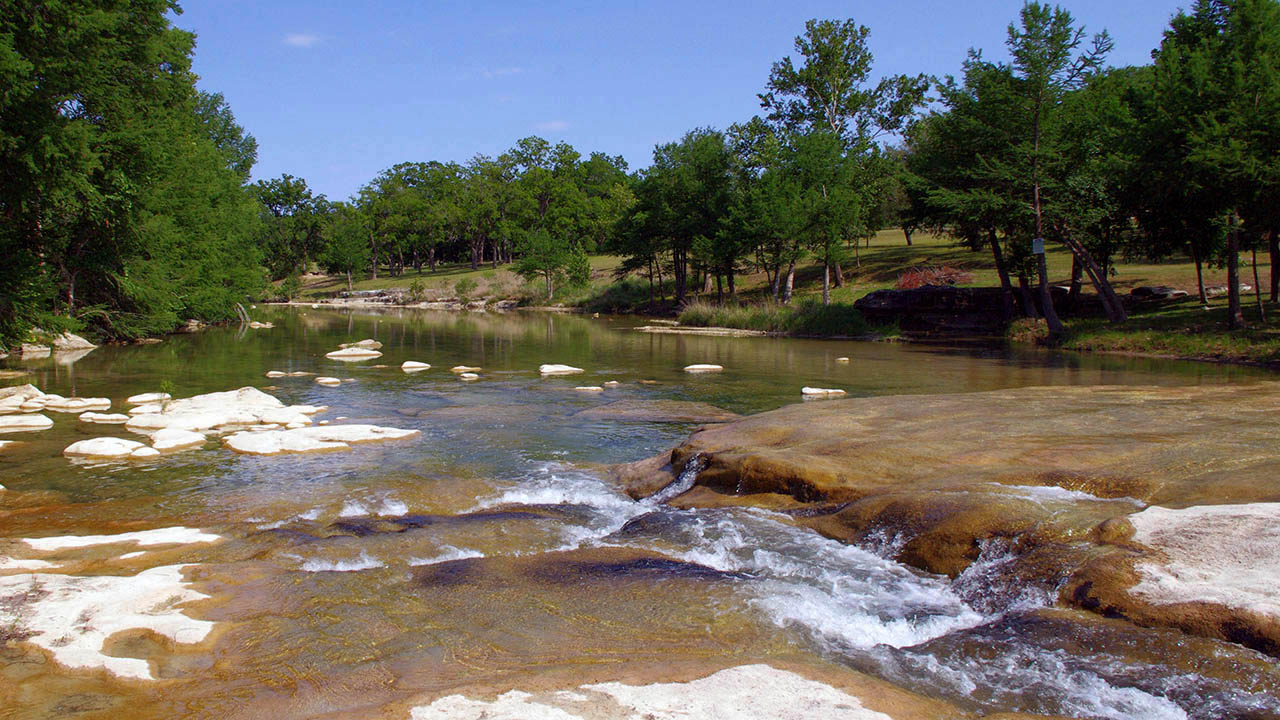 Falls next to TSU Alumni Campground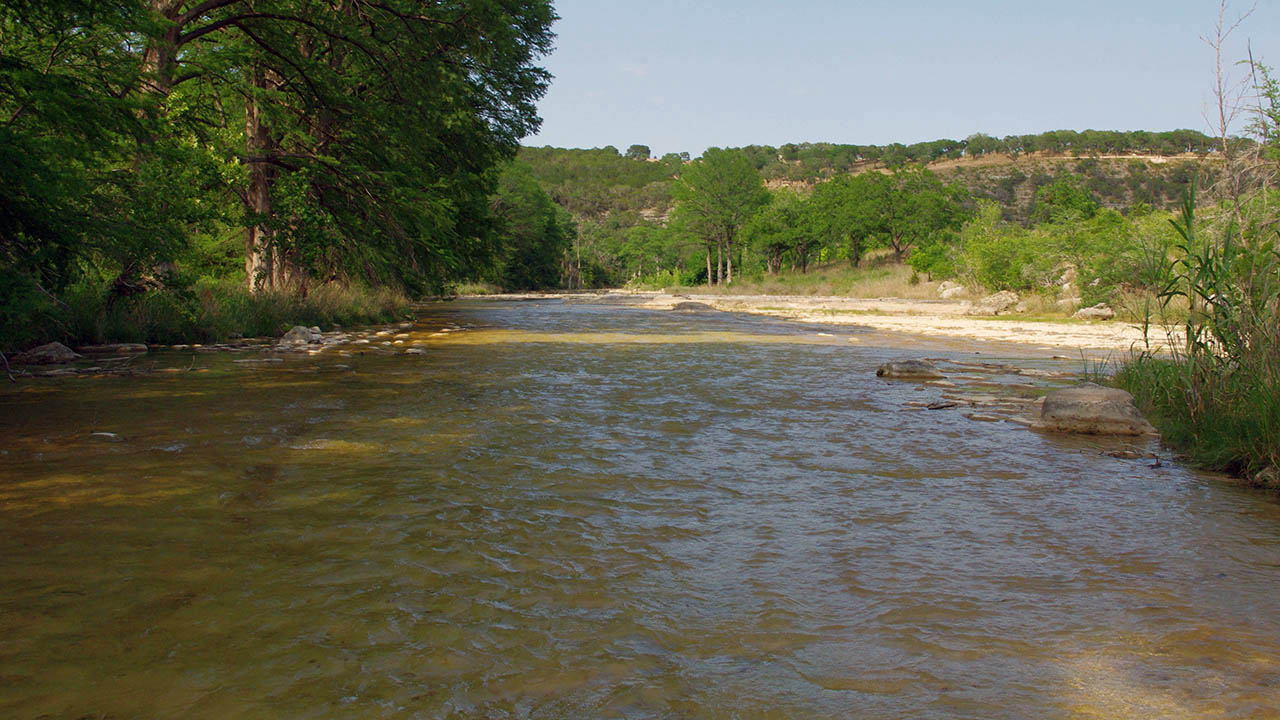 Long stretch of ankle deep water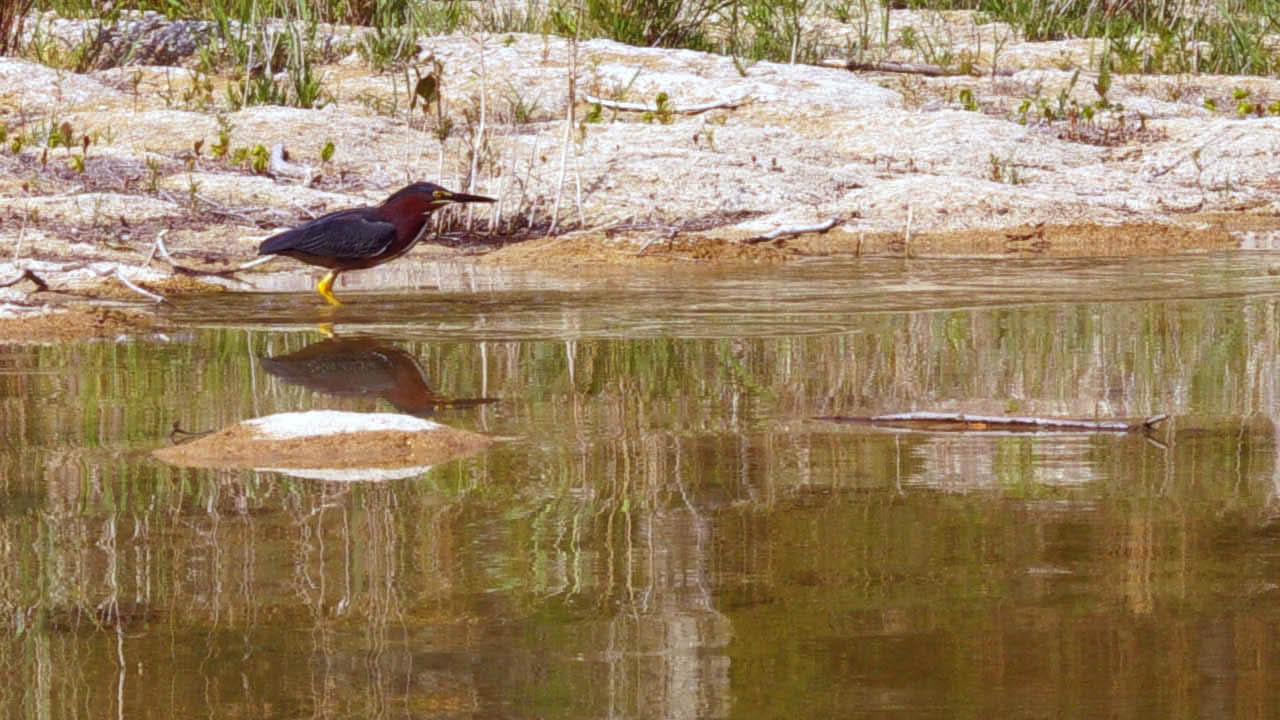 Green Heron at work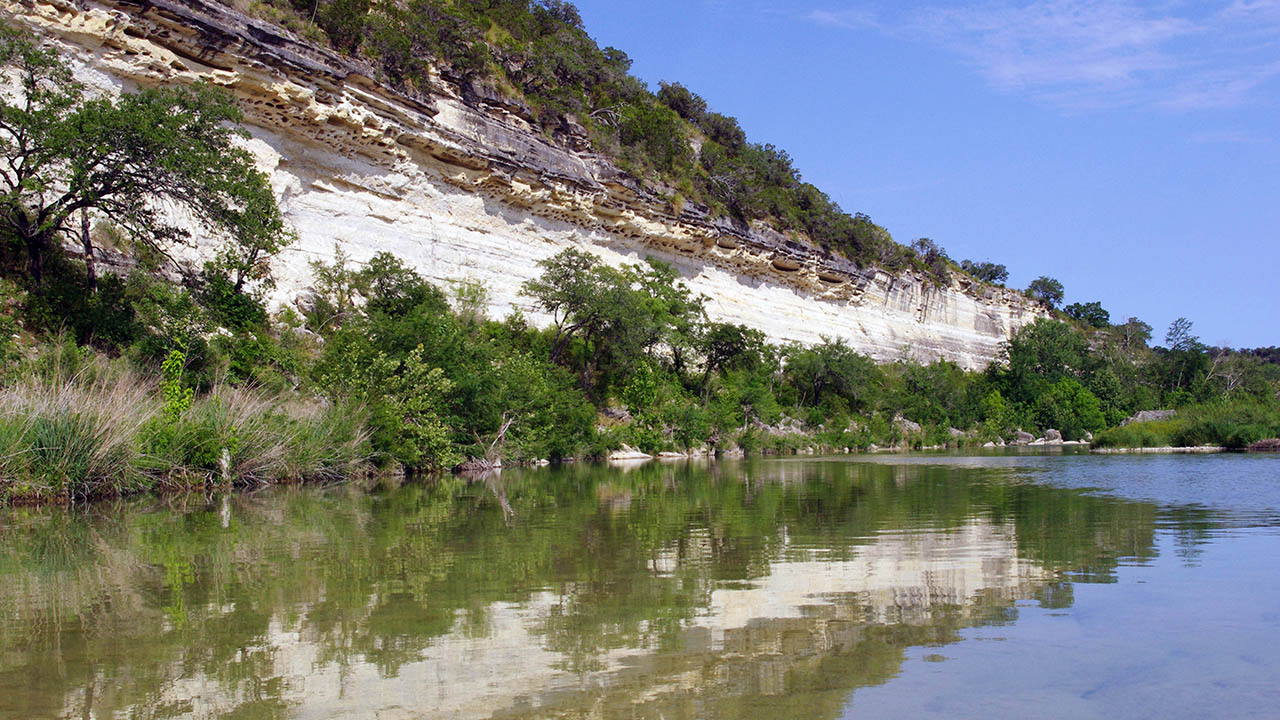 Limestone cliffs, about 1 mile down from put-in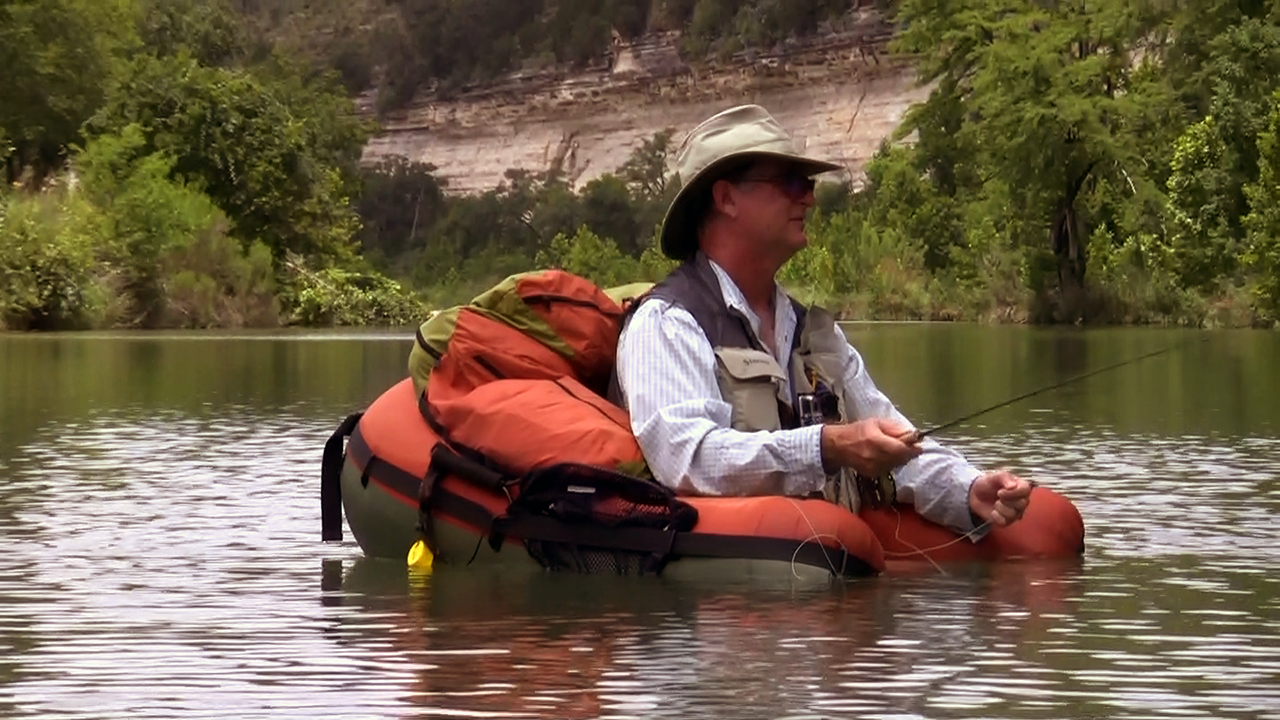 Great fishing just past the cliffs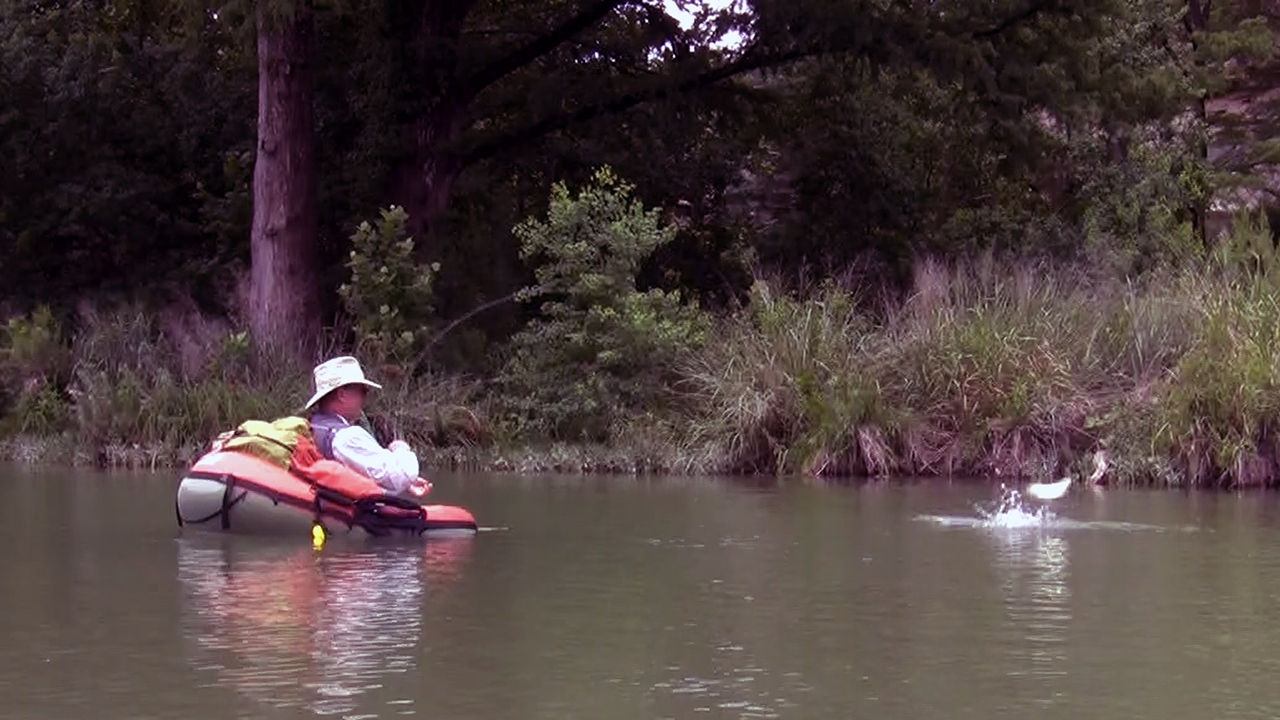 This bass made 7 jumps, we named him Sir Jumps-A-Lot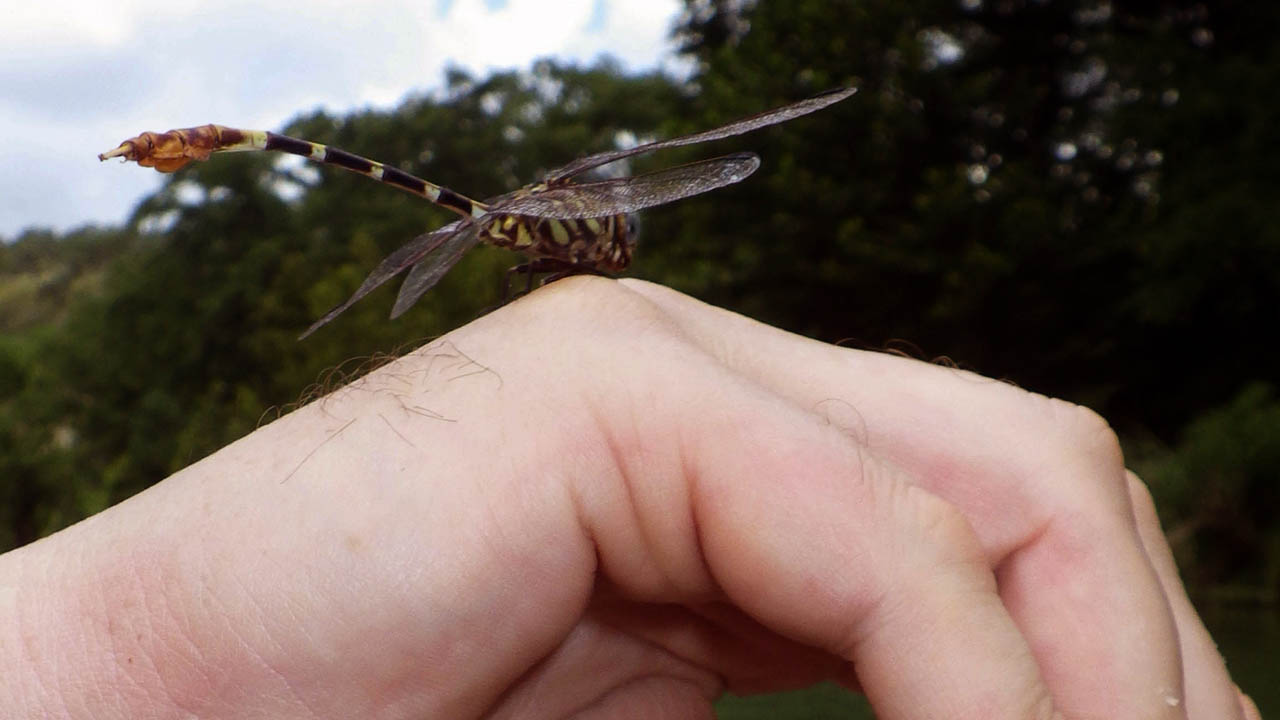 Landing pad for a Dragonfly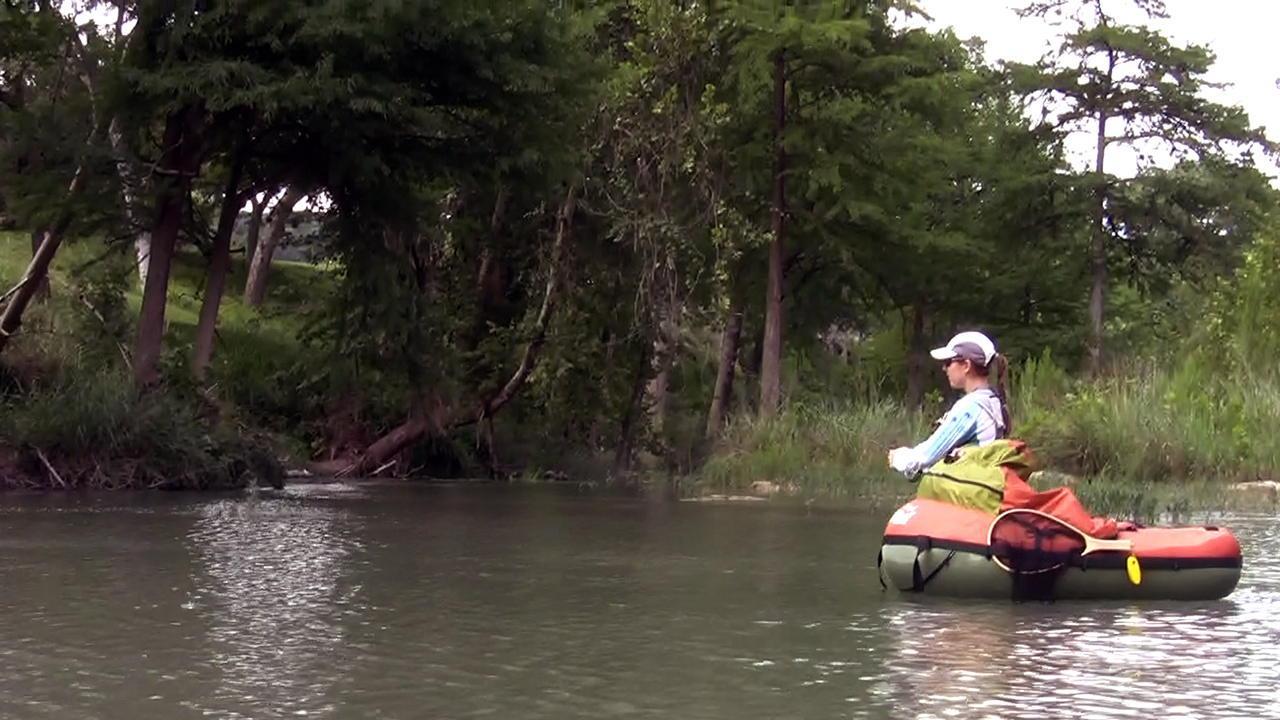 Jaz working a pool full of panfish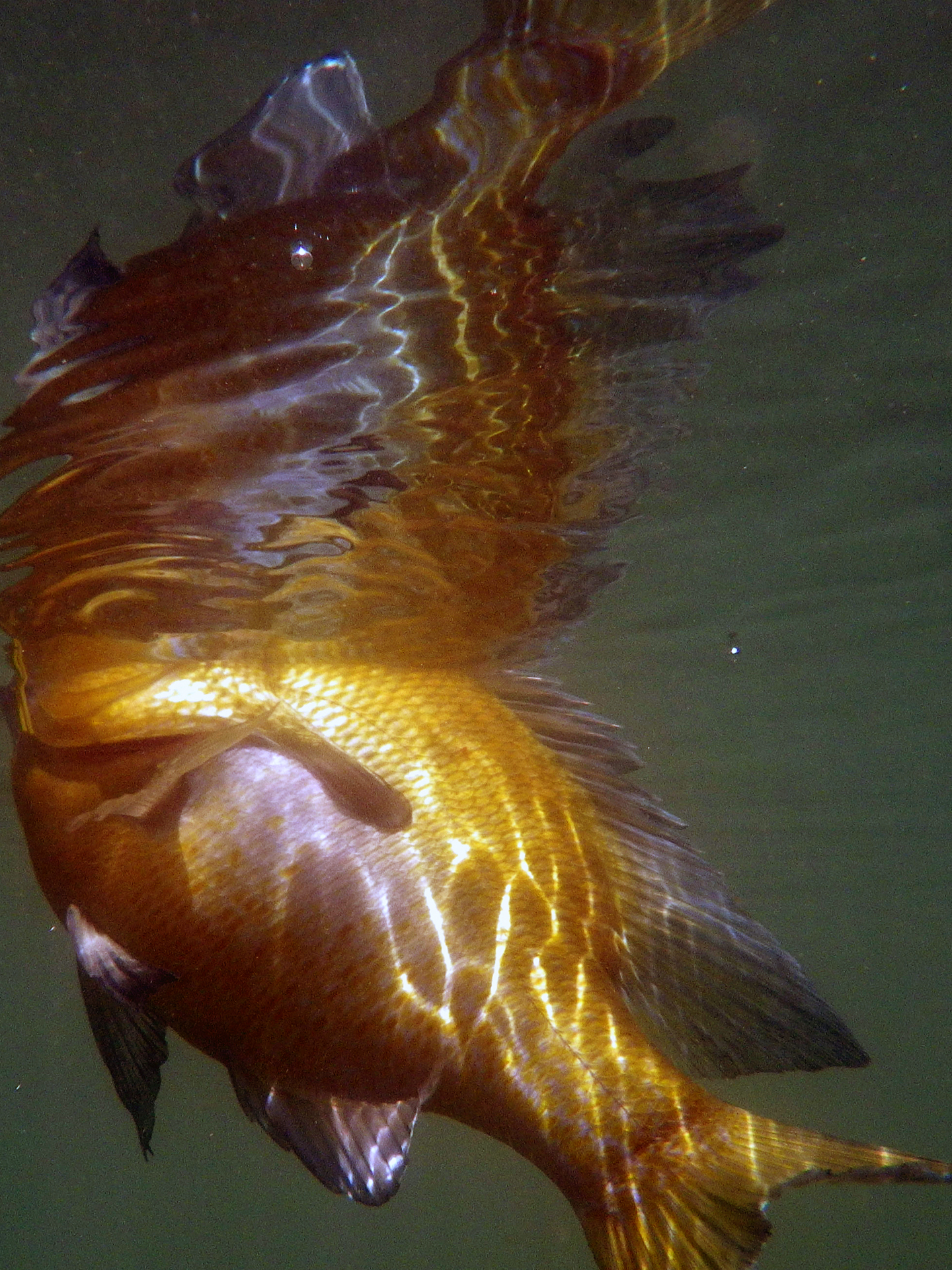 Redbreast Sunfish on a popper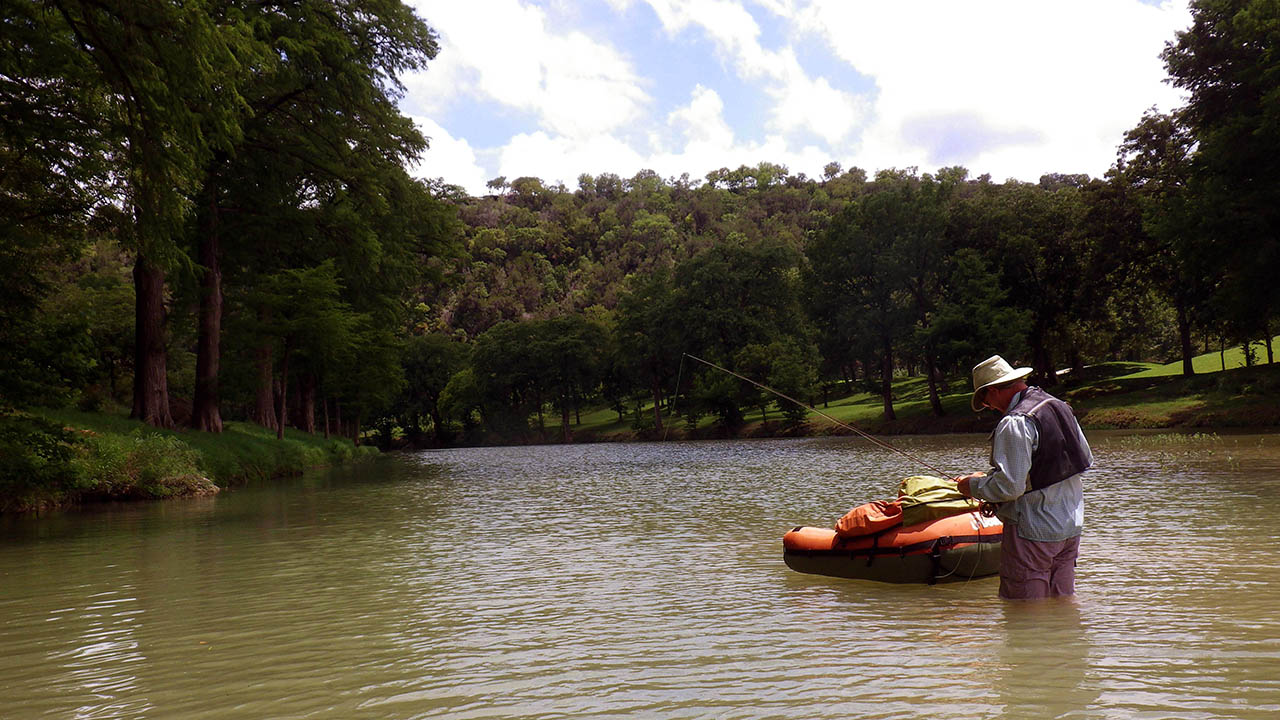 Every bend opened up to beautiful new scenery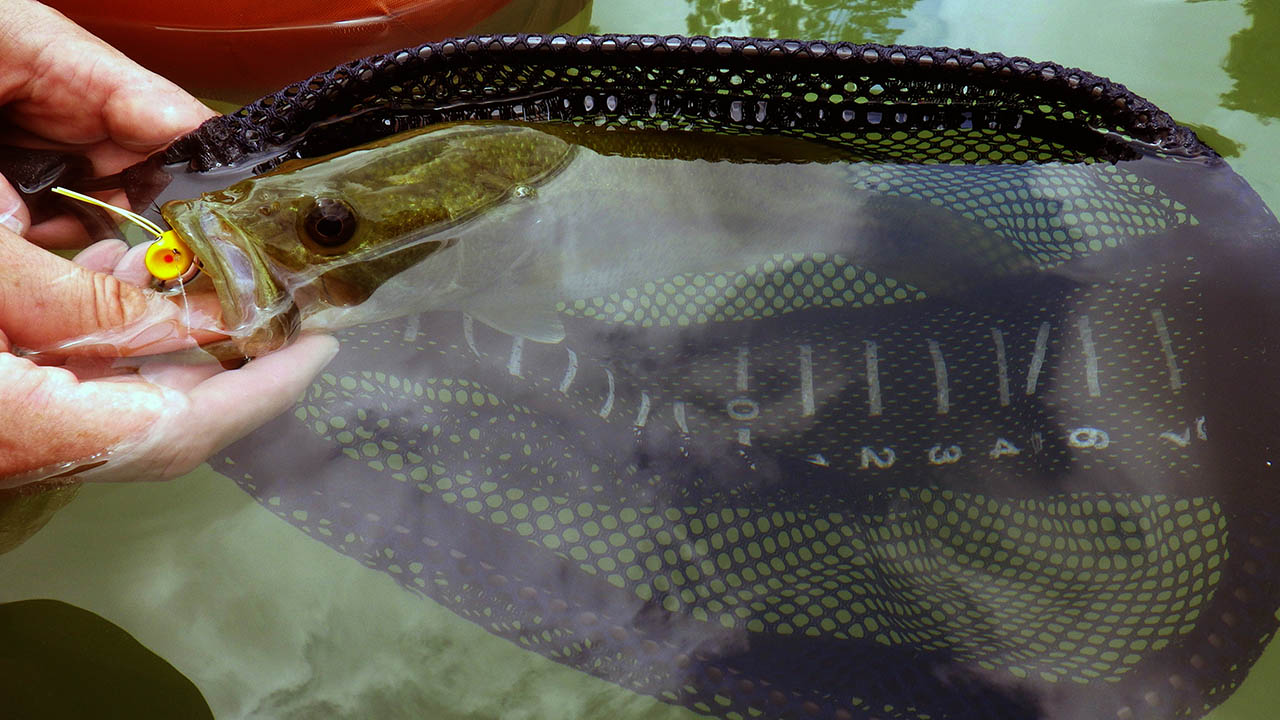 Largemouth Bass, the yellow popper was definitely the most productive fly of the day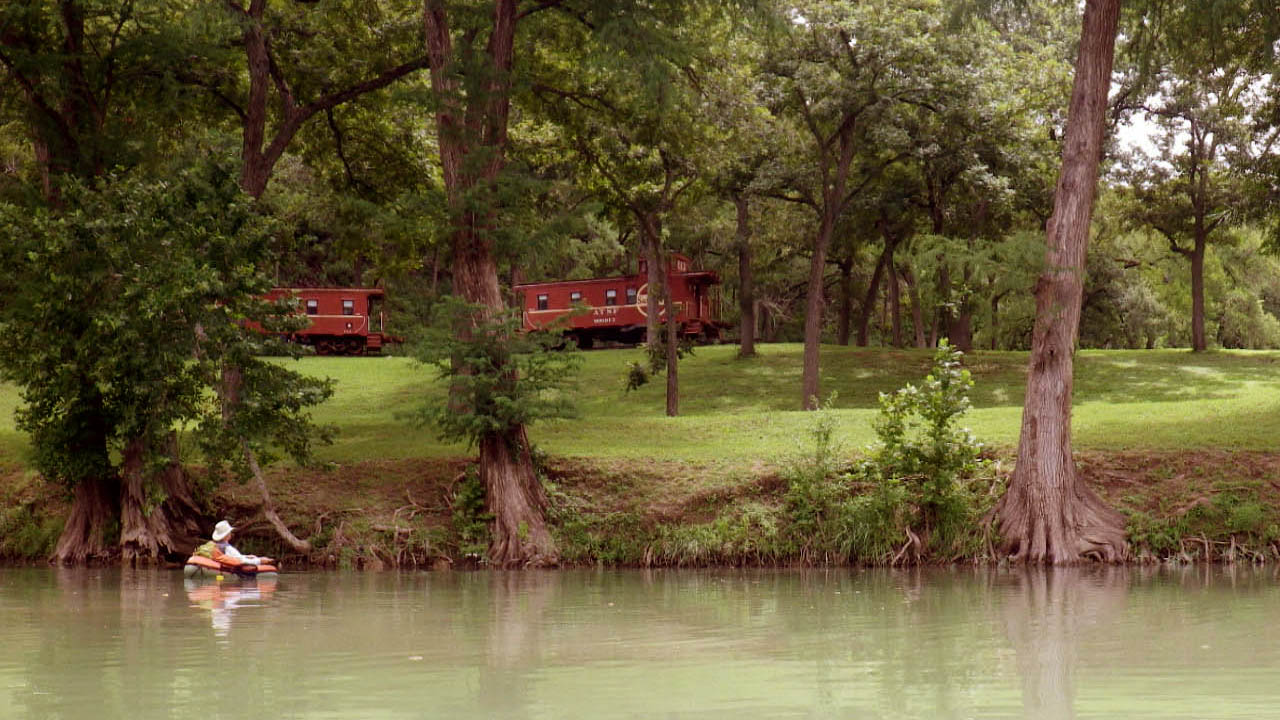 This ranch uses old cabooses for guest cabins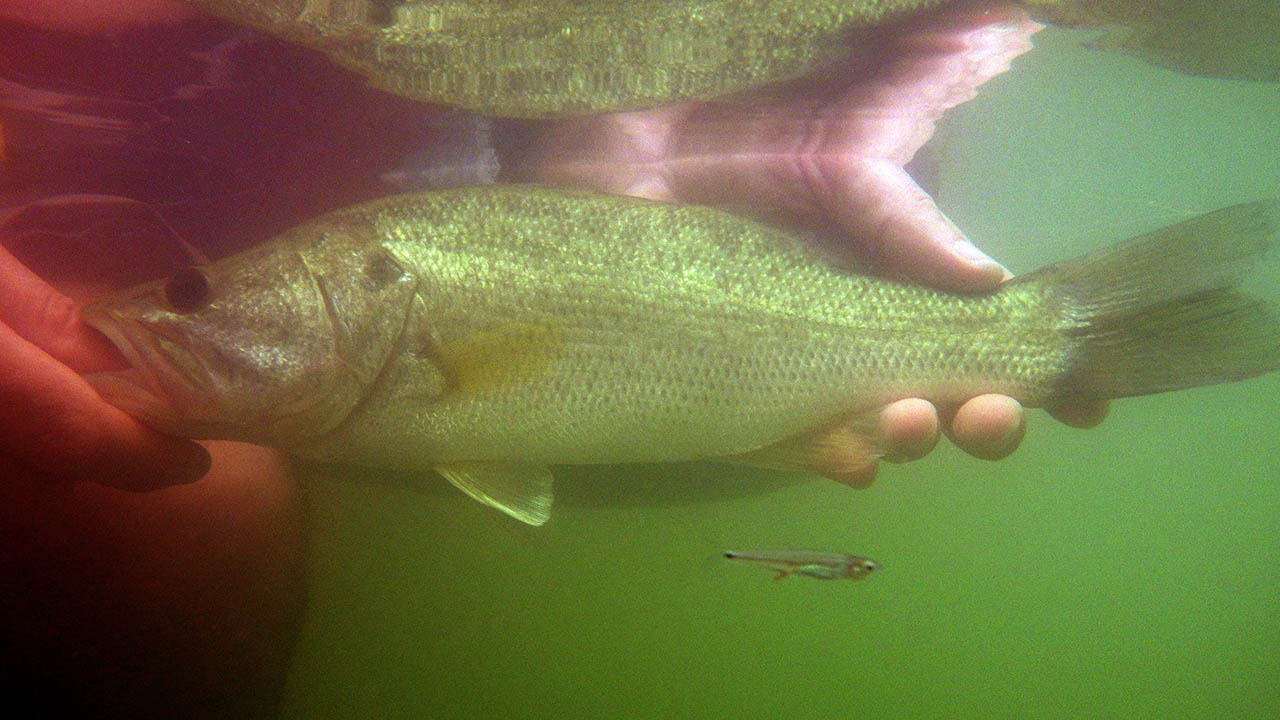 Largemouth Bass release, what the hell was that minnow thinking?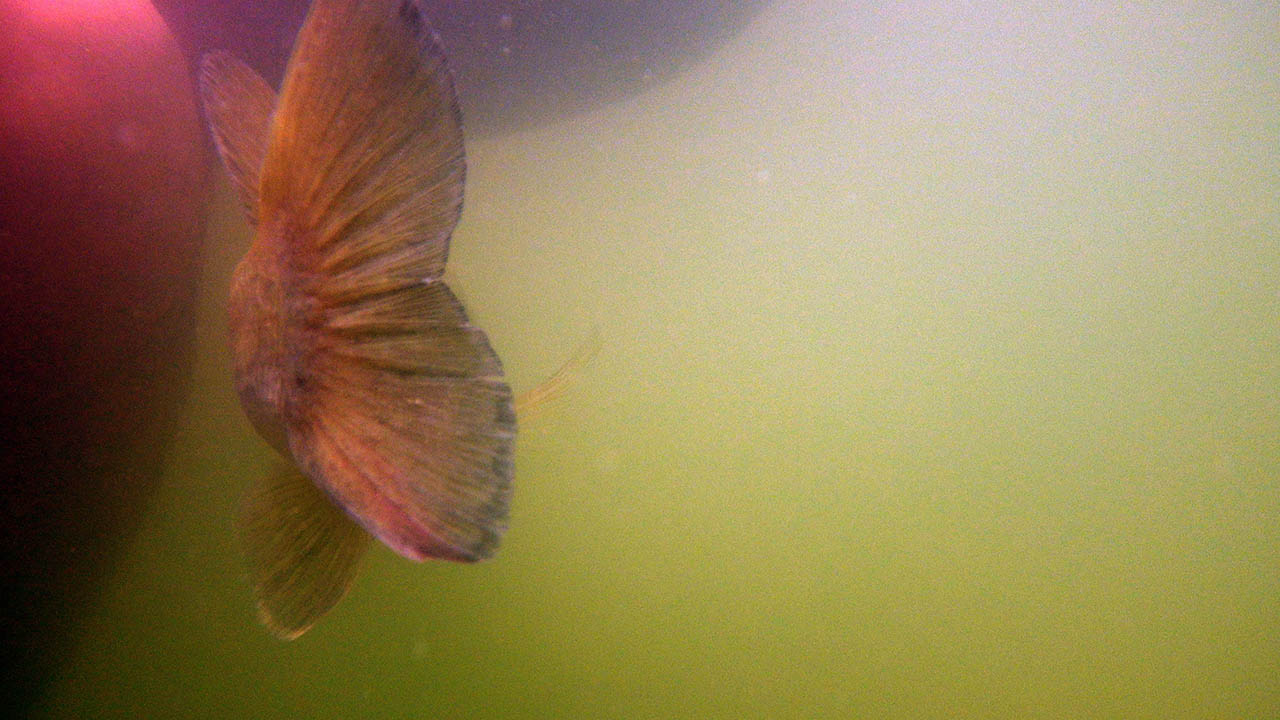 … and a wave goodbye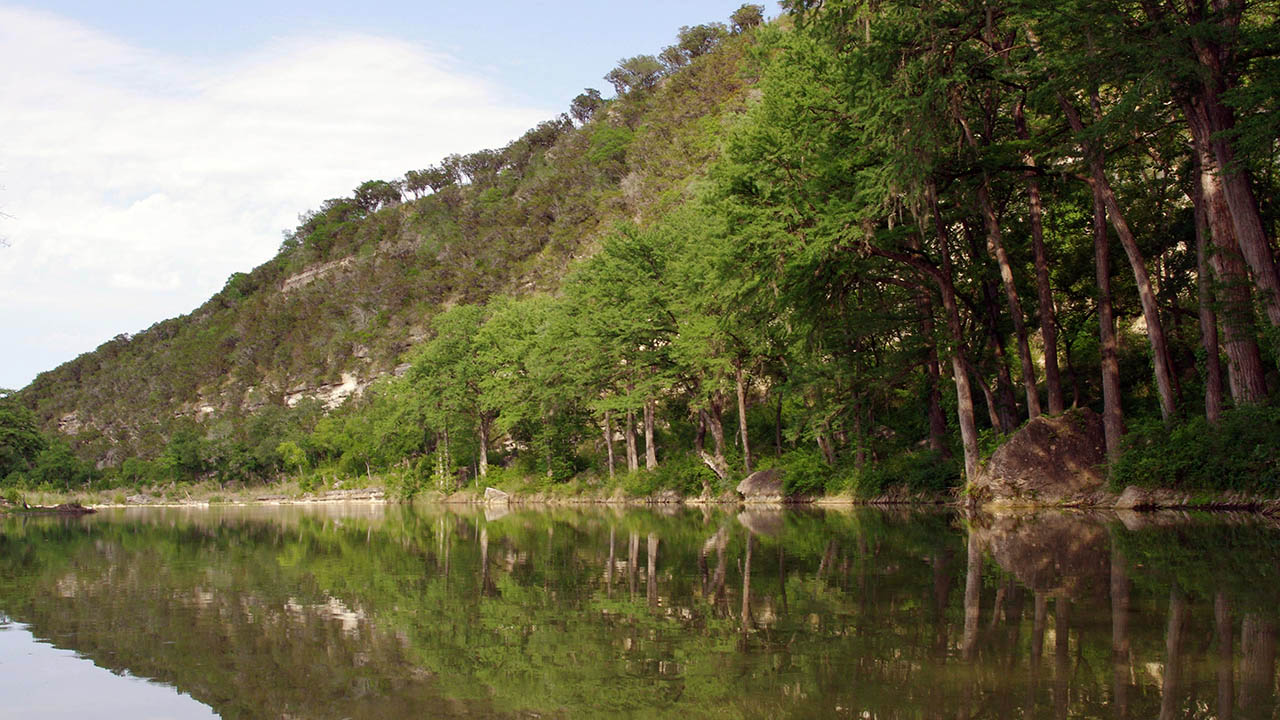 A lot of good shorelines to fish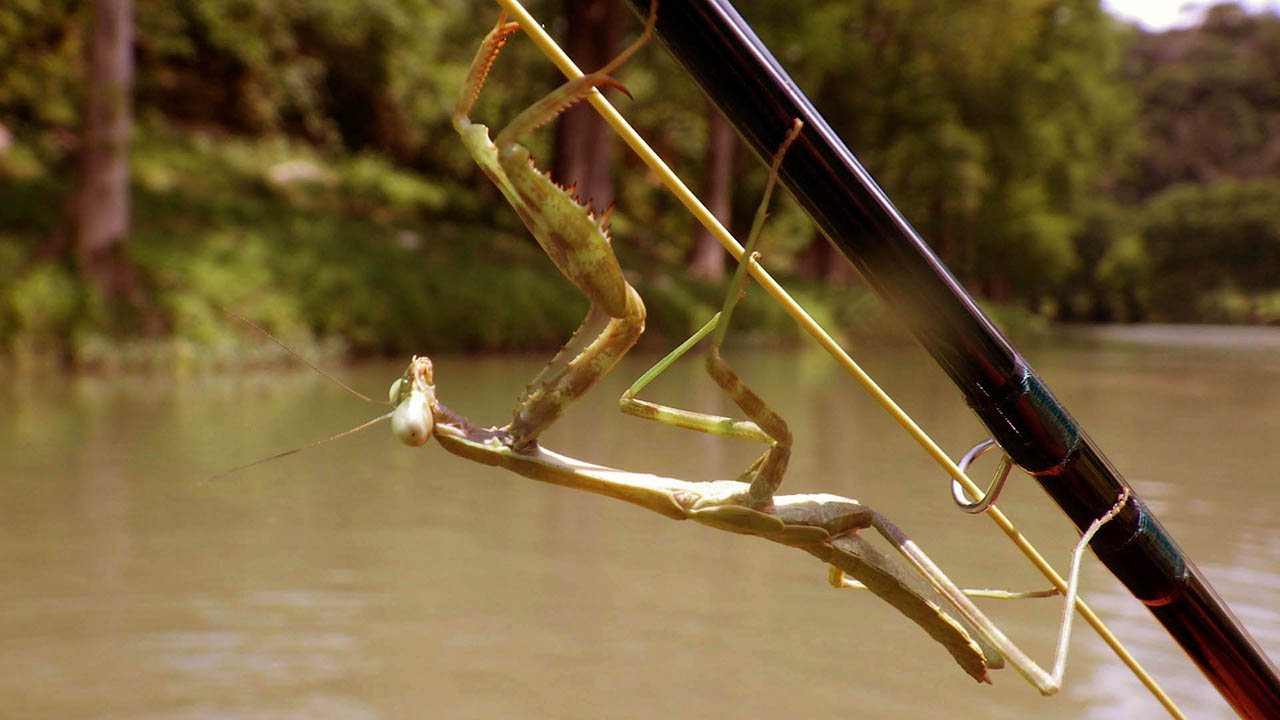 Friendly Praying Mantis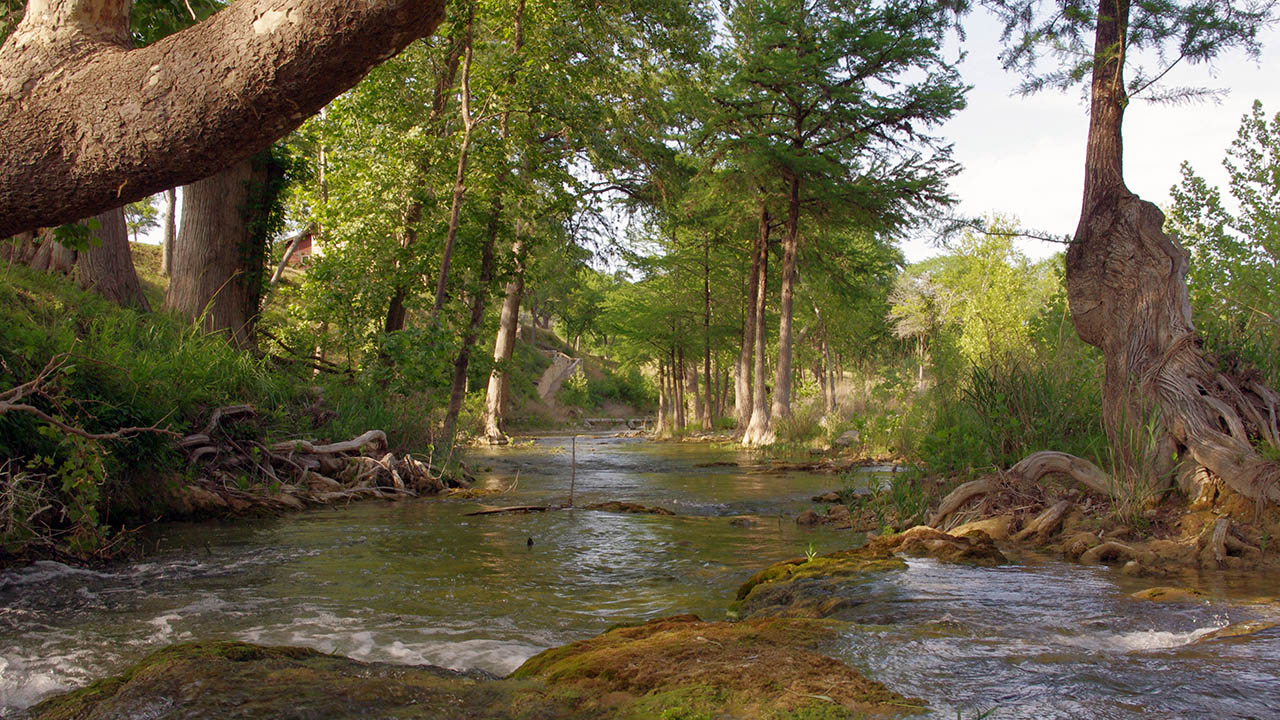 Cypress Tree lined skinny section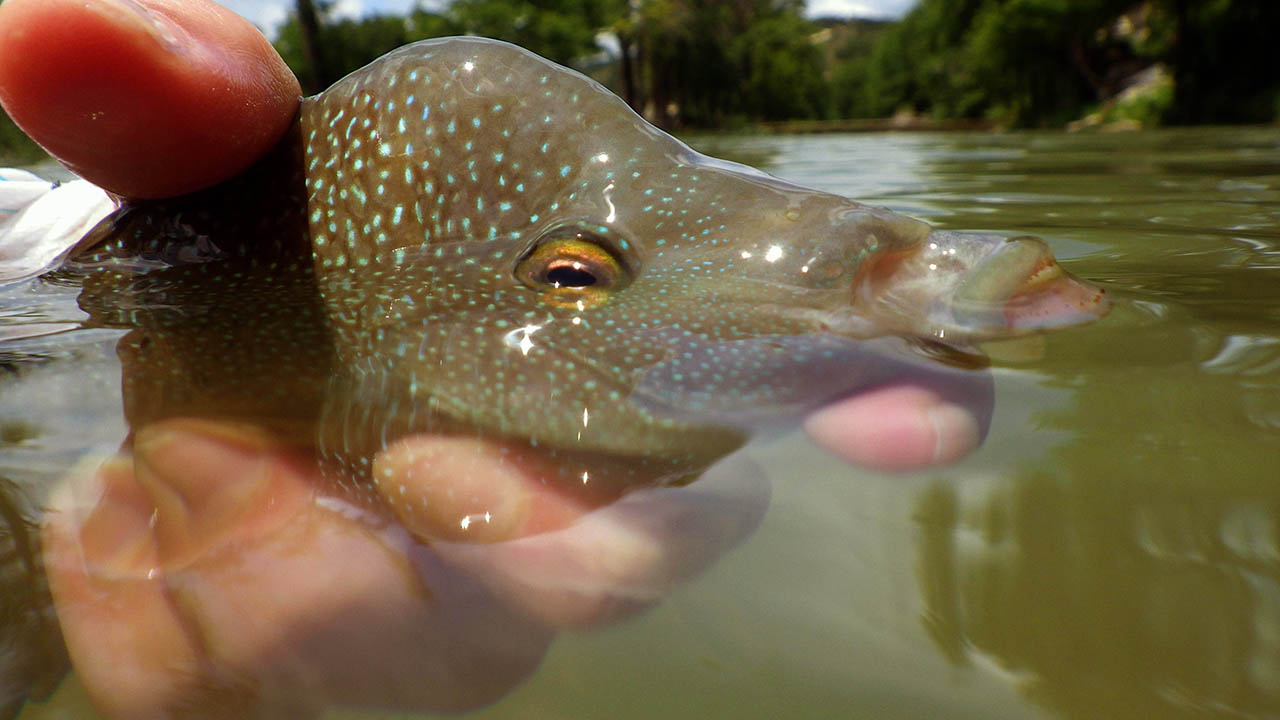 Rio Grande Cichlid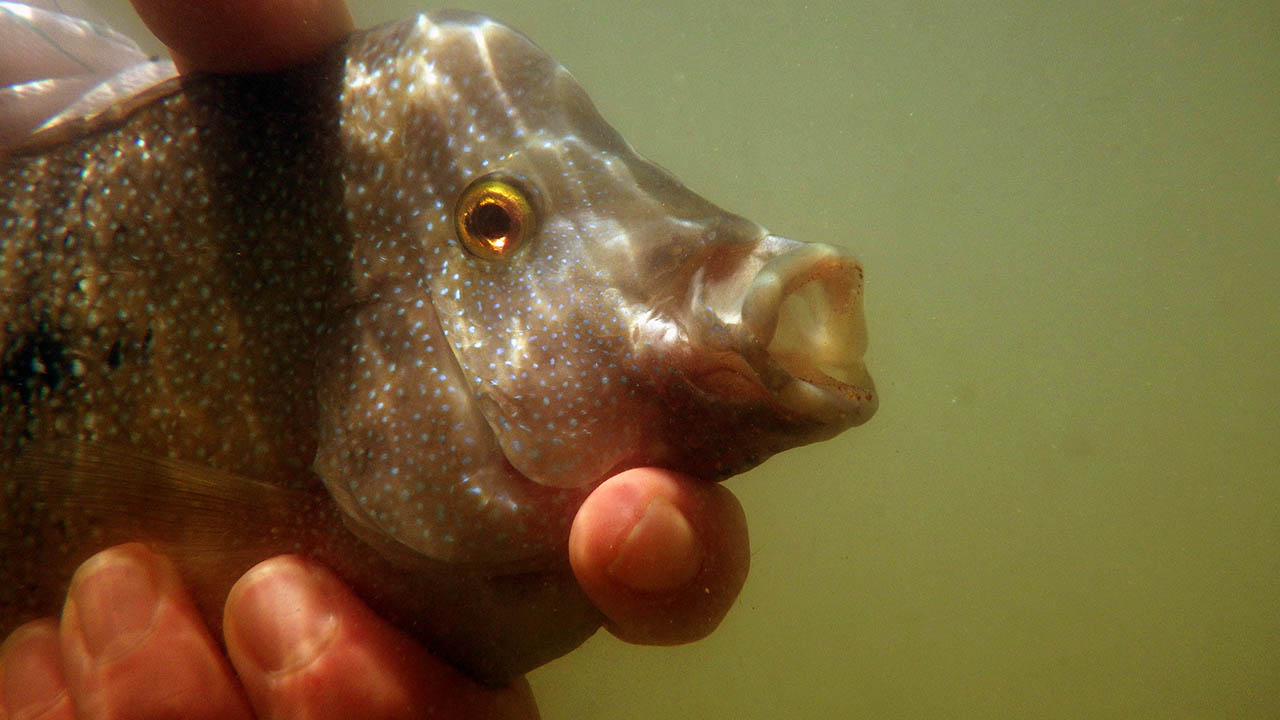 He is so ready to be released, not happy to pose for photography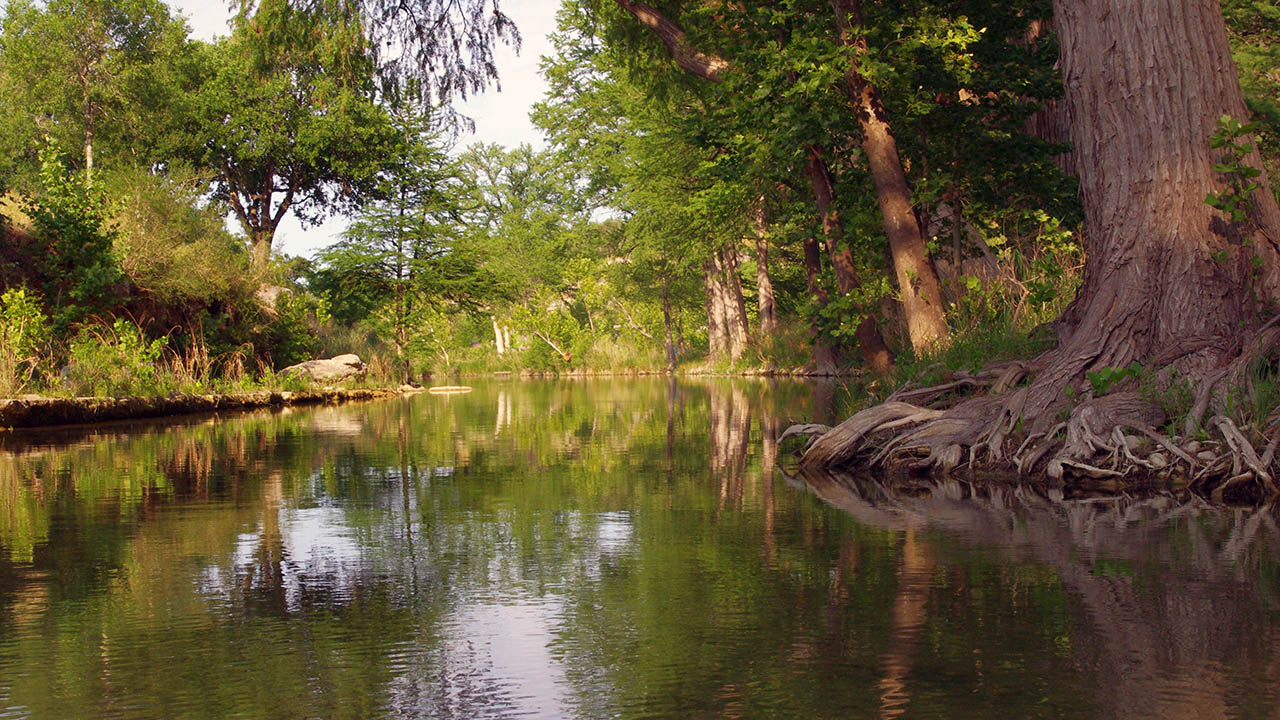 More great pools to fish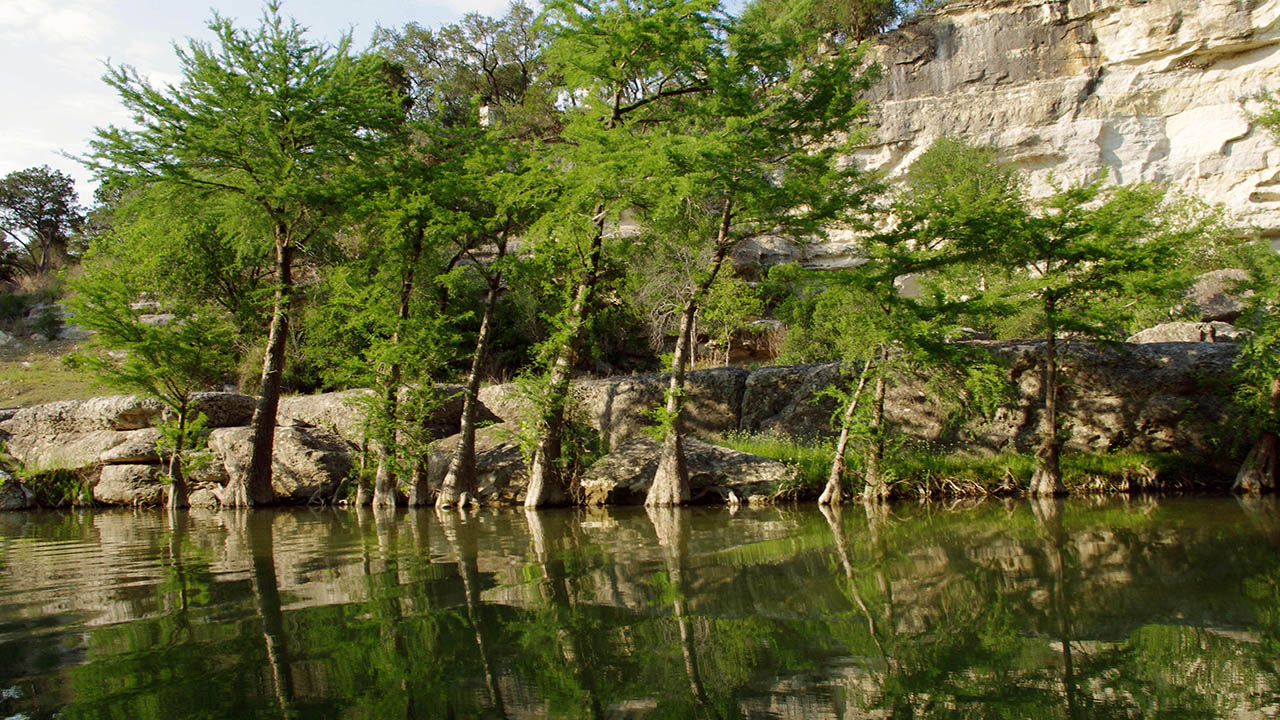 Late in the afternoon we made it down to one of my favorite sections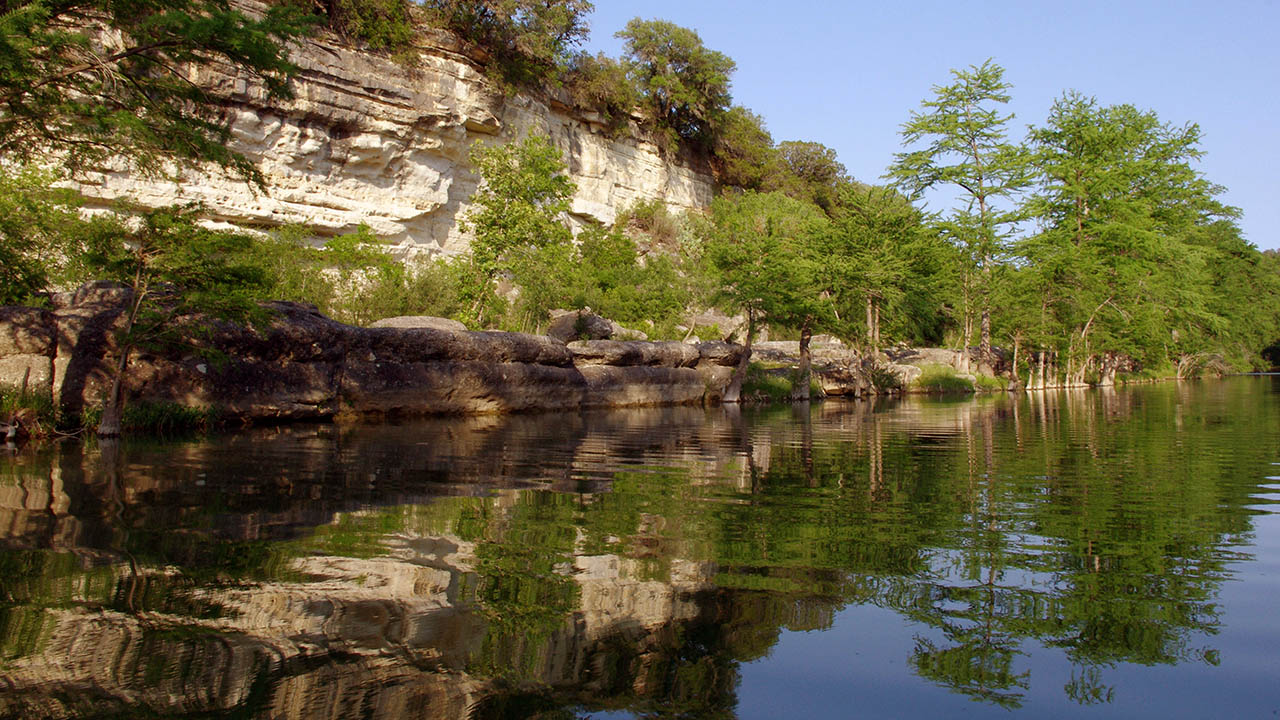 It is relatively narrow but offers great fishing on both banks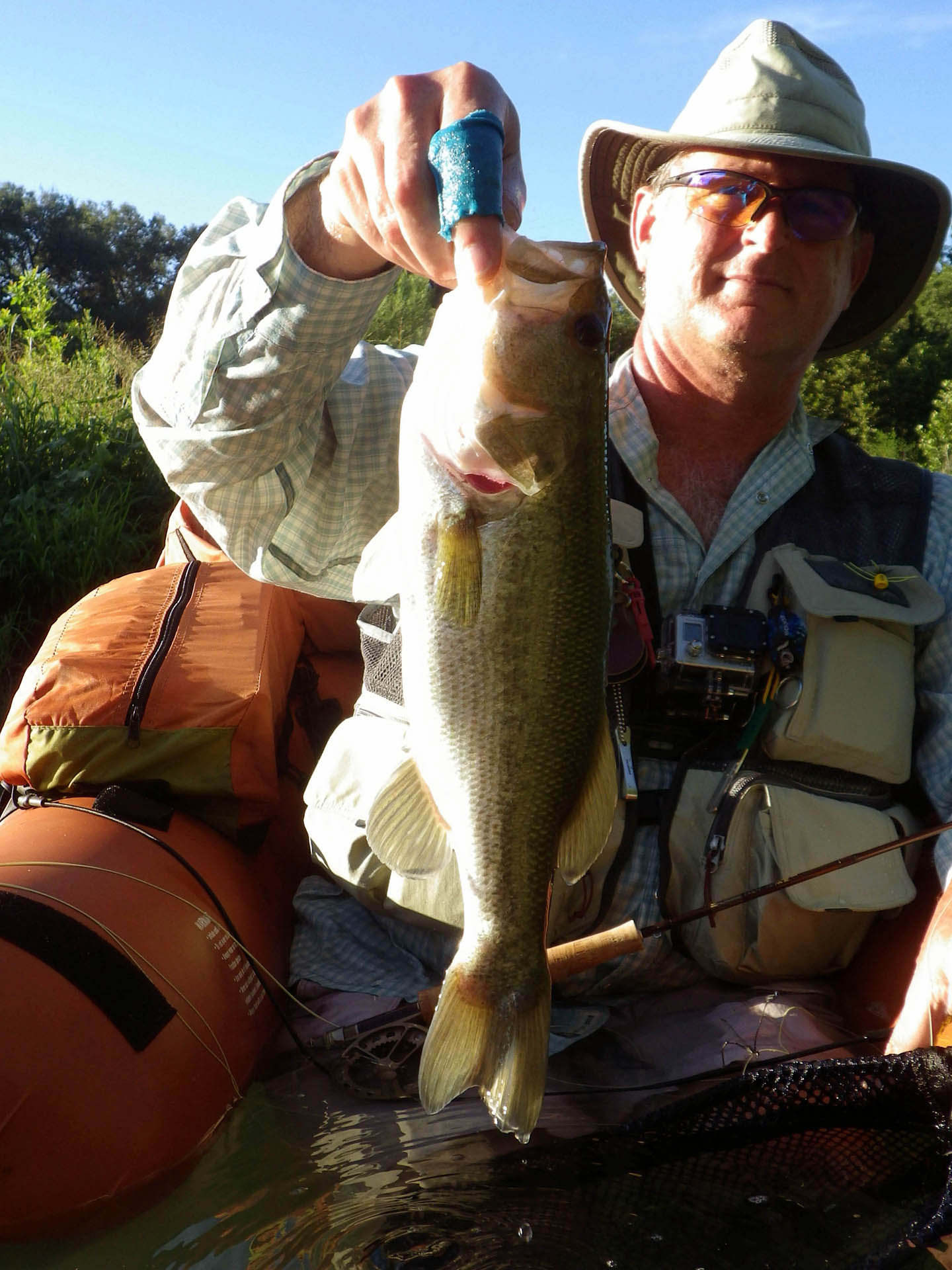 Big Largemouth Bass of the day, somewhere around 17 1/2″ in length
As the sun dropped low behind the trees, I hooked into the best bass of the day fishing deep with a Flying Cat. The landowner just downriver watched the fight which must have appeared to be a much larger battle with my 000wt rod doubled over then came up and spoke to us just after I released her. A bit of friendly discussion later and he agreed to let us sleep on his property overnight.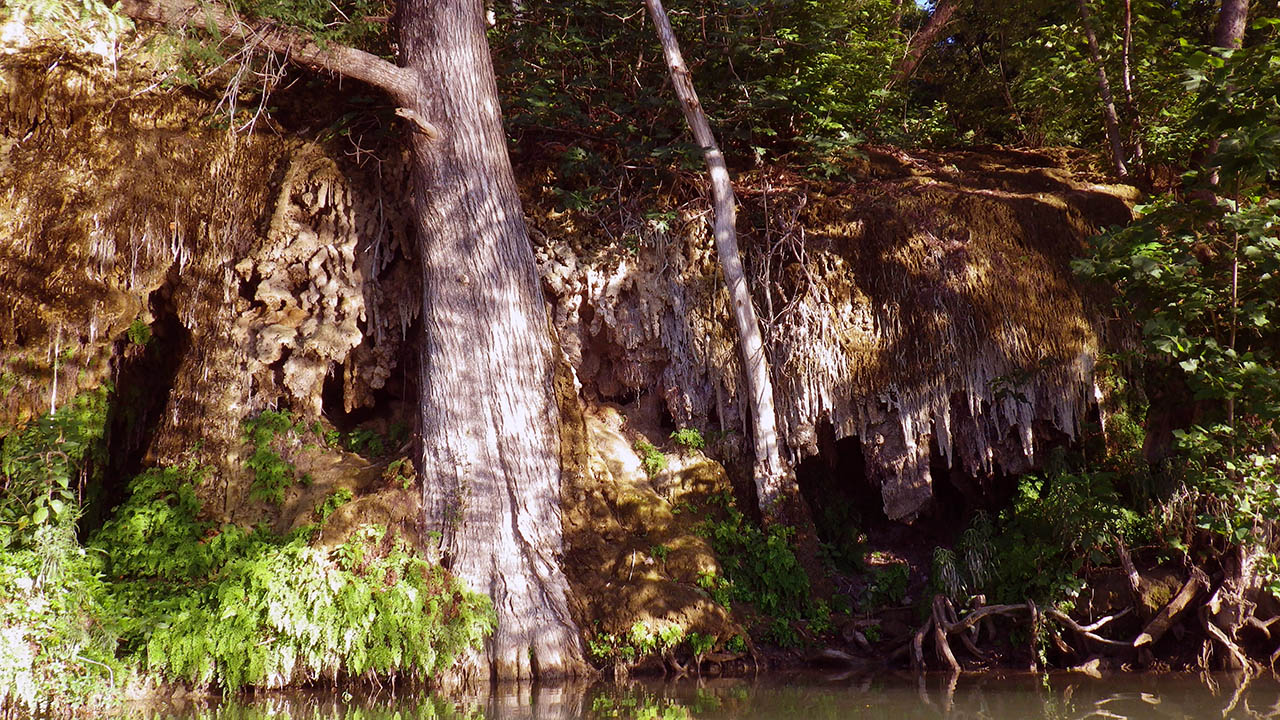 Limestone cliff leeching out water from a large spring
Jaz finned over to a spring and loaded up 3 liters of clean, cool water for us to filter at our campsite.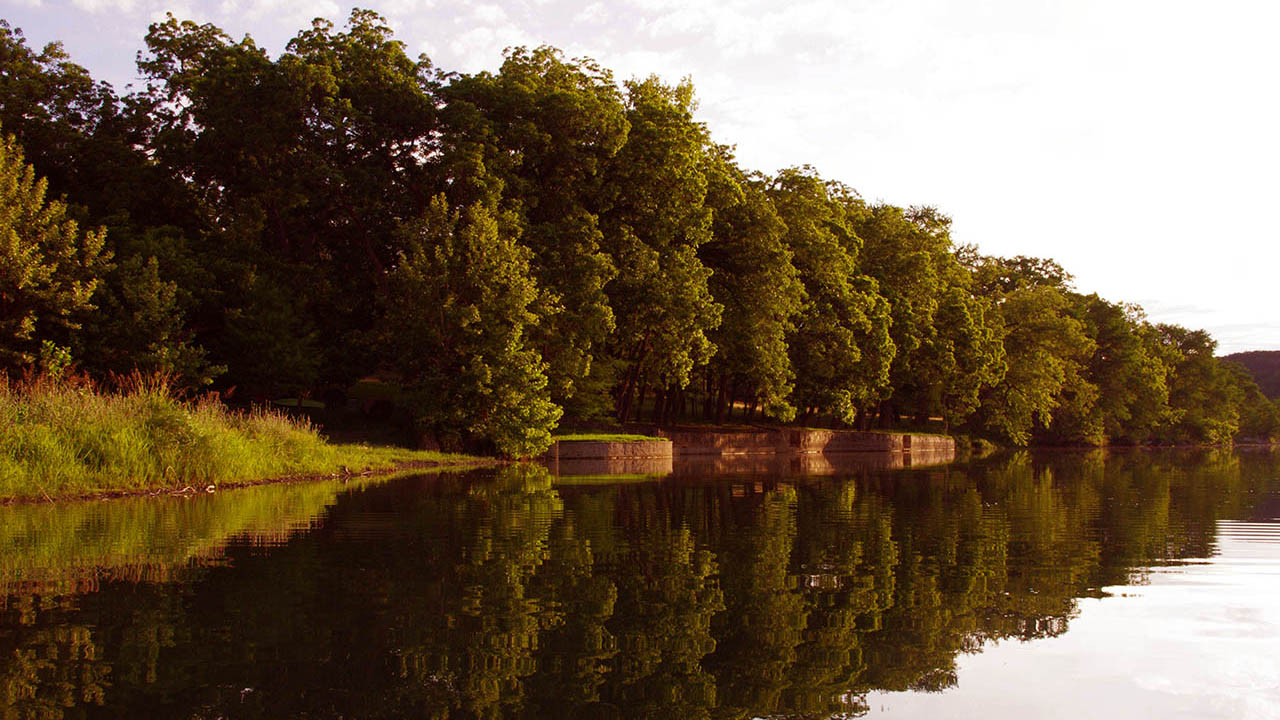 Beautiful private property for a campsite
We could have gone downriver about 200 yards to an island had the landowner not agreed but I had spotted 3 trees on his property that would be perfect for us to use.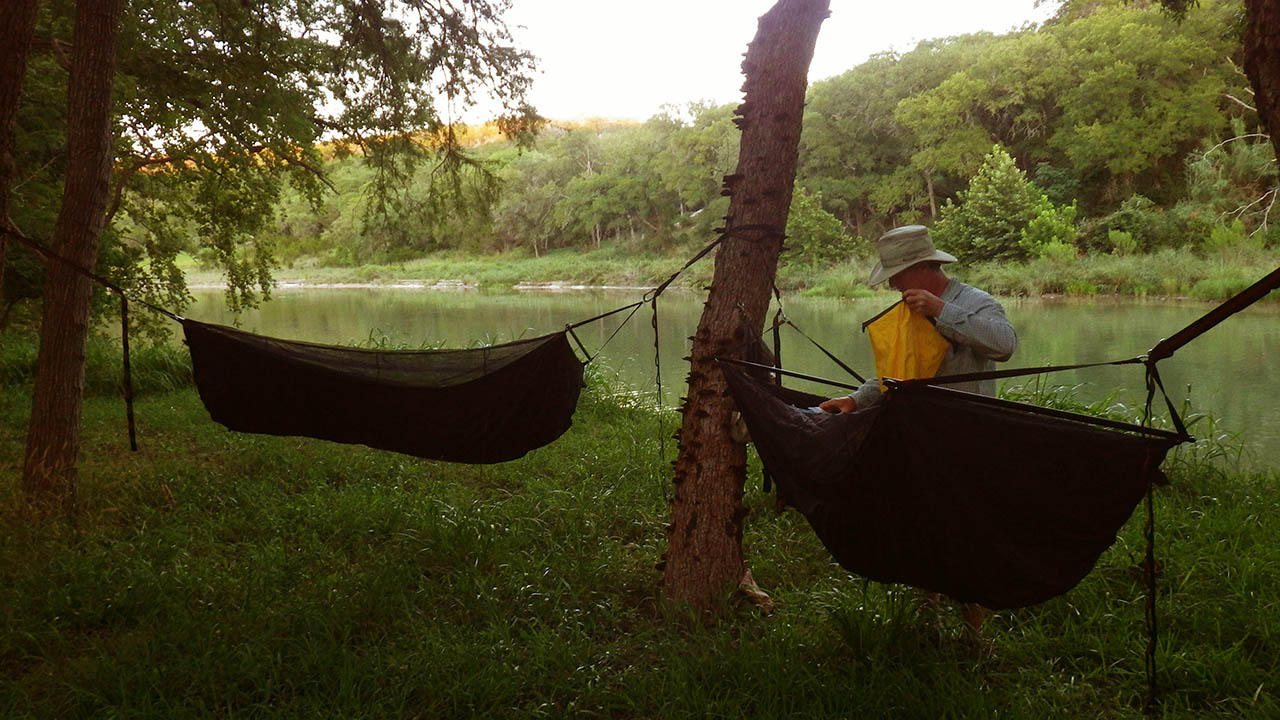 Hammocks set up for the night
The day ended with us only putting in about 3.9 miles. Far enough since we had 3 days and a lot of the reason we went so slow is that the fishing was so good. We set up and ate dinner as quietly as possible, being mindful that we were guests there. The new hammocks were great to sleep in and we both slept well.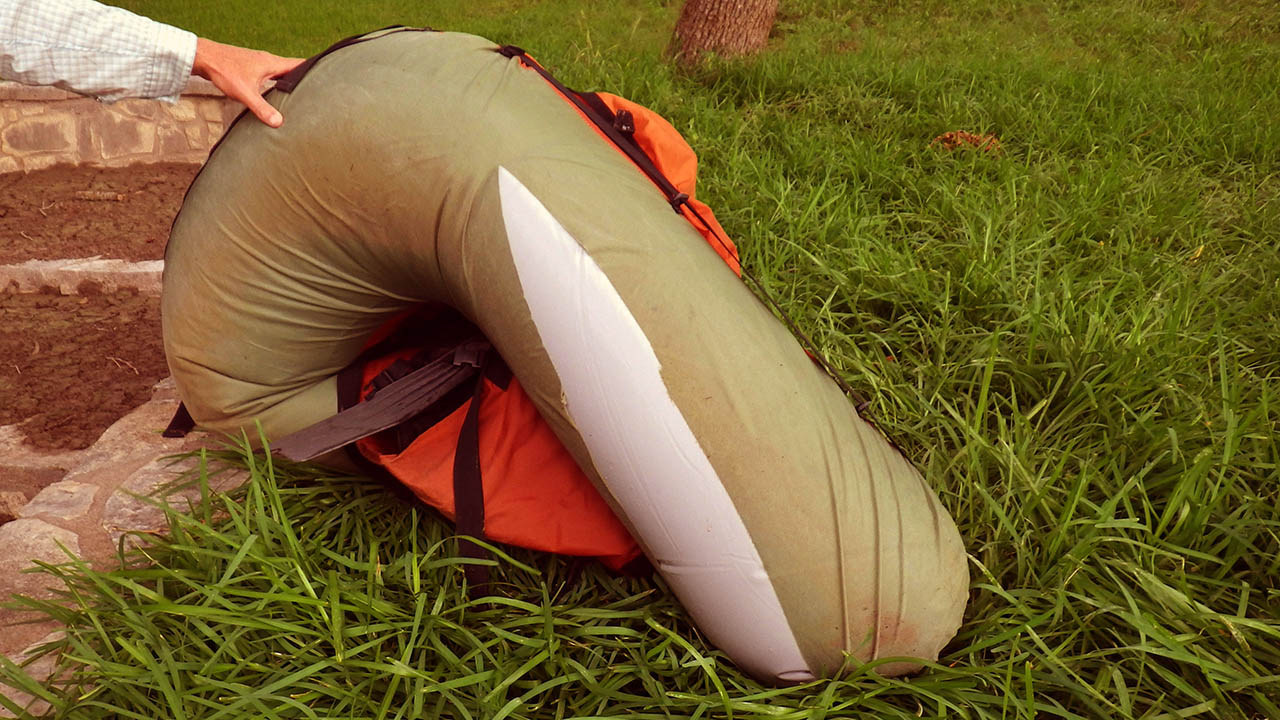 Ouch
We quickly broke down camp as soon as we awoke. Each of us attending to tasks that needed to be done. At one point I hear Jaz giving the float tubes a few pumps and I didn't think anything about it. After we got all packed up I moved my tube a little to the side and heard a sickening rip. Sure enough, she had accidentally over-inflated the tubes and hemorrhaged my cover. To be fair to her, my tube was a couple of years old and I had used it hard, the bottom where it ripped was well worn and definite weak spot.
As punishment, I made her put on her sweetest face and go up to the landowners house to call for a rescue. After Kelly (bless my supportive wife) brought me one of our demo/loaner floats we got on the water late in the morning.
Awesome little island for a single hammock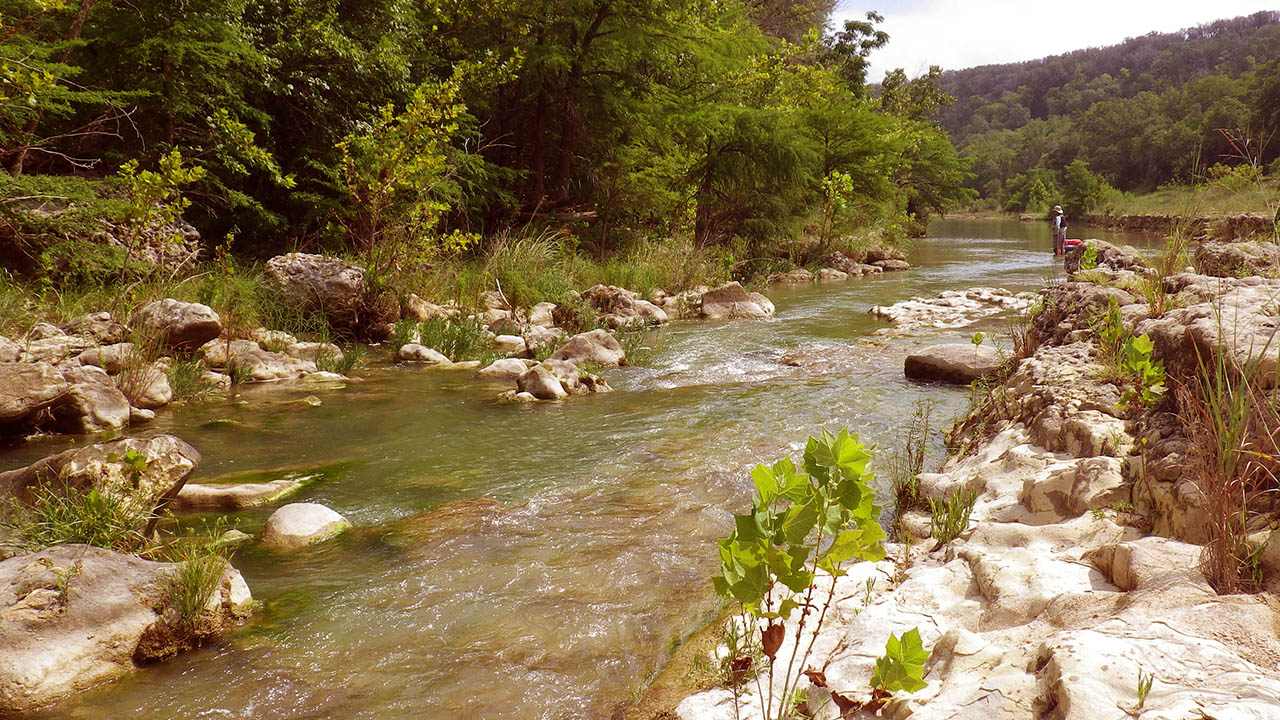 South channel of the island we were originally planning to camp at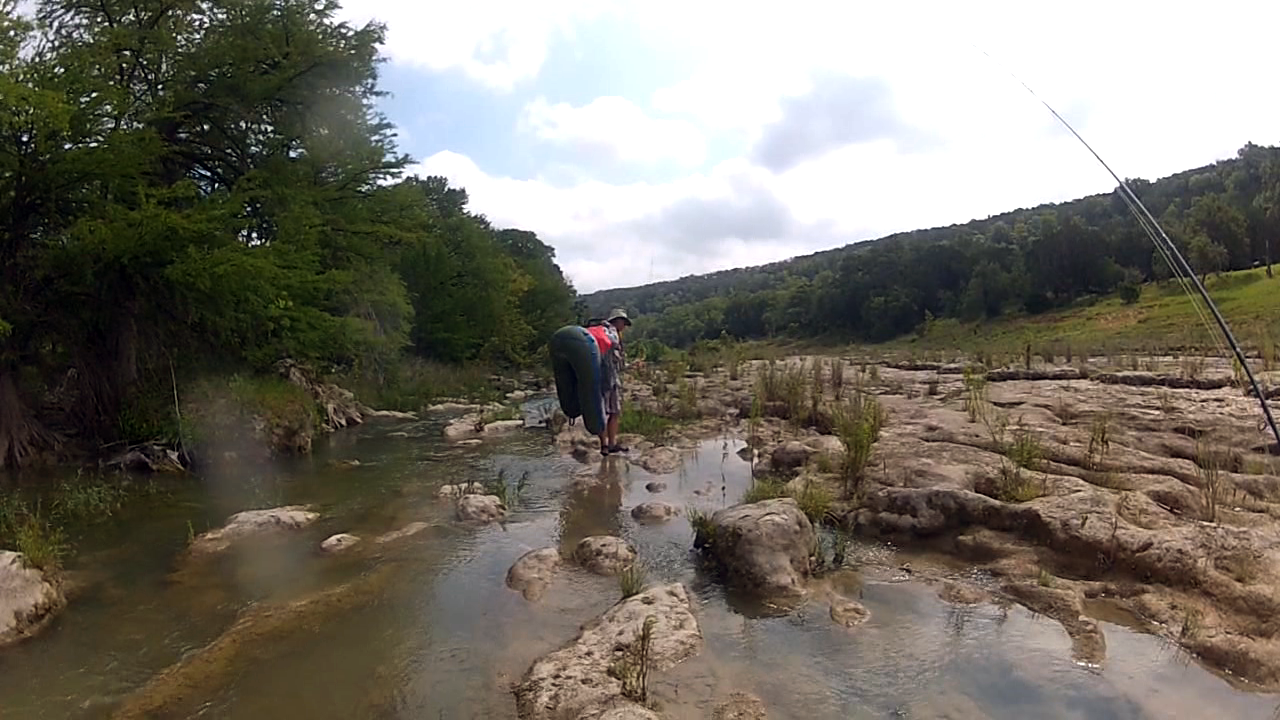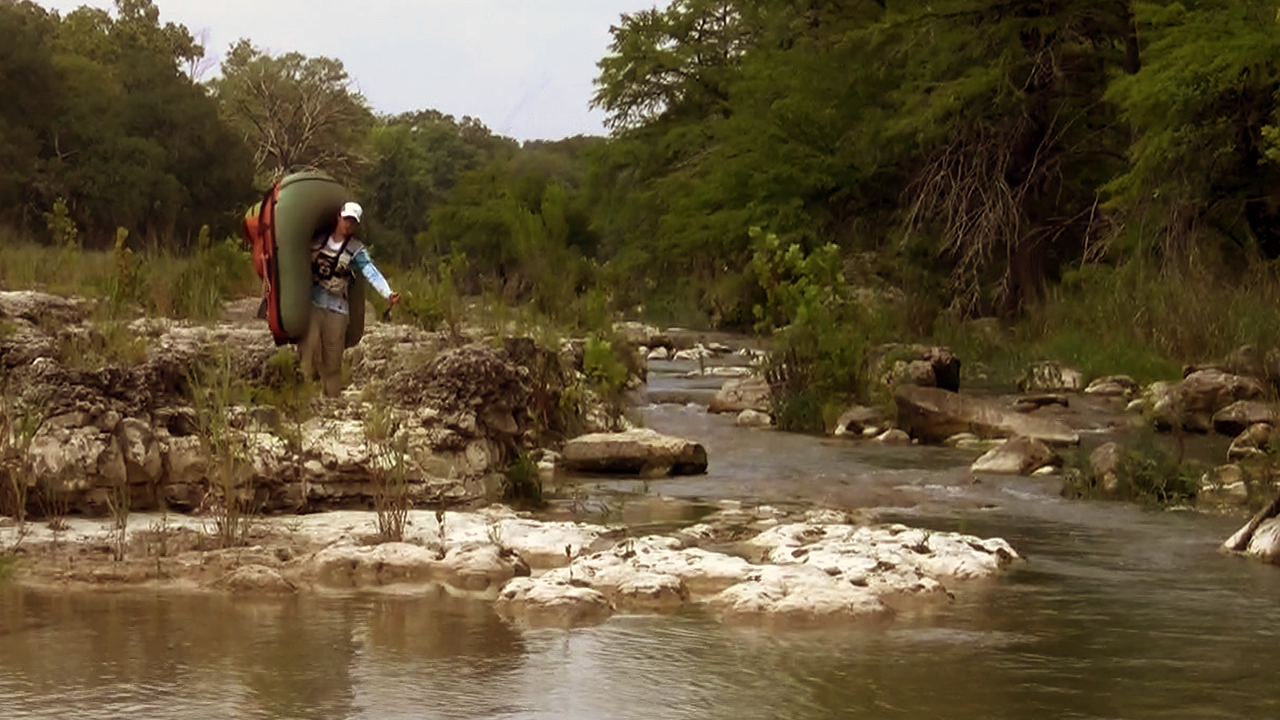 Heavy floats are tough portages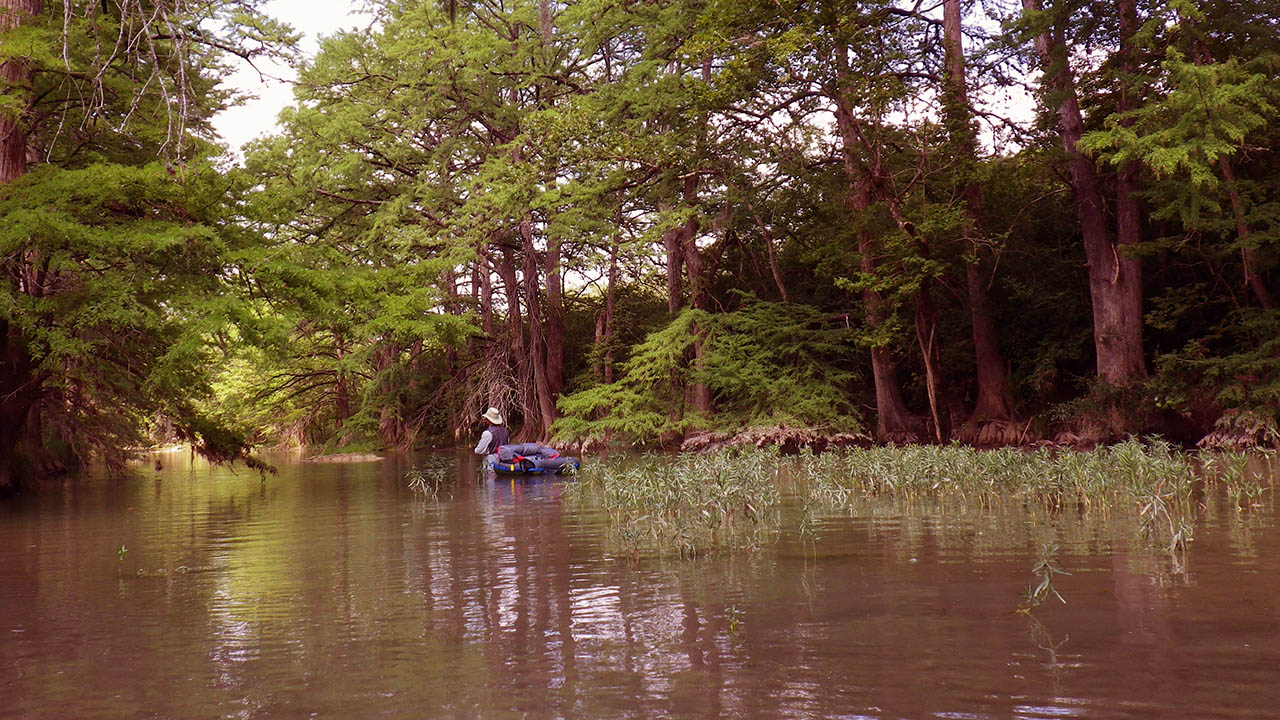 Found a little pocket full of sunfish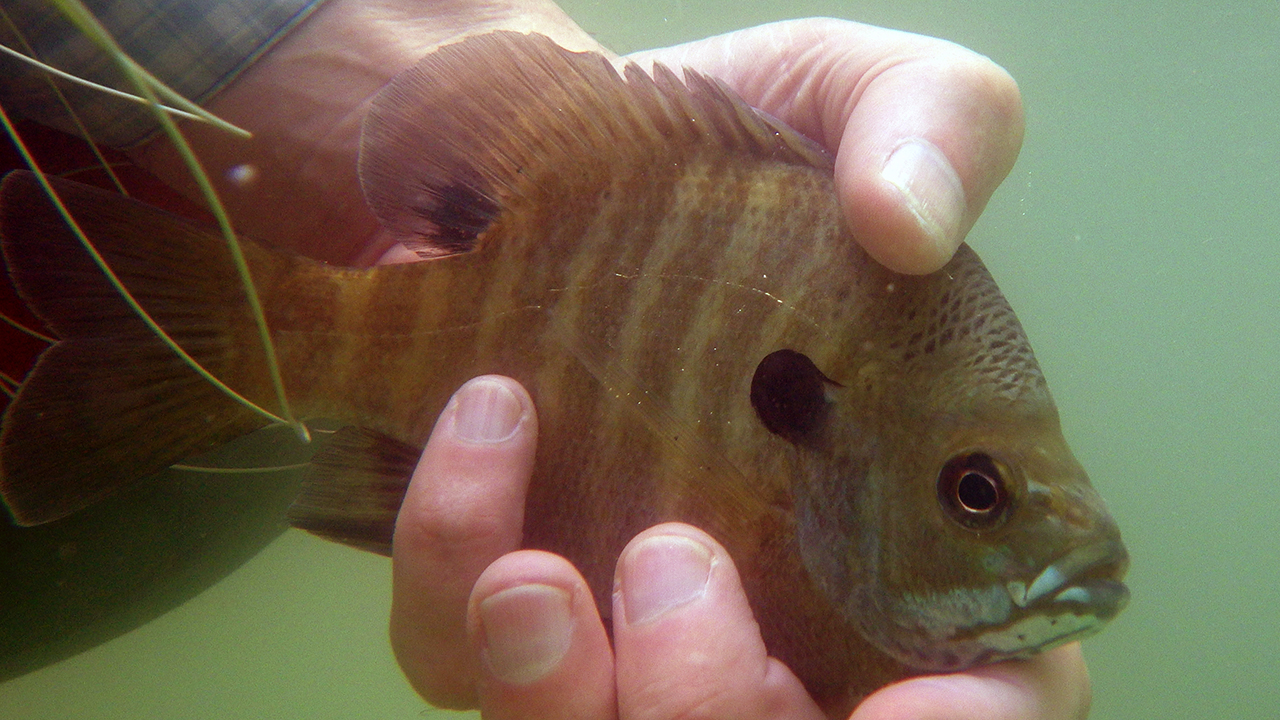 Bluegill Sunfish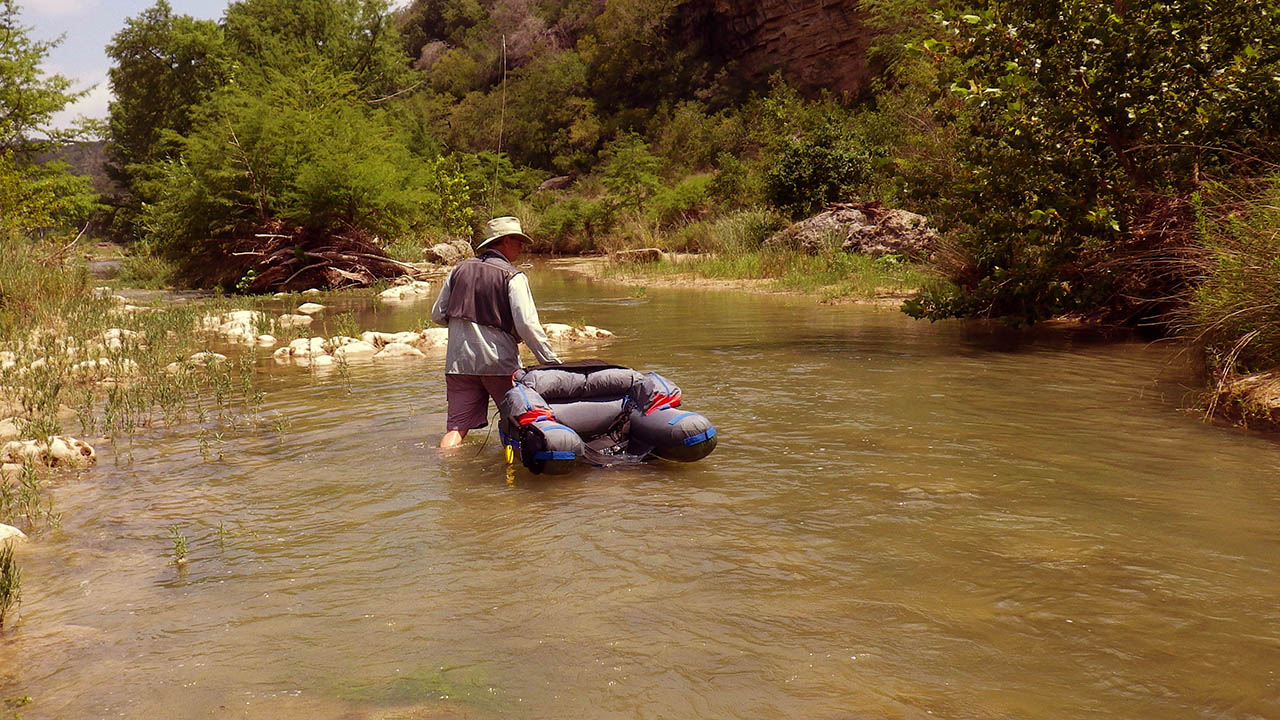 Dragging my "new" float.
It became apparent early in the second day that we were going to be spending a lot more time dragging and portaging this day than fishing. On top of that, the further we went downriver the warmer the water became. I assume this is because of the low flow rate and there are fewer springs in this section.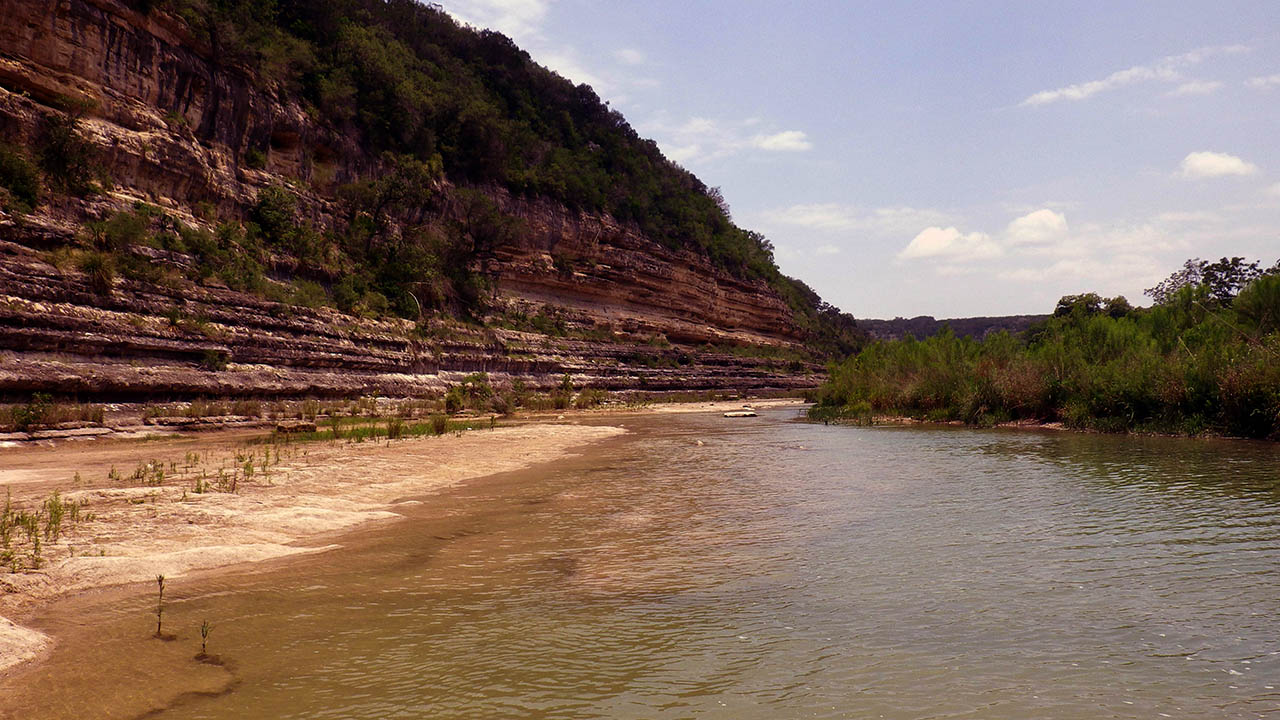 More cliffs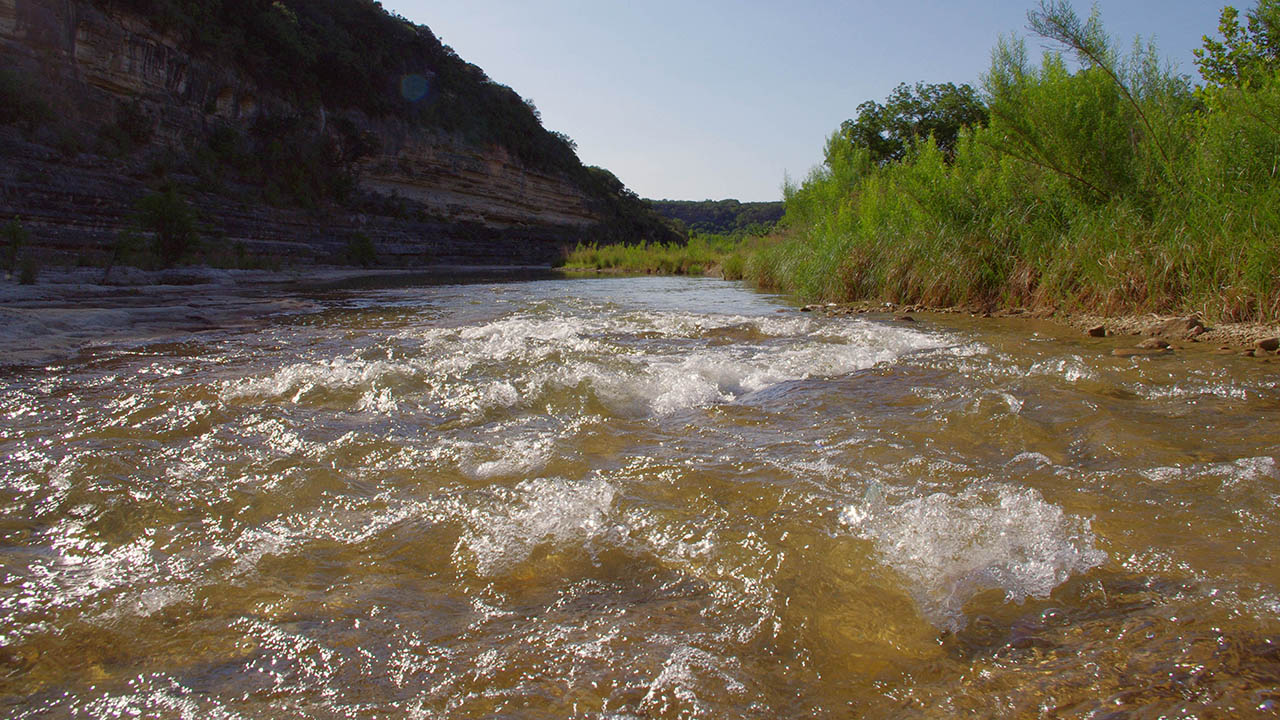 Lots of shallow, warm water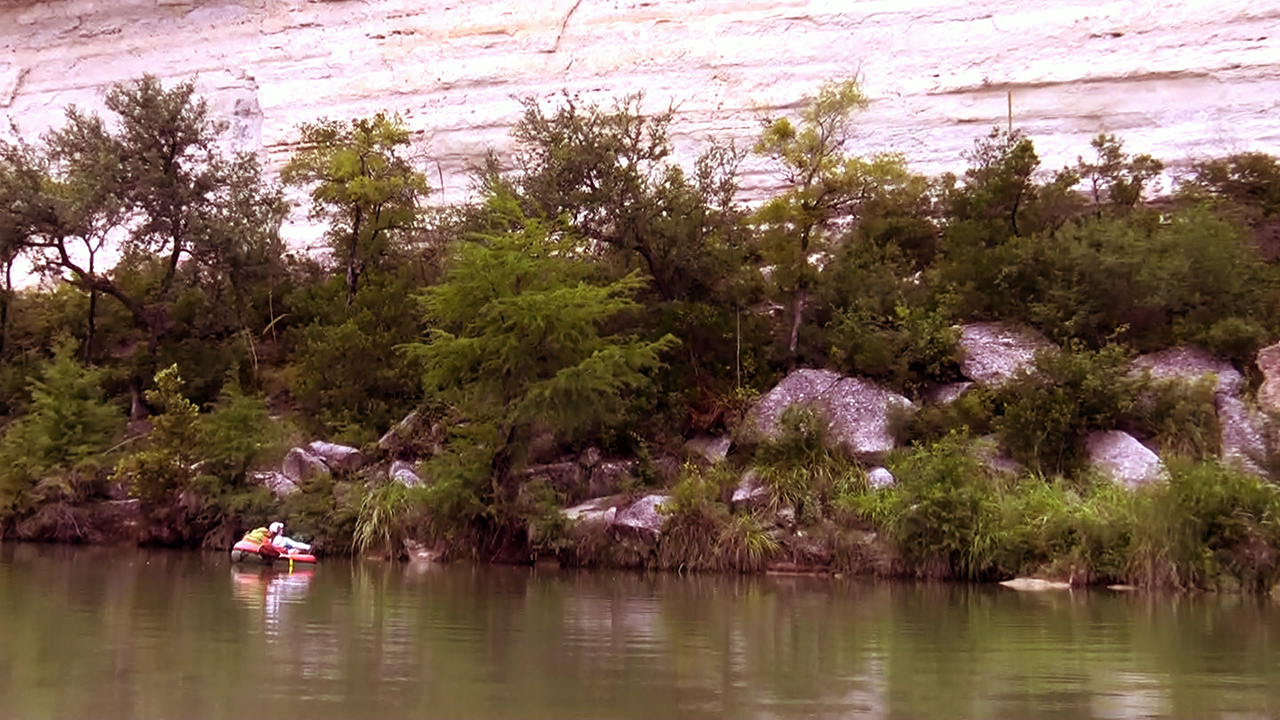 Jaz working a rare deep run next to the cliffs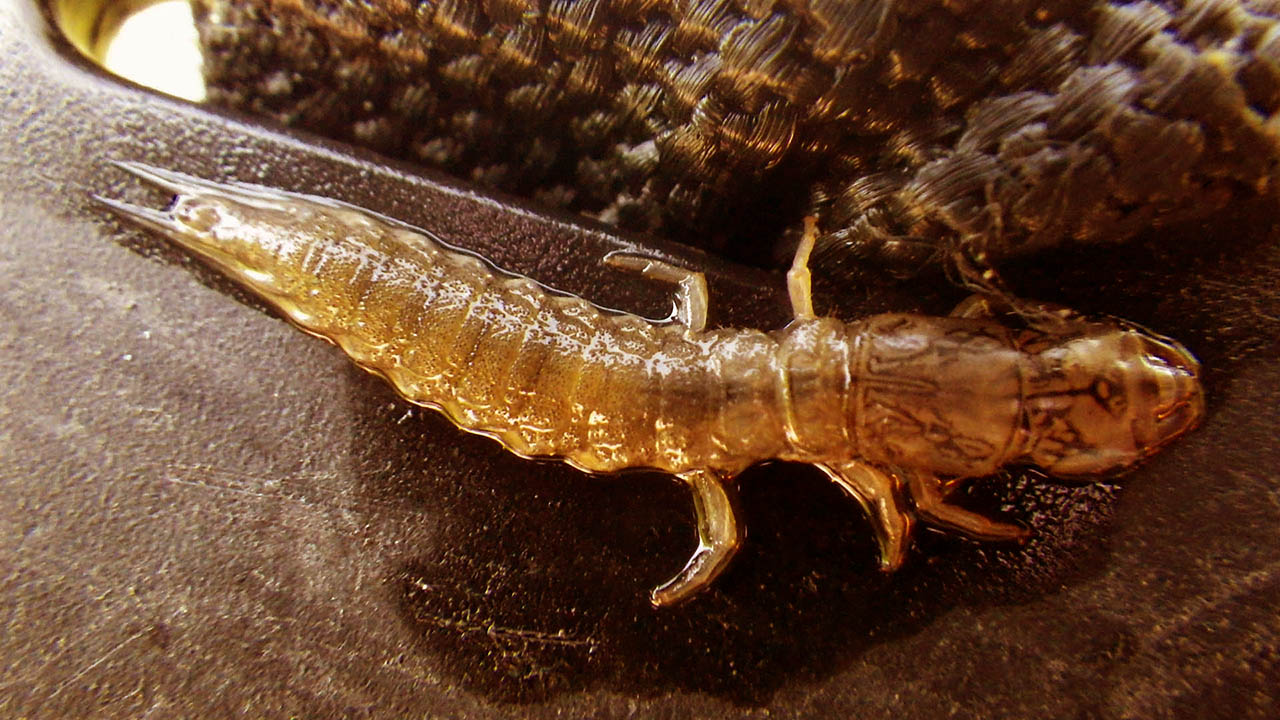 Hellgrammite that found its way onto Jaz's fin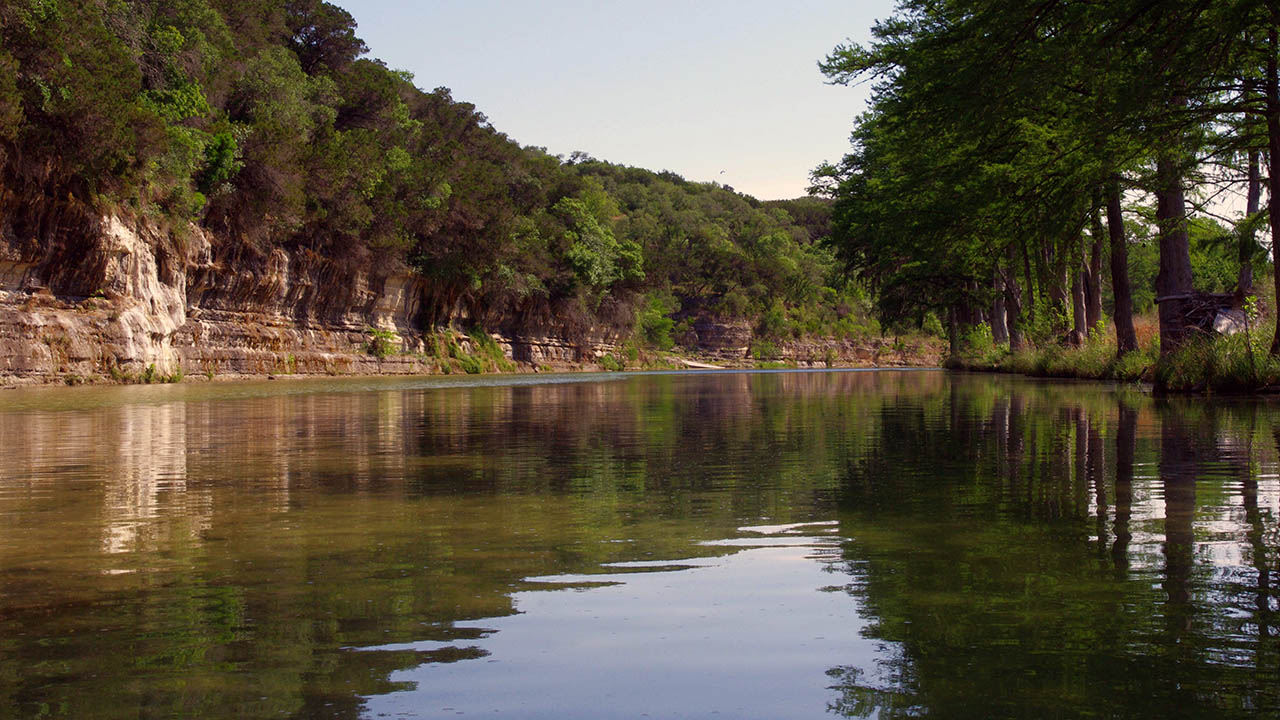 The water was way too shallow and way too warm but the scenery was always beautiful
Well, look who we caught napping in shallow water
This Texas River Cooter doesn't want to come out and play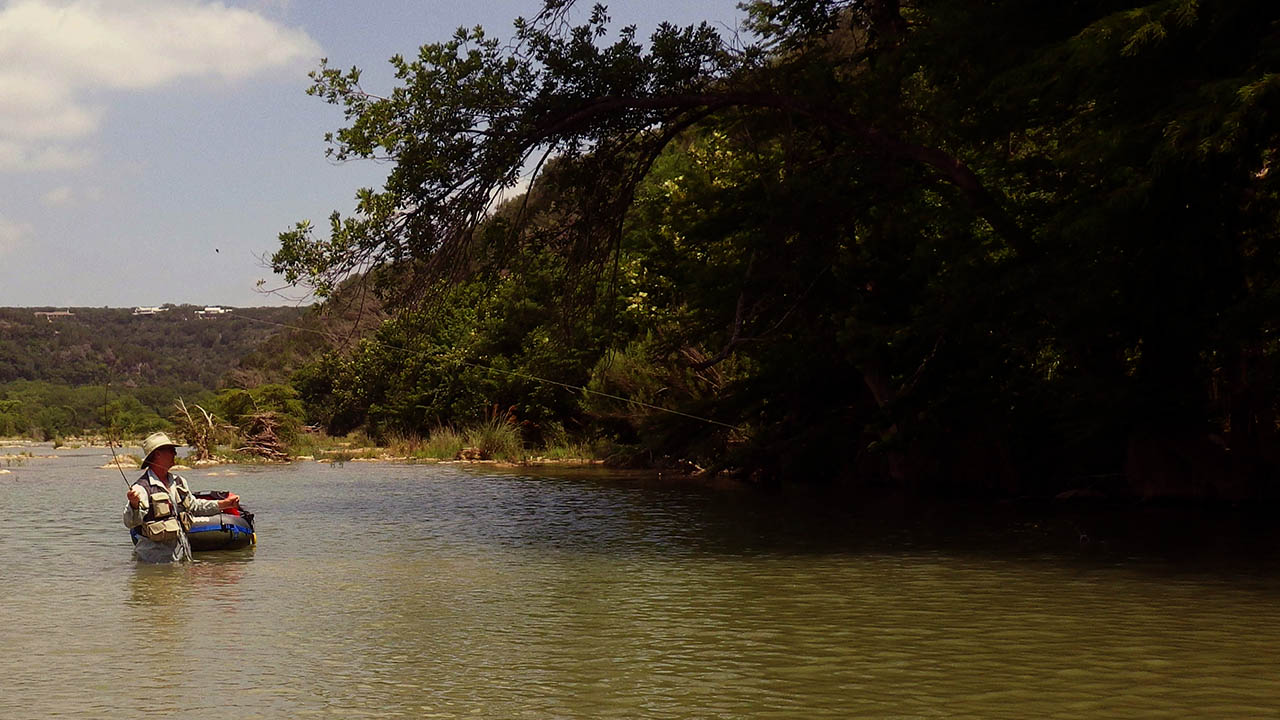 No doubt at this point that any fish were only going to be found under the shade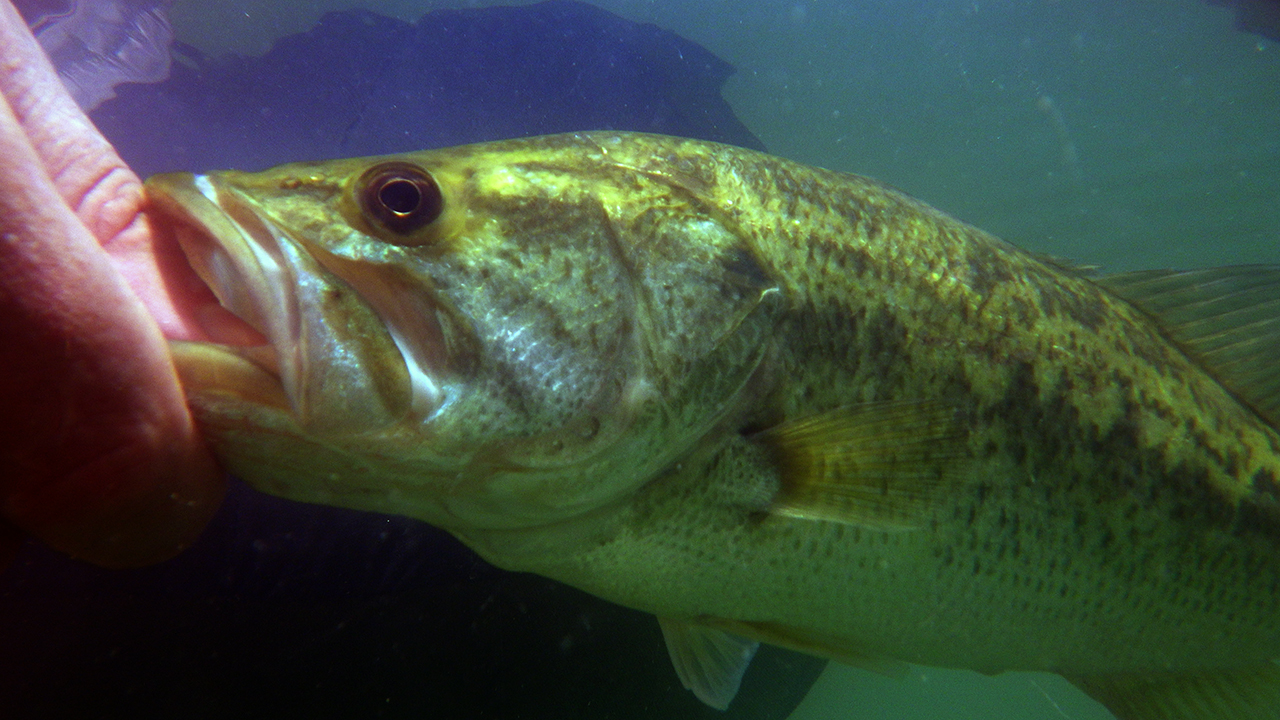 As the day wore on and the temperature kept climbing, the fishing slowed down making us work even harder for the fish we did catch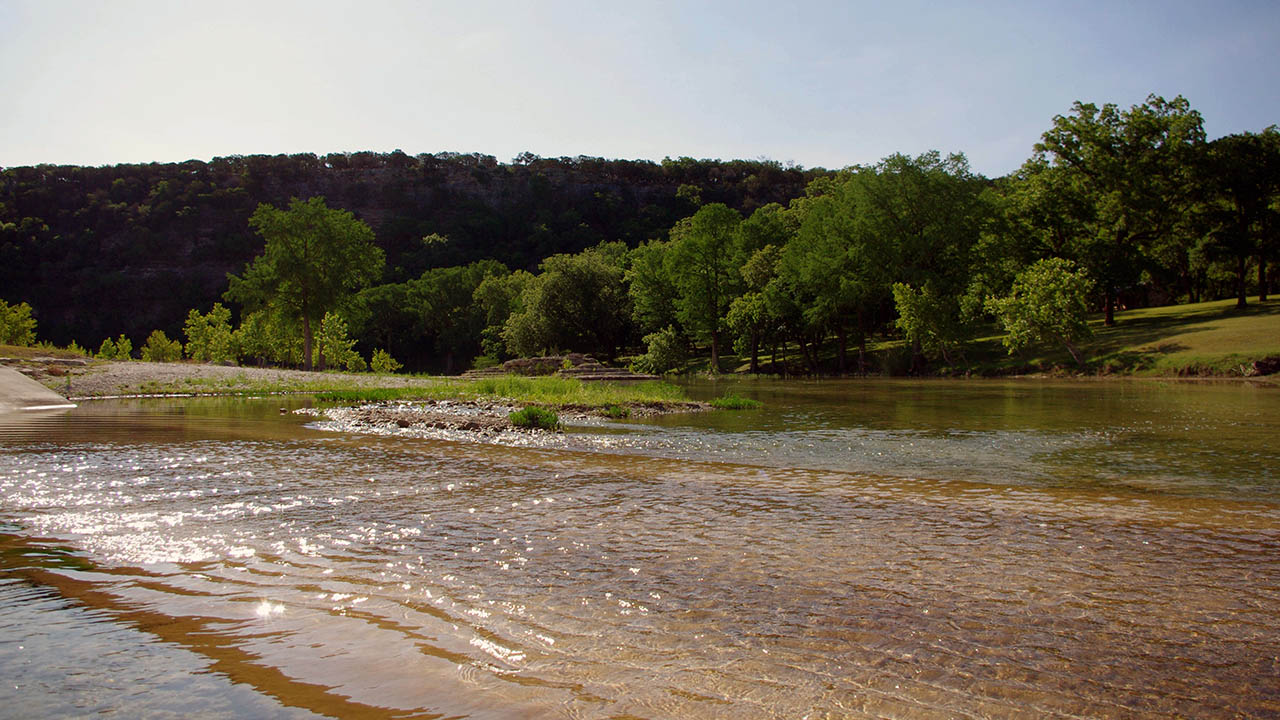 It was around 103 degrees by the time we passed by Riverbend Ranch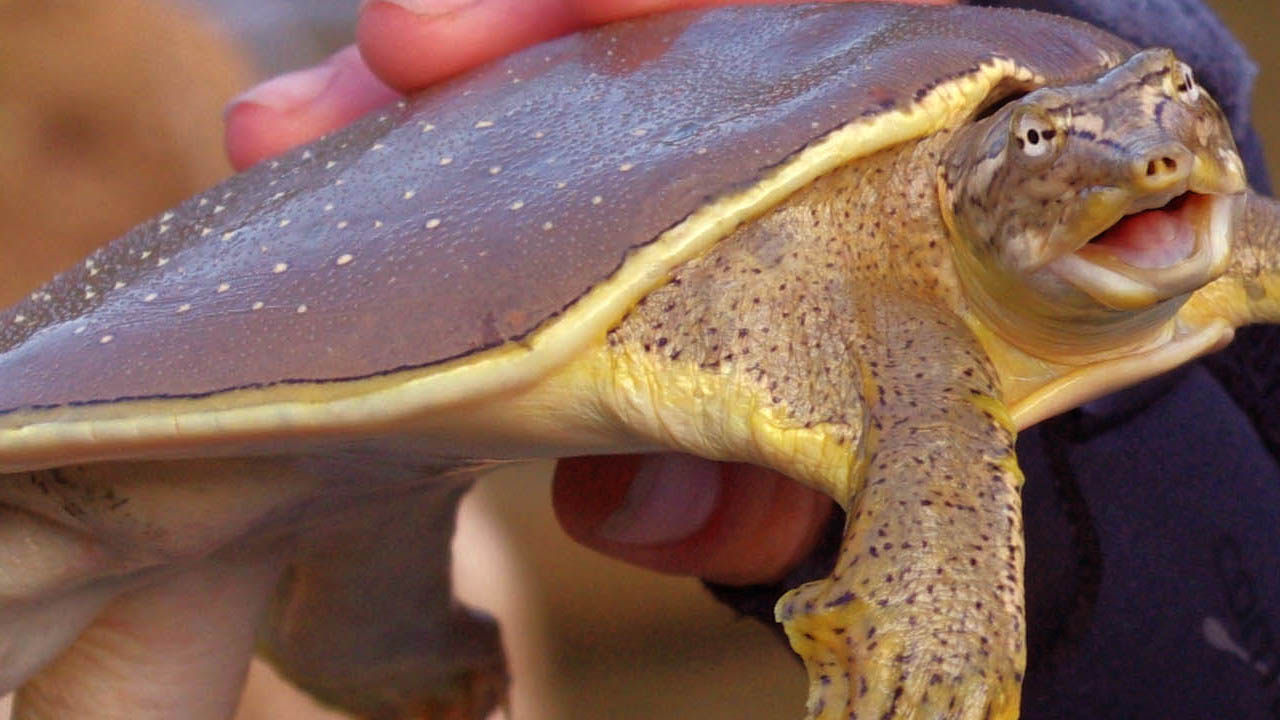 This Softshell Turtle didn't move fast enough to escape Jaz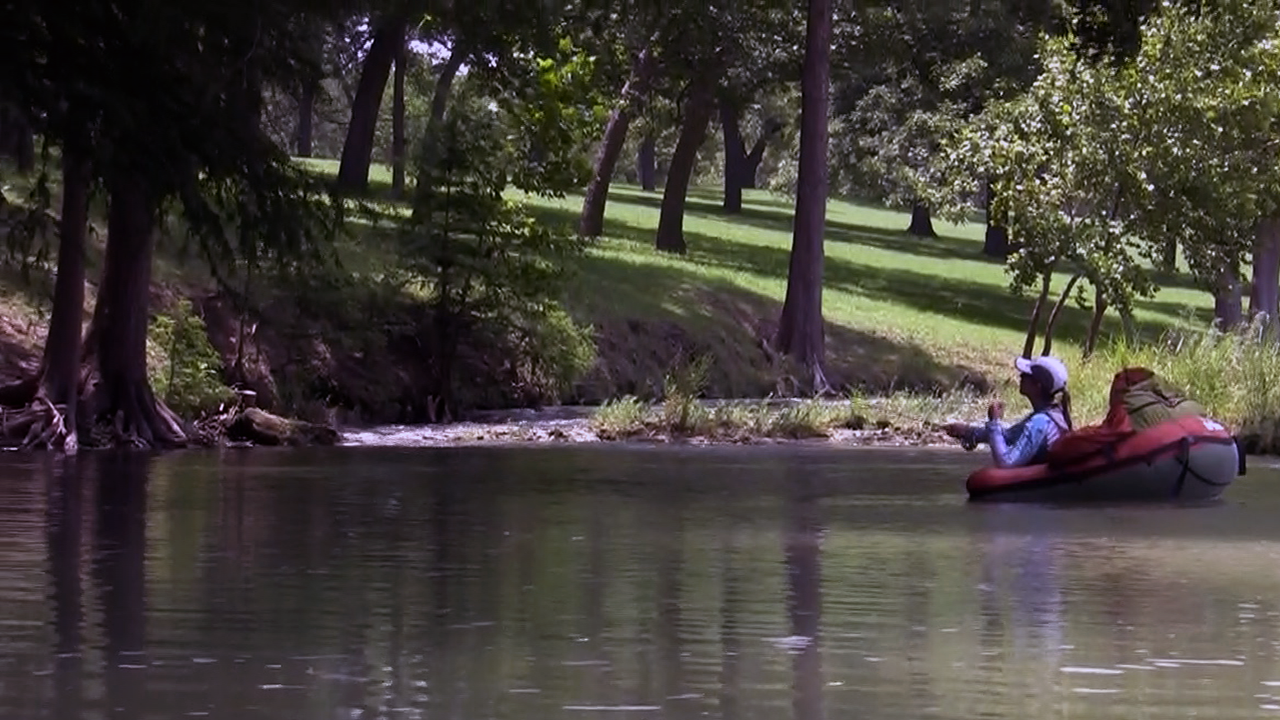 Jaz working an area at Riverbend Ranch where an underwater spring cooled the river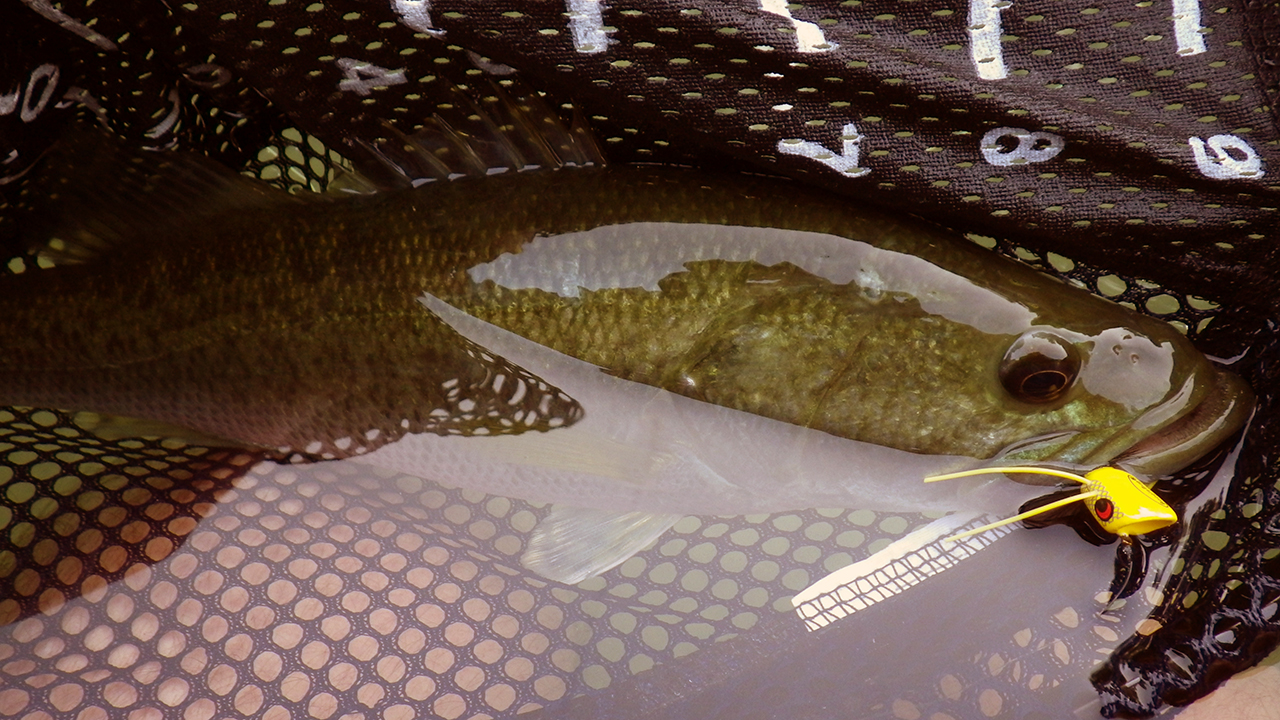 Yet another Largemouth Bass falls for a yellow popper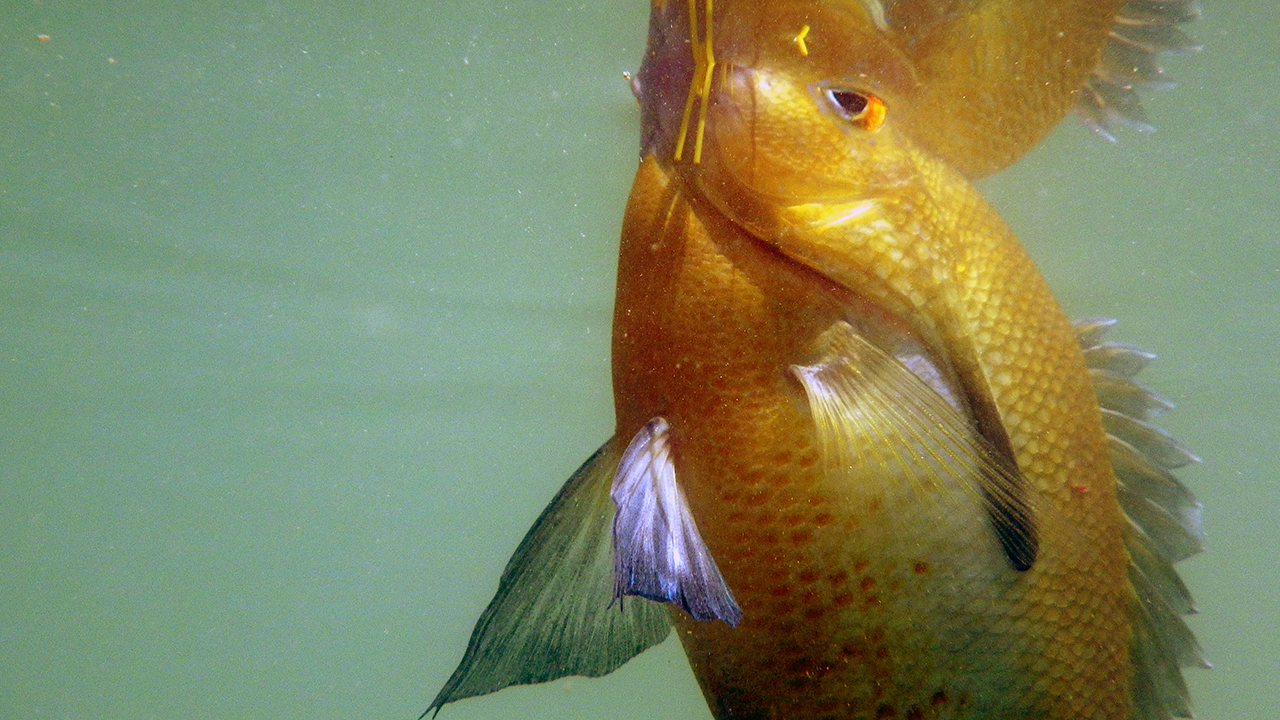 The most common catch of the trip was the Redbreast Sunfish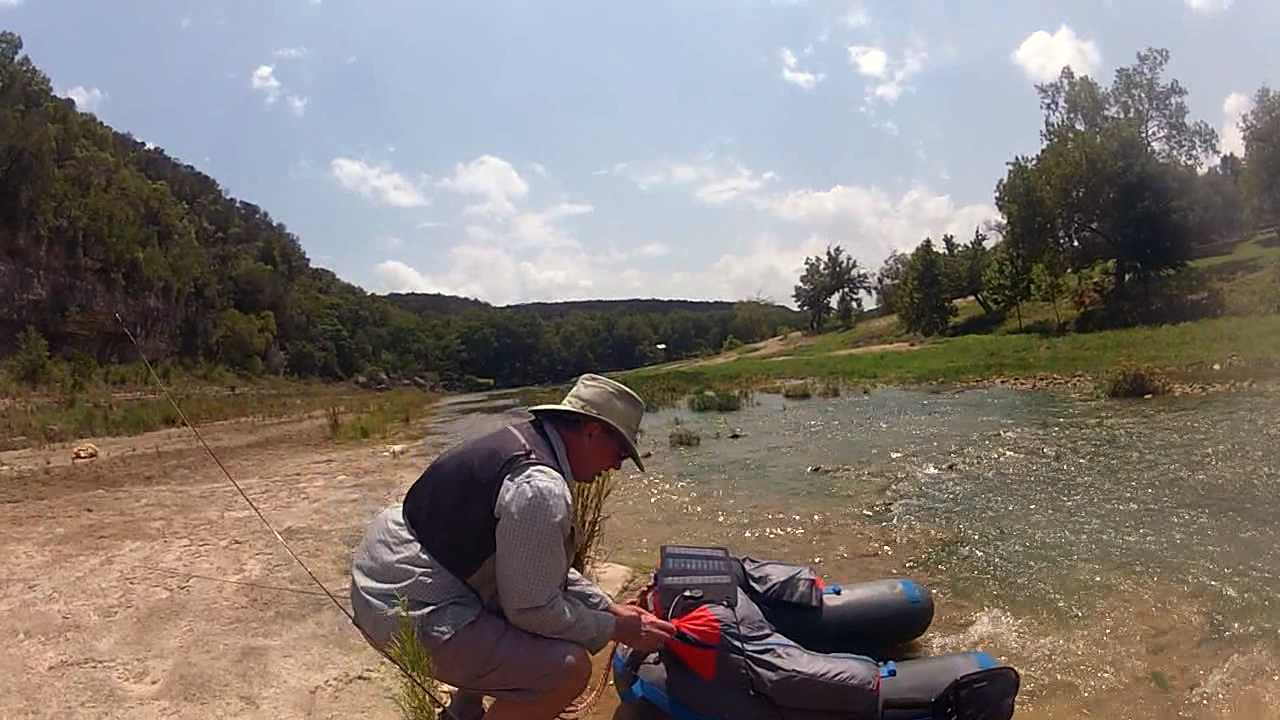 Stopping to filter water
By the time we left the Riverbend Ranch area the sun was scorching, the river shallower and the water temperature getting ever warmer. With fly rods in hand, we lowered our heads and trudged downriver for hours without making a productive cast. It was exhausting, sweat drenching work and yet still rewarding somehow.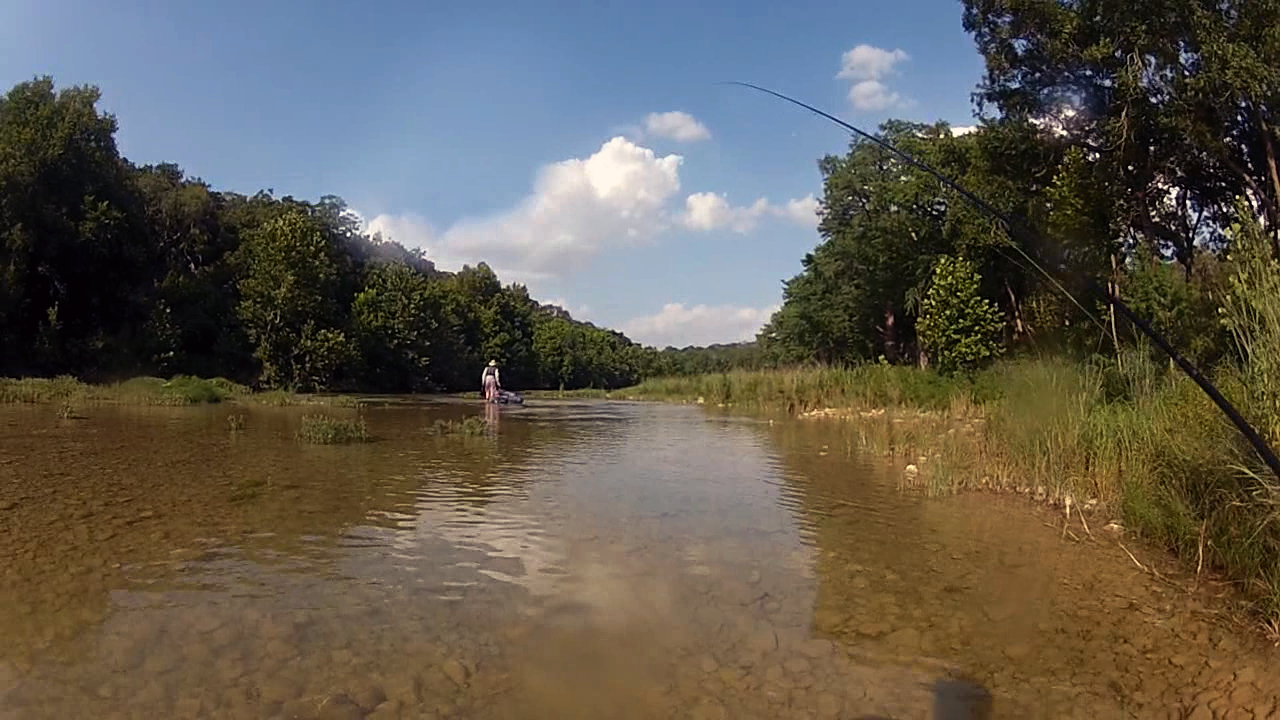 Drag the float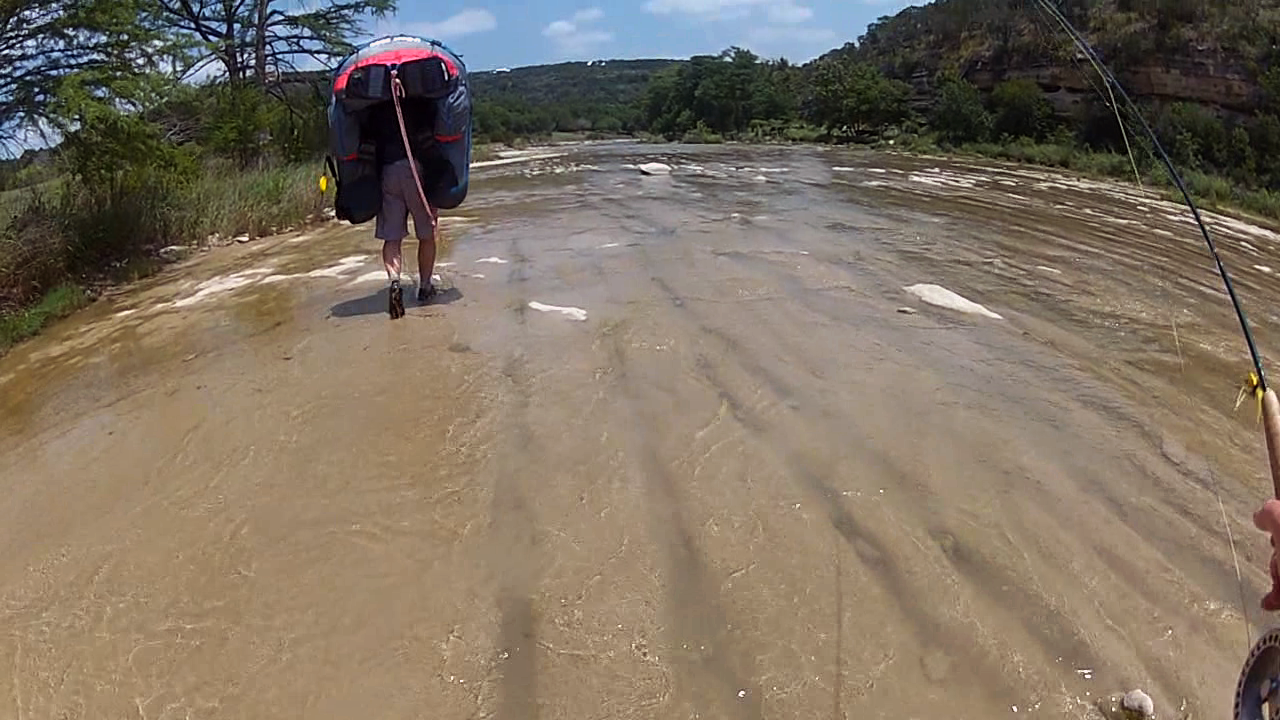 Carry the float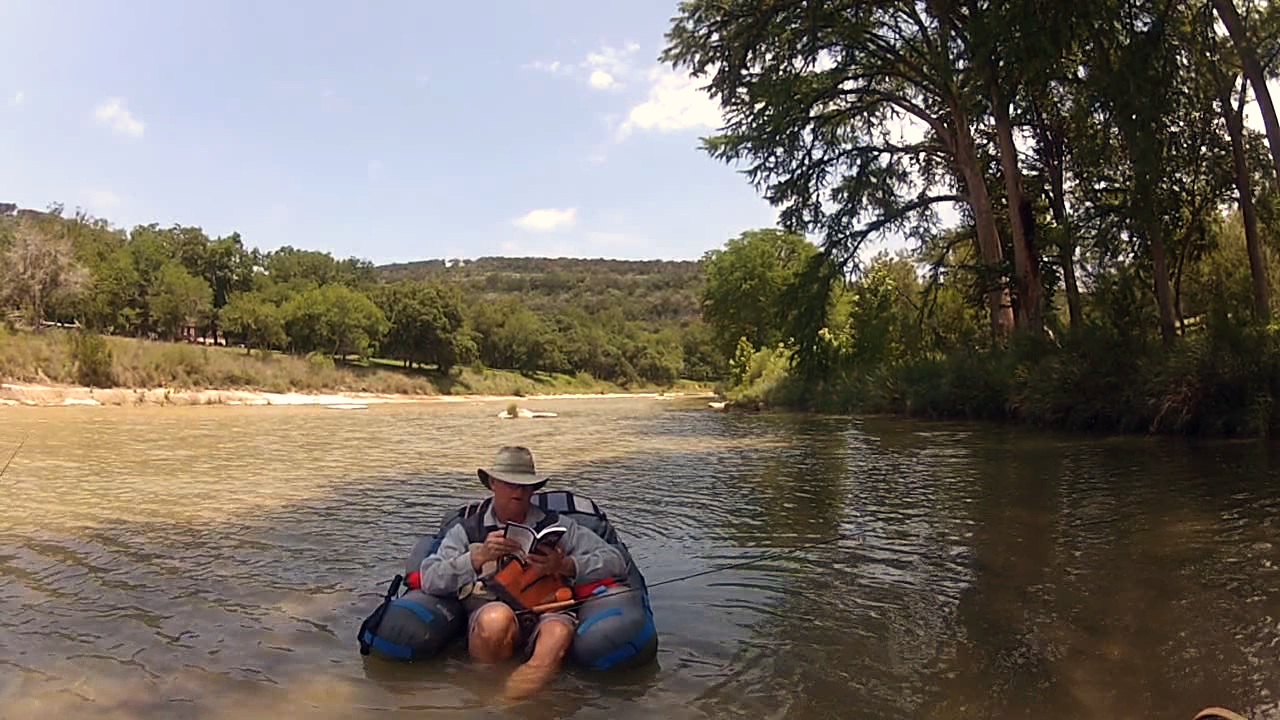 Taking a break in the shade to check out our progress in the Blanco River Pocket Guide
After checking the guidebook, we noted were making good speed and it soon became clear that we would reach the property where were going to pull-out before dark.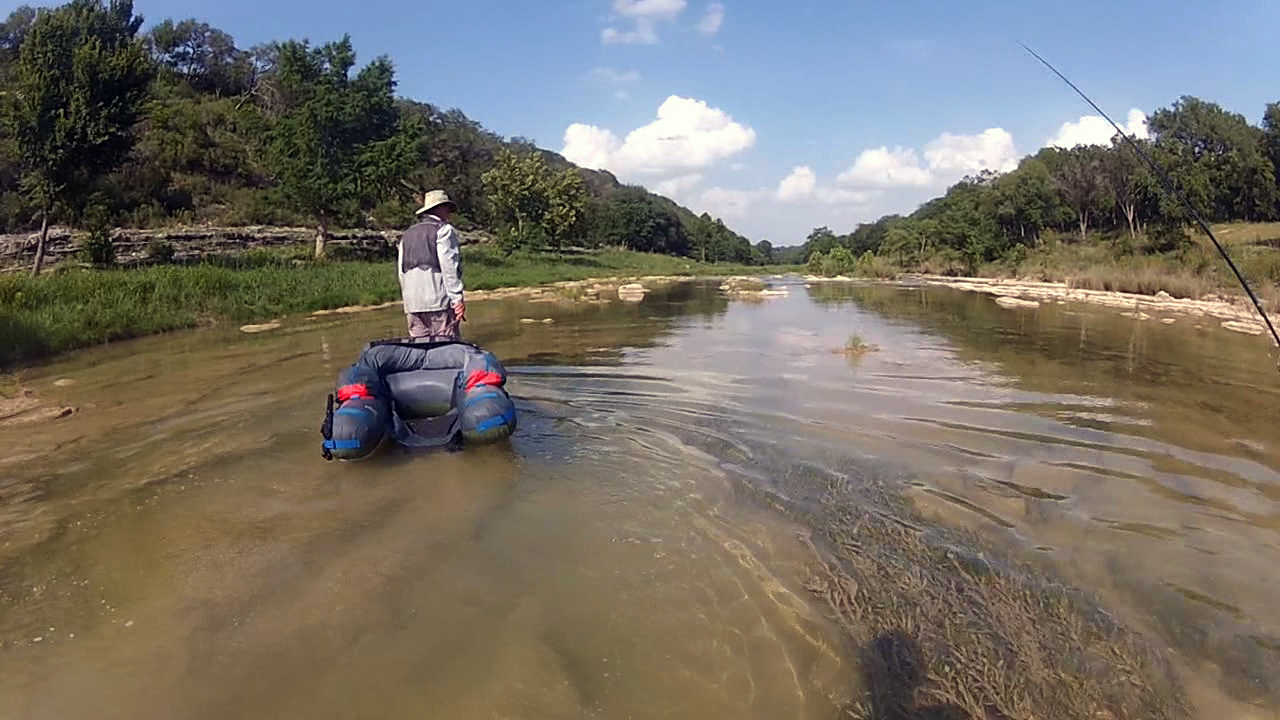 The sun was broiling us from above…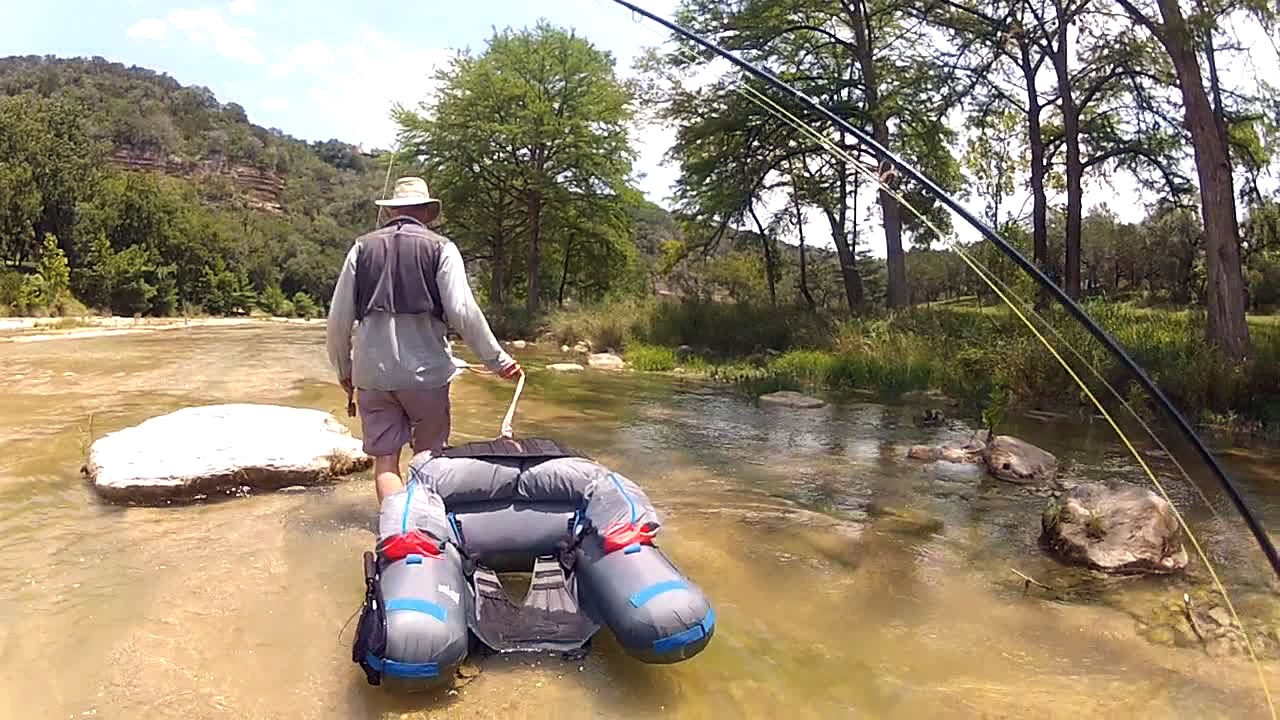 … and the water was beyond warm, it was hot below us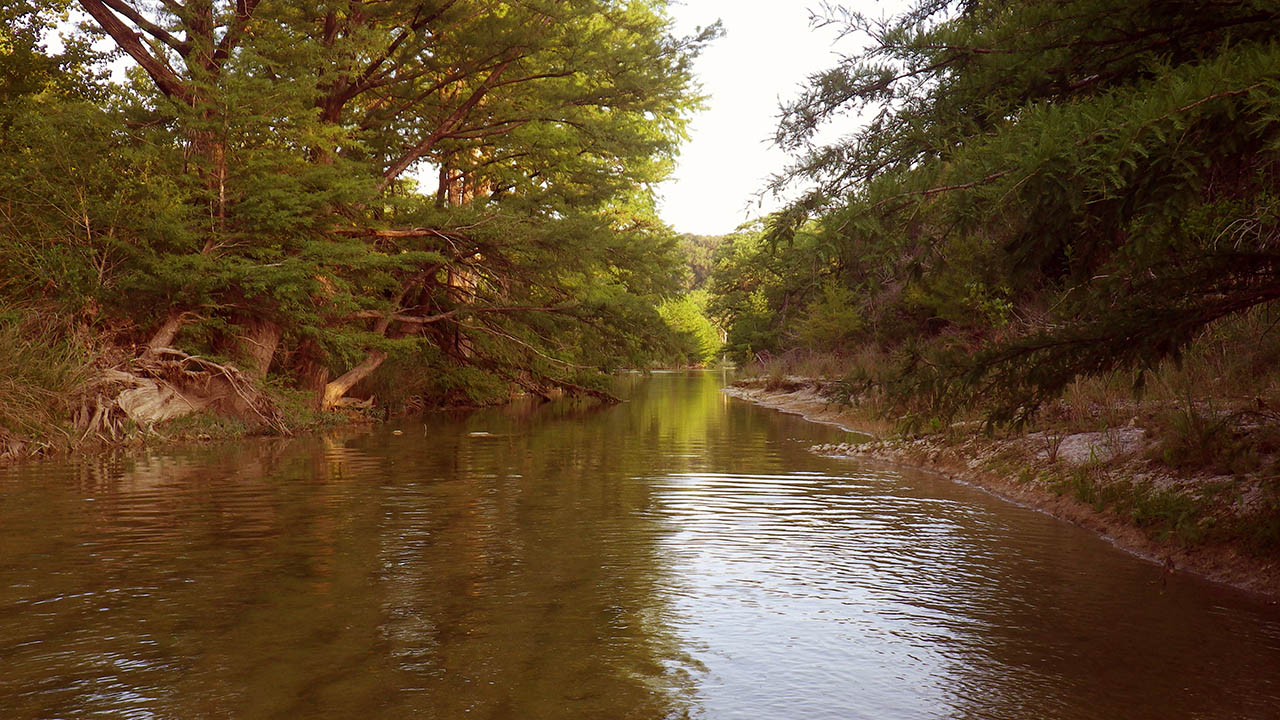 The sun finally drops down and gives us more shade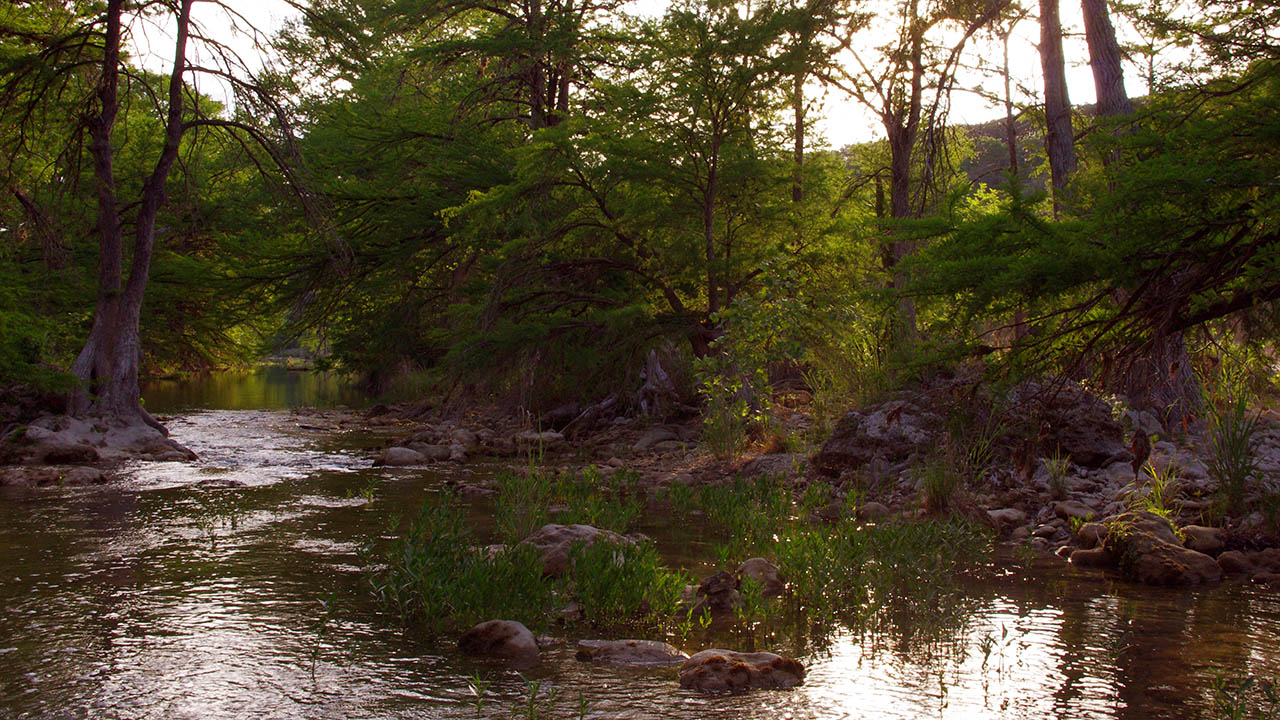 Passing to the west of an island, nearing Halifax Falls
 We decided to cut short our planned float and take a private road (on the property we had permission to be on) to retrieve the Jeep. It would cut off a mile of the float but we were spent and the thought of hauling our smelly carcasses to an air conditioned restaurant for food and cold drinks was irresistible.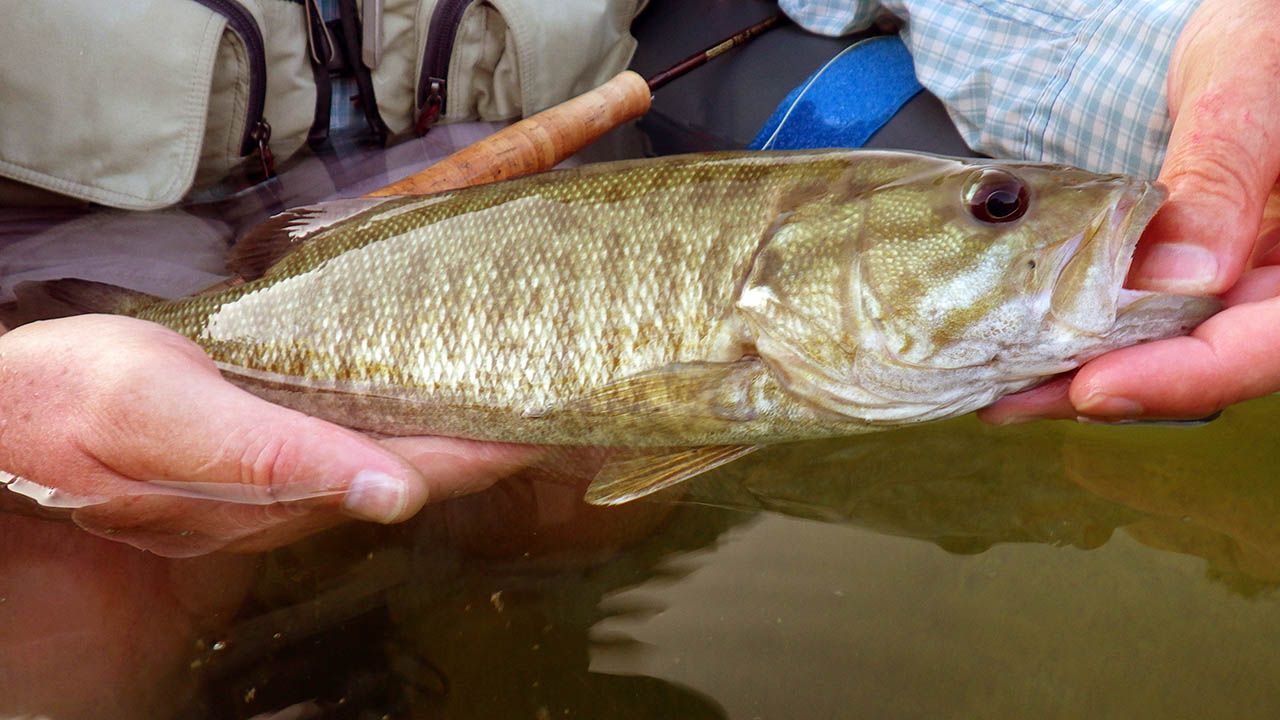 The best catch of the trip, this 15 1/2 inch Smallmouth Bass put up a tremendous fight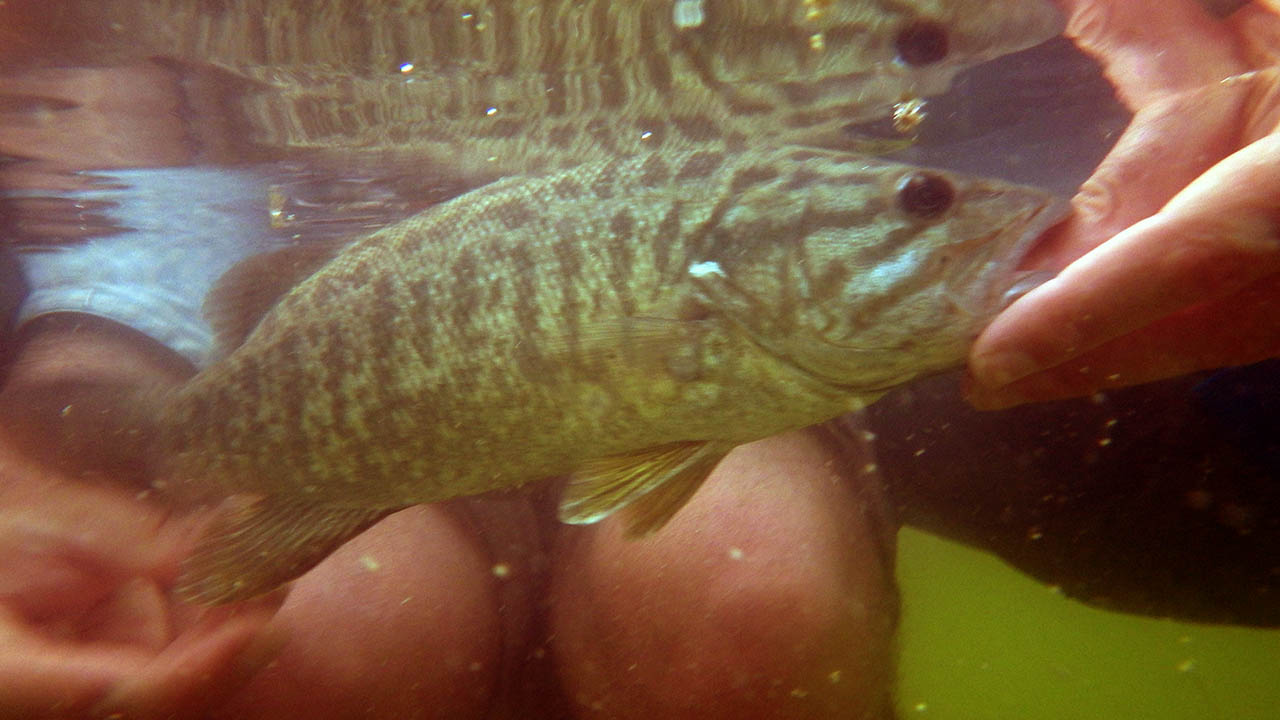 Another shot showing the great markings on this fish
I was flipping the popper off to one side as we finned down the last little stretch of water, hoping to catch one more sunfish for the day when the water explodes. I watch my popper fly up clear of the splash, but I instinctively yank the rod to set the hook anyhow. I curse myself for pulling the popper away from a fish who had so obviously missed it. In a few seconds the popper is back in the water, at the shoreline near where the fish just missed it. A few twitches of the popper and I started to feel disappointed then – SPLASH – fish on!
It was obvious from the start I had a smallie on, the fish knew where the current was and used it expertly to maximize his pull on my little rod. He put up a grand fight and made me wish I could find a place where all I caught were Smallmouth Bass.
While we walked up the dirt road to retrieve the Jeep, Jaz and I contemplated how tough the float had been. I would not recommend it to anyone unless the gauge in Wimberley read between 70 to 150 cfs and the temperatures were under 90 degrees. I certainly would not advise anyone to do it in a float tube unless they were willing to pack extremely light and be prepared for exhaustive finning. We had done just that at around 18 cfs with temperatures over 100, payed the price and had no regrets.
It was an amazing, totally exhausting trip and we would do it again anytime.